Electronic Assembly Systems Business
Features and advantages of an Electronic Assembly Systems Business
This business responds to diversified production needs by proposing line solutions in pursuit of productivity and efficiency focused on SMT (Surface Mounting Technology) equipment for electronic circuit boards production systems or related products such as printing machines and inspection machines.
Providing a full line-up of SMT products esponding to various kinds and various volumes production
These solutions respond smartly to changes in various production conditions by providing a full line-up of printing machines, mounters, and high-speed threedimensional inspection machines that stops the outflow of bad Circuit Boards. The mounters are configured to build the most suitable placement lines with no substitutions with different types of equipment and no replacement of placement heads according to changes in production items and production volumes.

Supporting the management and productivity improvement on the whole floor
JUKI's total solution supports improvement on the whole floor, from acceptance of parts to shipment of finished goods. JUKI supports productivity improvement by proposing evolving solutions such as automation of manual work after the mounting process, a product for storing and controlling electronic components automatically, and system software that contributes to the achievement of production plans.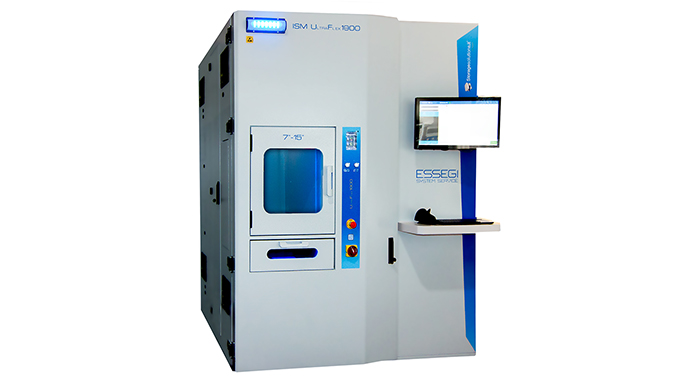 Providing generous before-and after-sales service
In addition to maintenance checks when periodic maintenance and parts replacement are performed, restored work is quickly provided whenever trouble occurs. Customers all over the world gain peace of mind from before- and after-sales services such as manufacturing line proposals according to the production requests of customers before product purchase, placement tests for components on circuit boards, workshop programs, etc.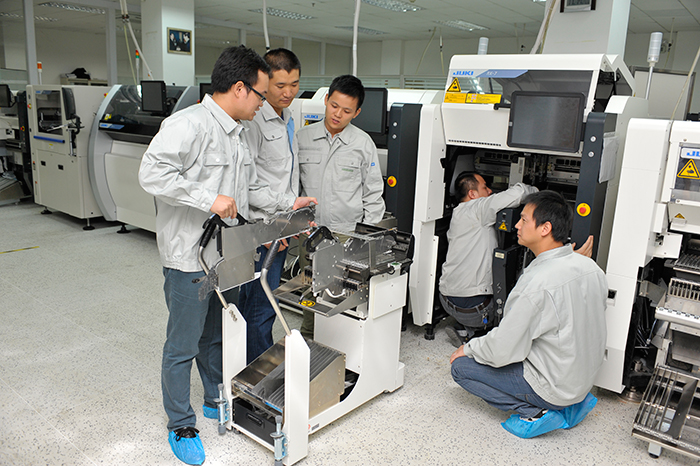 Typical products
Typical products in our SMT-related system business are introduced by category.
JUKI's SMT-related systems support a smart solution for a board manufacturing factory.
We offer a fast-evolving "total solution" to improve the productivity of our customer's whole manufacturing line and floor, as well as our customer's product itself. We will meet customer demands in electronic industries by providing a lineup of board production equipment in accordance with the customer's needs, an automatic warehouse for storing and supplying electronic components in conjunction with the equipment, and an integrated system for production management.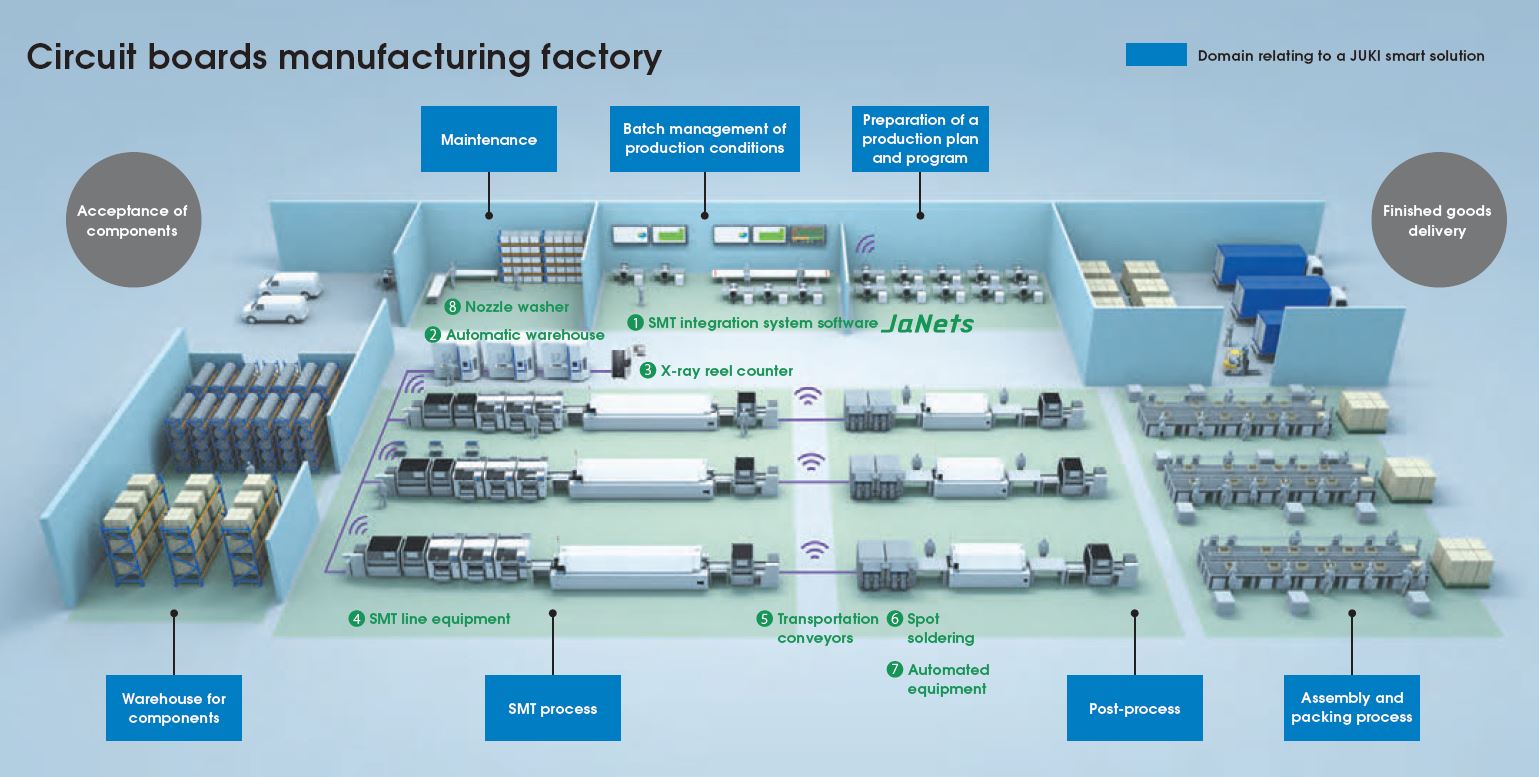 Development
JUKI has achieved an advanced and professional development system linked within a development network connecting these bases.
● Camera imaging check
Movement control down to 1/1,000th of a second is required for the high-speed placement of electronic components on an electronic PWB. We use a highspeed camera to confirm the timing and behavior of the pickand-placement process.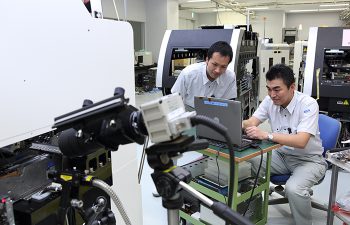 ● Quality audit
We enter a program using a test PWB, confirm the operations of the operating panel and placement head, and measure the accuracy of component placement one by one. This is one of the important determinants of the quality of the nal product.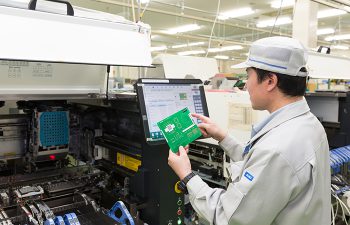 ● Burn-in test
For this test we apply high temperature and voltage loads to preempt initial failures. We repeat the test in many different environments to ensure a product of stable quality.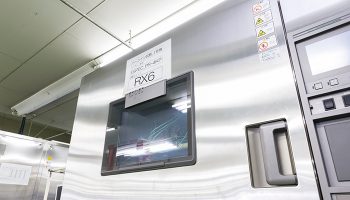 Production
Production of mounting-related equipment is done by JUKI Industrial Equipment Technology Corporation. While working on developing and improving flexible construction methods, we are delivering products that adhere to quality to the world.
Outstanding jig adjustment devices at the hardware level and consummate worker skills at the human level are crucial. The various materials and parts we collect are required to embed actuators in numbers ranging from ten to more than hundred per product. JUKI adheres to a rigorous technical training and qualication system while conducting various "improvement" activities to upgrade its statistical methods and minimize uctuation within standards. We prepare various inspection methods and inspection systems using three-dimensional measuring machines and other equipment to produce products with zero tolerance for compromise.
● Accuracy check at the micron level
JUKI's machines fabricate PWBs within an accuracy range of ±50 microns. Mounter parts and assemblies are also configured with accuracy at the micron level. High-level production promises the production of high-quality PWBs.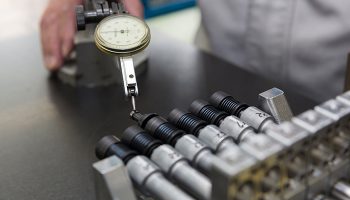 ● Digital cell production system
Apart from line production, we also use a digital cell production system. High quality is maintained by a manufacturing system backed by a continuously upgraded standardization manual and manufacturing knowhow in digital form.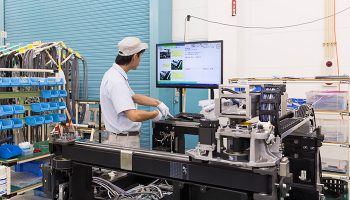 ● Well-nurtured technicians and education
The starting point of manufacturing is the "person" at work. We continue to maintain or improve the quality, cost, and delivery by promoting technical qualifications and certifications through quality management education and internal tests.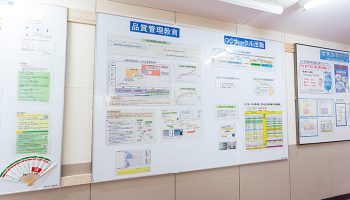 JUKI INDUSTRIAL EQUIPMENT TECHNOLOGY CORPORATION
Main bases (Manufacturing and sales)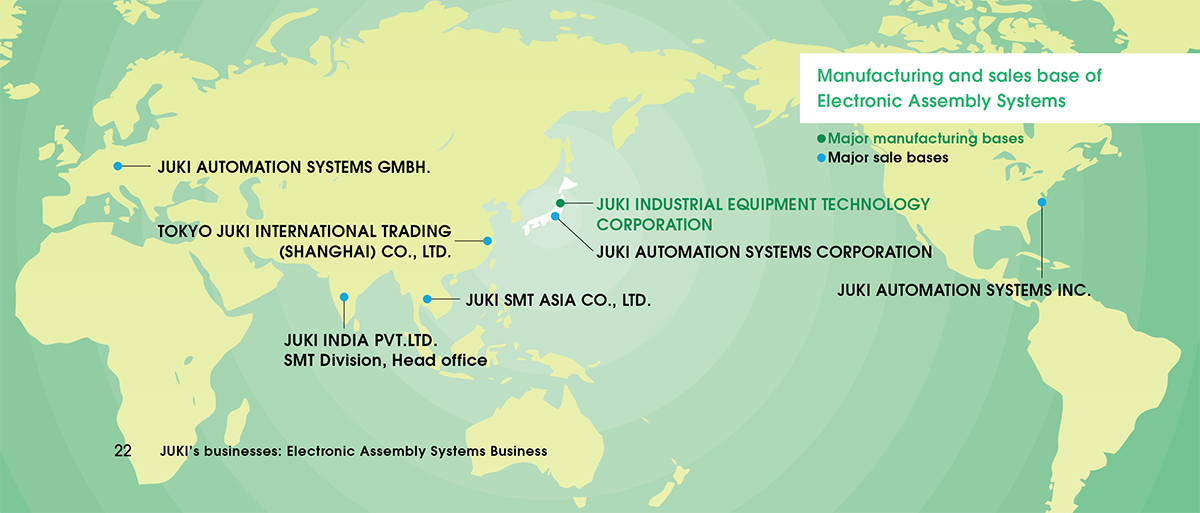 Website for SMT-related systems supporting a PWB manufacturing factory
Other menus