Industrial Sewing Machinery Business
Features and advantages of an industrial sewing machine business
This business helps customers build the most suitable sewing factories equipped with the world's topselling industrial sewing machines integrated with automation equipment, IT systems, and more. The usiness also helps customers improve productivity, save manpower, and deskill their production lines by offering optimal line solution proposals.
Setting up a production line under one brand
JUKI's lineup of industrial sewing machines consists of about 2,000 models. A wide variety of sewing machines— machines for cloth, knitwear, and non-apparel and automatic machines capable of handling two or more processes—are available to suit the sewing material and purpose. JUKI makes line solution proposals that achieve maximum performance with a wide range of lineups in pursuit of sewing quality, deskilling, and productivity.
Cloth



Knitwear



Non-apparel



Building a smart factory according to each customer's needs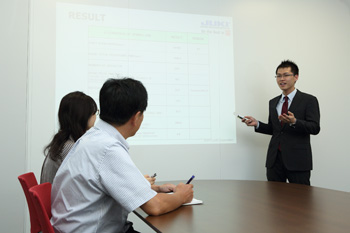 In addition to the rich lineups, automated systems with robots to complement manual work are available. By connecting sewing machines in a network, the operating status of individual machines can be assessed in real time and production control can be remotely monitored. JUKI responds to the "mass customization" of a customer and achieves a smart factory.
Offering peace of mind through stable quality and support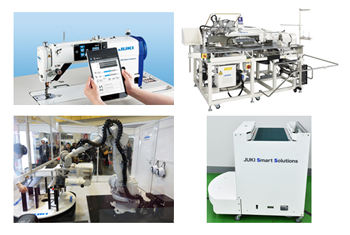 Using rich experience backed by active results for more than 50 years, JUKI arranges a professional group to accurately solve miscellaneous problems at customer factories in different parts of the world. JUKI also supports its customers with the strongest customer services such as technical guidance, seminars, consultations on productivity improvement, and real-time responses to production troubles.
Typical products
Typical products are introduced from a selection of 2,000 JUKI models by category.
A page introducing industrial sewing machines "by item"
Smart solution for a sewing factory
JUKI advances its activities to create the most suitable factories by making innovative efforts to solve the various problems a customer faces through the further evolution and systemization of products and IoT.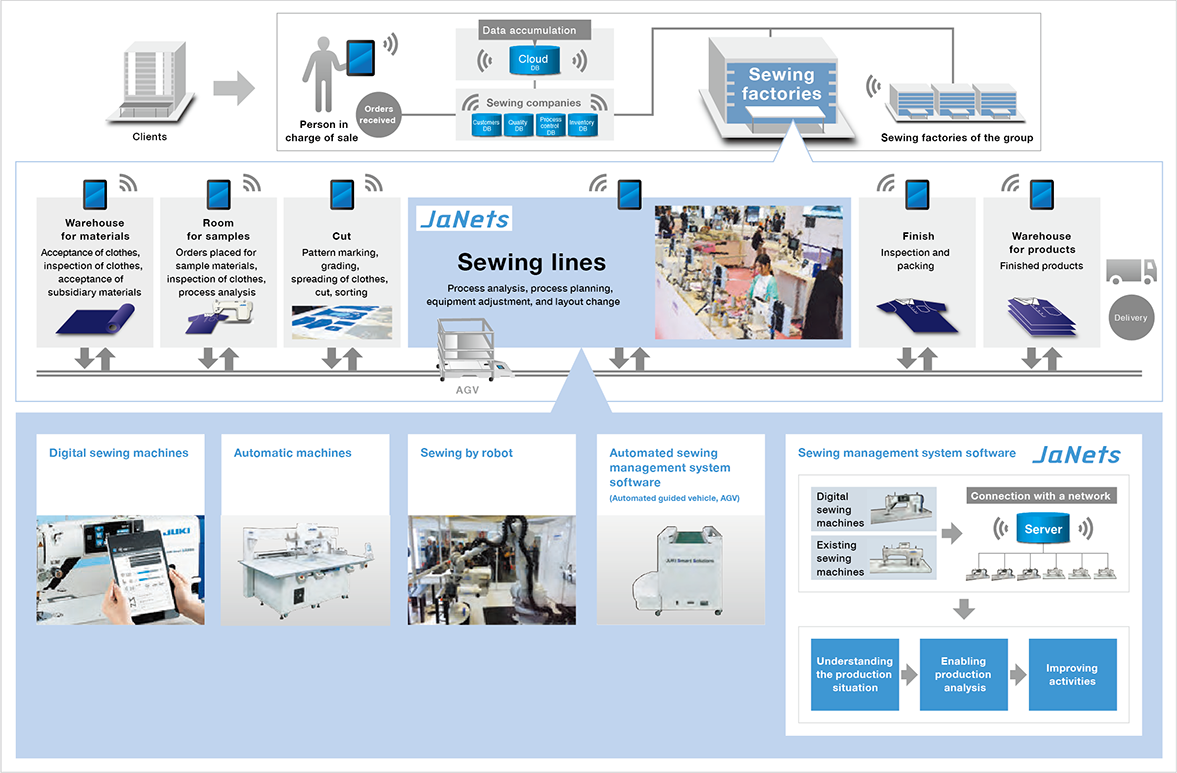 Development
The biggest challenge facing JUKI customers in the sewing industry is the search for new solutions for stable sewing quality and productivity. JUKI responds by pursuing various forefront technologies targeting innovative product development in the industry. Our efforts have led to the creation of many world-first mechanisms in industrial sewing. Our pursuit and development of the latest technologies also focus on user-friendly operability and maintainability and environment-friendly features such as oilfree operation and electric power saving. We also place priority on comfortable use to meet our customers' expectations in their long hours of operating JUKI machines by hand. JUKI customers in plants around the world express overwhelming support to JUKI for providing machines that surpass their expectations.
Quick response to overseas customers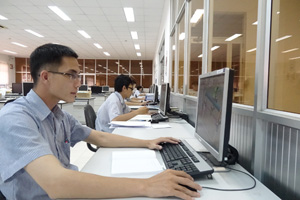 In addition to the 4 bases in Japan, we also have R&D offices in China and Vietnam.
We recently added R&D offices in Europe and the US, in order to respond quickly to our customer's technical requests.
Working stably under all possible conditions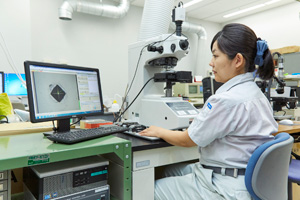 We repeat duration and stitch tests on our machines to maintain stable stitch quality under all possible conditions. We even switch among fabrics and threads produced in different regions while applying extreme heat and cold and variable electric power loads.
Striving to develop "world-first technologies"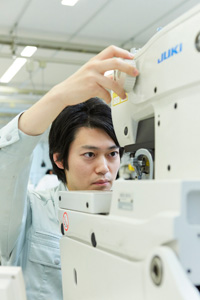 We continue to meet customer requirements by creating products integrating mechatronics, electronics, and software for various automatic machines, production management tools and the like.
Production
JUKI's industrial sewing machines are produced by five factories in three different countries based on the "made-near-the-customer" principle: two factories in Japan, two in China, and one in Vietnam.
The Ohtawara plant, our mother factory, leads the other four factories by promoting the group-wide sharing of know-how, providing trial products for mass production, formulating company-wide plans for standardization, and studying manufacturing methods for construction.
The production process at the Ohtawara plant adheres closely to the practices of "100% good product manufacturing" to maintain JUKI quality as a model for all of the factories in the JUKI group. We also carry out parallel production at two factories to assure stable supply in the event of mishaps such as natural disasters.
Our system for digital cell production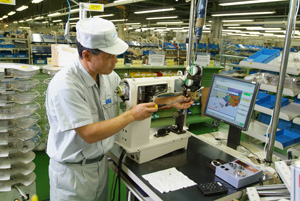 The Ohtawara plant has introduced a digital production system in which every assembly procedure for every cell is displayed on screen, and establishes a stable production system by enabling pro‑cient work skills within short periods, preventing faulty assembly,etc.
Thorough guidance on the six elements of production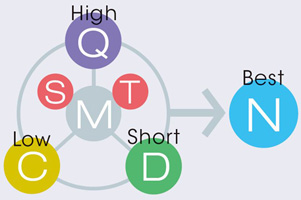 Six elements form the basis of JUKI's production activities: Quality, Cost, Delivery time, Safety, Training, and New products. We follow a management cycle based on standards and strive to upgrade ourselves through ongoing improvement activities.
Training for managers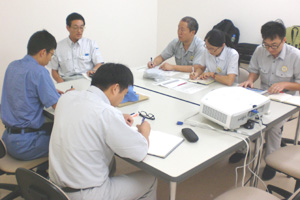 The Ohtawara plant provides periodic education to the managerial candidates expected to forge the future of our overseas factories at JUKI. Our human resources trained in management, production methods and quality management techniques provide a backbone to JUKI quality.
Main bases (Manufacturing and sales)

Website for industrial sewing machines with a leading share in the global sewing market
Other menus