JUKI Group Corporate Philosophy
JUKI Group Corporate Philosophy System Chart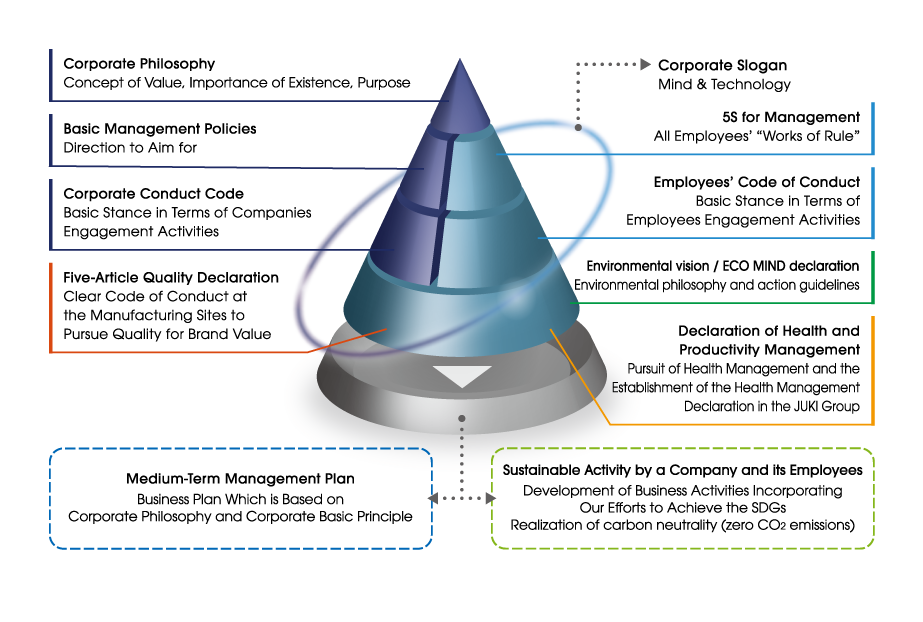 System Chart Menu
Corporate Philosophy
The men and women of Juki work hand in hand to spread happiness and enrich society.
Juki technologies are constantly evolving and creating new value.
Basic Management Policies
Quality for Brand Value
Innovative and Active
Global Management Approach
Corporate Slogan

Corporate Conduct Code
The "Juki Code of Conduct" set forth below was established as a guideline for living by the principles of our corporate philosophy. Based on this Code of Conduct, the men and women of Juki follow all laws, all international regulations, and the principles underlying them in the spirit of responsible corporate citizens with sound social sense.
Juki aligns the pursuit of its own interests through fair competition with the interests of its customers, stockholders, business partners, and society. Benefits for society are benefits for Juki.
Juki creates and supplies products and services useful for society based on thorough considerations of safety, the protection of personal information, and the satisfaction and trust of its customers.
Juki conducts its businesses fairly, transparently, and in keeping with the principle of free competition while maintaining a healthy relationship with national governments.
Juki discloses its information fairly and consistently through open channels of communication with its shareholders and society as a whole.
Juki works to ensure safety and ideal working conditions for every employee with full respect for his or her personality and individuality.
Juki takes good care of the earth environment by using resources effectively, recycling, and saving energy.
Juki maintains ideal community relations as a good corporate citizen and contributes to society through local activities.
Juki takes a firm stand against antisocial individuals and organizations that adversely affect social order and sound business activities.
Juki observes the international rules and local laws as a matter of course, esteems cultures and customs, and endeavors to contribute to the development of countries.
If actions or events in contravention to the Juki Code of Conduct take place, top management at Juki takes immediate and thorough steps to remedy both the causes and outcomes.
5S for Management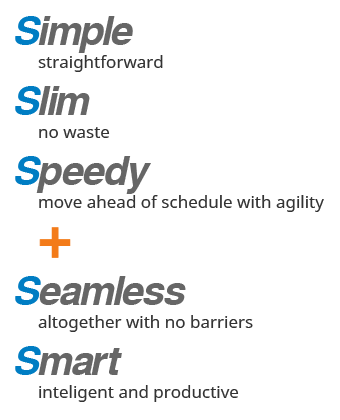 Employee Code of Conduct
We will comply with any and all applicable laws, regulations, rules and any kind whatsoever.
We will supply our customers with products and render services for our customers, which products and services will satisfy our customers.
We will make the best decision for JUKI Group.
We will work for JUKI Group in fair and active ways with integrity.
We, as the members of JUKI Group (Globalized Enterprise Group) will respect the fundamental human rights conferred upon people, and will never illegally discriminate against people in any respect. In addition, we will respect cultures throughout the world.
We will secure our safety and stay in health by ourselves, and in addition, we will use the efforts to do the same for other people.
We will act and work in consideration of the global environment, and will, also, contribute to society as members of the community.
We will continuously improve teamwork at the workplace, by means of actively assisting with the spirit of "MenDoMi".
We will study for self-development / improvement, and will, also, improve and train your subordinates and younger employees.
We will actively procure and collect various information, and prepare effective information, and will effectively use such information, and in addition, we will strictly administer such information.
Five-Article Quality Declaration
We comply with laws, rules, and the commitments we make to our customers when providing our products and services.
We give the highest priority to the customer's safety and peace of mind in our work on the quality of our products and services.
We rely deeply on the customer's voice to guide our unceasing efforts towards quality improvement.
We raise quality based on the five-Gen principles* to earn the customer's trust and grow our business.
We contribute to the sustainable development of society by improving the quality of our products and services.
*The five-Gen principles: Genba, Genbutsu, Genjitsu, + Genri, Gensoku
Declaration of Health and Productivity Management
The JUKI Group positions the "establishment of an organization with innovative and active personnel" as one of its basic management policies. To realize this policy, it will be important for each and every employee to be mentally and physically healthy and infused with the energy necessary to make the best of his / her capabilities. JUKI believes that the health and energy of its employees will contribute not only to improved productivity and creativity, but also to better customer service.
With these firm convictions in mind, JUKI hereby declares that it will do all in its powers to promote management focused on the pursuit and improvement of the health and energy of its employees.
Based on this Declaration of Health and Productivity Management, JUKI will strengthen its structure for promoting the maintenance and improvement of the health and energy of its employees and support employees who enhance health awareness within the group by spontaneously and voluntarily participating in health maintenance/improvement activities. JUKI also promotes the establishment of a healthy and energetic organization in combination with supports for work style reform, and comprehensively implements higher levels of health and productivity management.
Medium-term Management Plan
In the Medium-term Management Plan for 2023-2025, JUKI has set the vision for 2025 (what JUKI should aim for by 2025), "To continue to serve customers as a solutions partner that delivers 'good impressions' and 'peace of mind,' and as a practitioner of robust ESG management that is trusted and needed by society."
The above vision is based on the long-term vision, "To be a global and creative Monodzukuri (Manufacturing) and Kotodzukuri (Value-creation) company that survives in the 21st century."
JUKI has also defined Value-added structure reforms to maintain/expand customer base, Cost structure reforms to improve capital efficiency, and Behavioral reforms to transform people/culture as the management priorities in order to steadily implement measures based on the six transformations (6Xs).
*JUKI rolls the Medium-term Management Plan over every year based on changes in the business environment and the measures taken and sets a goal of achieving the plan by 2025.
New Medium-term Management Plan for 2023-2025 (PDF)
Other menus