Household Sewing Machinery Business
Features and advantages of an householda Sewing Machines business
This business supports comfortable sewing lives by combining appealing product fetures with industrial sewing machine performance. The business also holds various workshops to support hobbyists in wide-ranging fields.
Providing reliable products and technologies

Sticking to a "seam" as the essence of a sewing machine, a "stitch" one notch above is offered. The machines not only stitch heavy-weight materials and multi-layered sections of materials, but also change small needle baselines and adjust seam lengths and stitch swings width smoothly and easily along the way. "Quilt" work with designed seams is also finished beautifully.
Holding a workshop to share the pleasures of sewing and sewing machine operation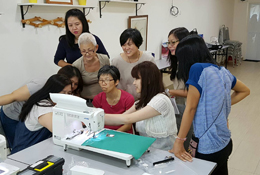 JUKI runs workshops all over the world to familiarize customers with sewing machine functions, operation techniques, and the pleasures of sewing articles such as swagger bags, small articles, and quilts. The hobbyist's world of machine sewing is extended using high-utility functions only offered by JUKI.
Providing sales and technical support covering the world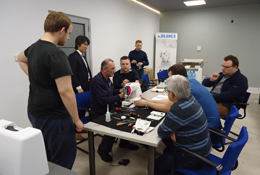 Our customers are supported by a global sales and technical network for industrial sewing machines. JUKI holds various workshops on sewing machine mechanisms, techniques to achieve beautiful seams, and methods to To create new pleasure together with a pro-hobbyist use and maintain products to offer "peace of mind."
Typical products
Typical household sewing machine products are introduced by category.
A page introducing household sewing machines
Development
We exhaustively study mechanisms to improve stitch quality for "stable seams" of any kind of fabrics using any kind of threads. We also pursue usability in the layout and design of parts handled by hand, superior outward appearance, and new designs to satisfy beginners to semiprofessionals.
Production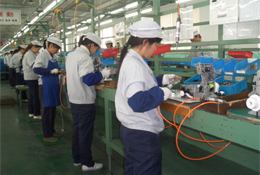 Many of JUKI's machines are produced
at "SHANGHAI JUKI SEWING MACHINE CO., LTD." and a partner company. Local staff and Japanese staff work together to maintain and enhance "JUKI quality" through high-level manufacturing and thorough inspections.
Main bases (Manufacturing and sales)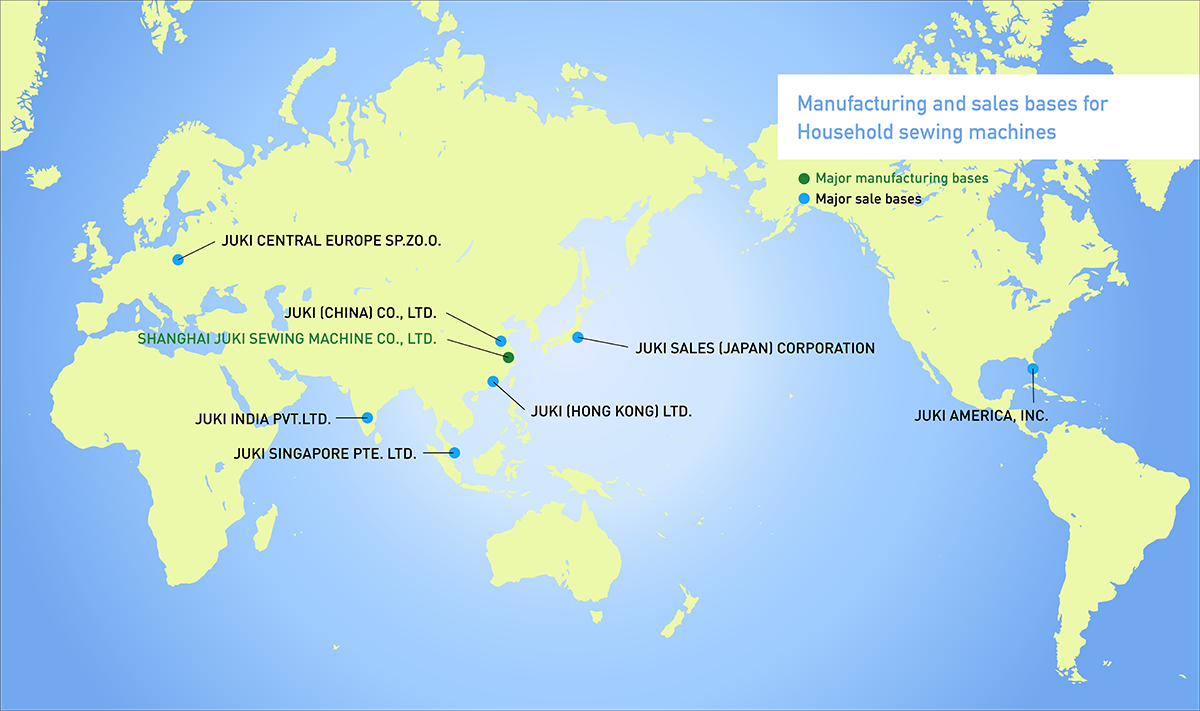 JUKI website for household sewing machines to support handmade needlework
Other menus