Semi - Dry head, Digital Zigzag Stitch Sewing System
Inspire the Knowledge in Sewing Adjustment
Epoch-making Sewing Systems in history.
Digital sewing system proposes the production process added with a computerized new value to all the people who engage in production.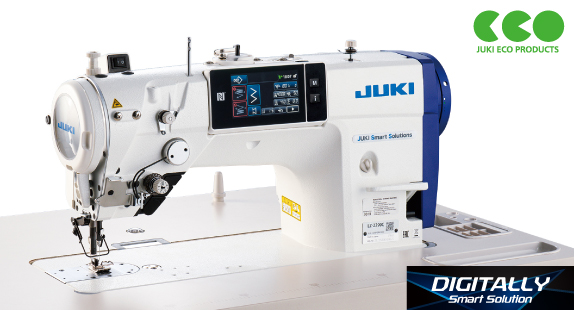 Product features
Sewing of diversified patterns is possible

The sewing machine is provided as standard with 11 types / 20 patterns of basic stitch shapes. Sewing patterns such as zigzag stitching, T stitching and pattern sewing can be selected on the new operation panel of the main body, thereby substantially increasing the facility operation rate.
In addition, a sewing pattern can be created for the brassiere sewing process for sewing a brassiere while skipping its bone portions. This also helps increase productivity.
For men's garments, the machine is used in processes such as topstitching for welt pockets, sewing collar cloths and sewing labels. For ladies' garments, it can perform pattern stitching for the collars and front bodies of jackets and blouses. In addition, original patterns can be created using the custom pattern feature, enabling the machine to be utilized for a broader range of uses.

Data and sewing machine management with IoT (Internet of Things)

A "Two-way" contactless communication for parameter adjustment data can be conducted with the sewing machine by a commercial Android terminal. This feature allows sewing machines in a sewing line to be uniformly set and status checked quickly, thereby contributing to stabilization in product quality.
Control panel is standardized with USB ports, promising simplicity in data management and system updates.

JUKI Smart APP allows you to send and confirm various data

In the application, there are items of management setting (terminal registration), sewing machine data (sewing data), problem-solution chart. In the problem-solution chart, we can generate production graphs, the availability chart, etc. for each acquired sewing machine data so it can be used for checking the current situation and analyzing it.
Basic performance
Energy-saving function

Automatic OFF function of the operation-panel backlight

Back light of the panel is automatically turned off in the case the operation panel is not operated for a certain period of time. (The setting is from 1 to 20 minutes.)

Sleep mode (Automatic power-OFF function)

If no operation is carried out for a predetermined period of time, the power supplies to the motor, etc. (The setting is from 1 to 50 minutes.)

Structure with no oil pan

The semi-dry machine head that is supplied with grease has been developed. With this machine head, oil stains on sewn products are reduced.

LED light

The LED light is provided as standard on the undersurface of arm jaw. In addition to the conventional function of the LED light, the color shade can be changed over as "white⇔neutral color (initial value)⇔incandescent" so as to help reduce the operator's eye fatigue.

Cooling fan

The cooling fan is laid out at the position that is best to reduce the heat generated by the hook unit.

Triple hand switch

The triple type hand switch has been introduced. The switch supports many different functions such as touch-back function, mirror function and multi-layered portion correction function.

Back lever

The back lever (reverse-feed lever) is provided as standard so as to support delicate sewing operations.

Hook timing adjustment mode

Hook timing can be safely adjusted while leaving the sewing machine ON by setting operation mode to the "Hook timing adjustment mode" on the operation panel.
Specification
Model
name
Provided with automatic thread trimmer
LZ-2290CS-7
Not provided with thread trimmer
LZ-2290CS
Specification
Digital type
Max. sewing speed*2
5,000 sti/min (4,000 sti/min at the time of shipment)*1
Max. zigzag width
Standard 8 mm (up to 10 mm by changing the gauge)
Needle throwing mechanism
Motor control
Feed mechanism (horizontal direction)
Motor control
Feed mechanism (vertical direction)
Mechanical type
Max. feed amount
5.0mm (2.5 mm at the time of shipment)
Thread take-up lever
Rotary thread take-up lever
Thread tension control mechanism
Rotary type (spring-adjustment type)
Multi-layered portion detection device
Not provided
Presser system
Spring type
Amount of lift of presser foot
Hand lifter: 5.5mm / Knee-lifter: 10mm / Auto-lifter: 10mm
Auto-lifter
Selected on the machine head (motor control)
Hook
DP hook (titanium-coated inner hook)
Needle (at the time of shipment)
ORGAN DP × 5 (#10), SCHMETZ 438 (Nm 75)
Operation panel
Color touch panel (provided with the NFC function)
Number of standard sewing patterns
11 types, 20 patterns
Memory capacity for custom patterns
200 patterns
Max. number of stitches
500 stitches/pattern
Continuous sewing pattern
Max. 20 patterns, 20 steps; 2,000 stitches/step
Main body input function
Provided (through the operation panel)
Hand switch
Triple switch (custom-setting is possible))
LED
Provided as standard (provided with the dimmer / toning functions)
Bobbin winder
Built in the top part of machine head
Machine head drive
Compact AC servomotor: 400 W (direct-drive type)
Oiling
Semi dry (Frame: Lubricated with grease; Hook: Oil is supplied from the tank)
Lubricating oil
JUKI New Defrix Oil No. 1 (equivalent to ISO VG7)
Distance from machine arm to needle / Bed size
300mm / 517mm × 178mm
Power consumption
530VA
Product weight
Provided with thread trimmer: 49.0kg, Not provided with thread trimmer: 48.4kg
*1 sti/min is the abbreviation for "stitches per minute".
*2 The maximum sewing speed varies depending on the stitch shape.

When you place orders