Sewing Machine Inspection Support System: JUKI-ShuHaRi
Services
Sewing Machine Inspection Support System: JUKI-ShuHaRi
Sewing machine inspection support system that can be adopted without additional cost
Pain-point solution service for maintenance management is now available!
Easy daily inspection using smartphones.
Free and easy maintenance management offering from a cloud service.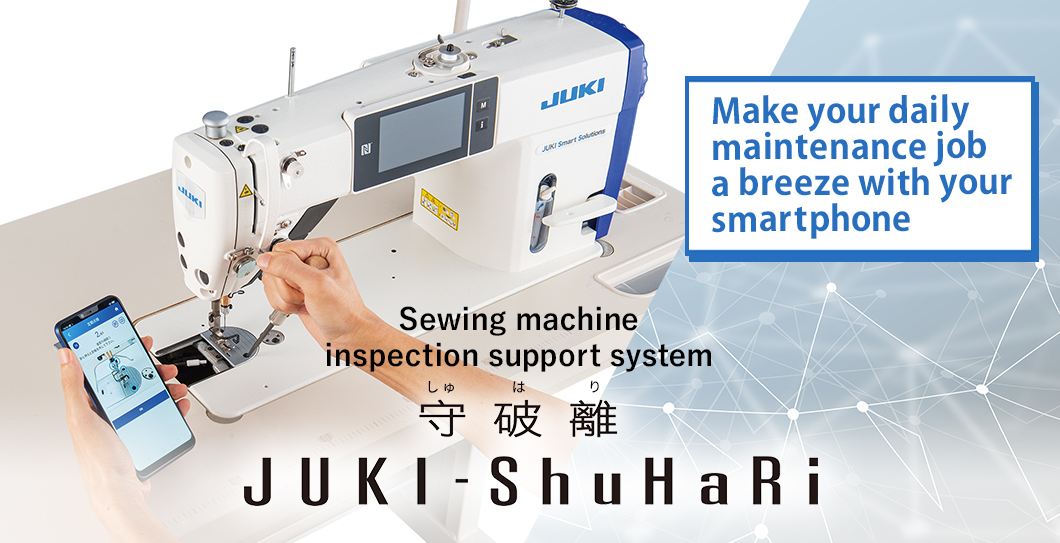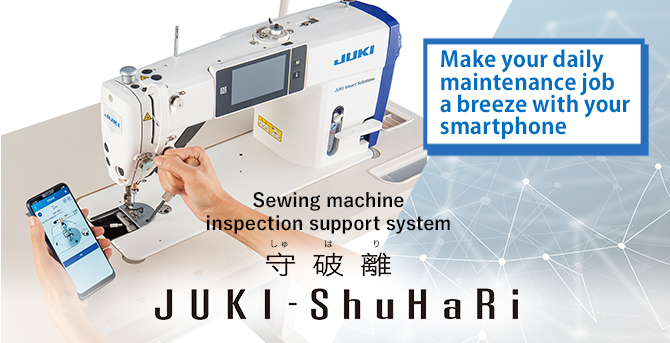 Product overview
Ideal for your challenges
Management of sewing machines and operators needs to be more efficient
Sewing machines are not fully inspected, resulting in large impact when failure are found
Operators need to be trained so that they can perform basic inspection tasks on their sewing machines
It is hard to find consumable parts and replacement parts suitable to the sewing machines
Productivity needs to be enhanced by effective management of equipment and human resource
JUKI-ShuHaRi helps improve productivity by
Decreasing the number of supplementary tasks, and allowing operators to focus on production
JUKI-ShuHaRi allows each sewing machine's inspection/work data to be stored in the cloud.
Complicated paper-based management of the sewing machine inspection checklist and work history can be efficiently managed in a digital way.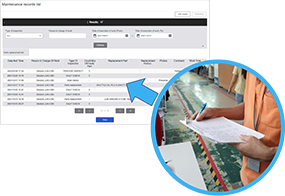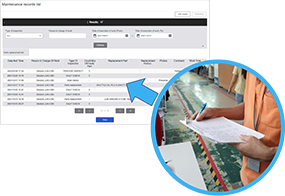 Making it easy and less time consuming to comprehend and manage the sewing machine states
Sewing machines and spare sewing machines are listed by sewing lines, so that each sewing machine status can be easily managed.
Any sewing machine's maintenance history and spare parts can be extracted, allowing the trend of failure to be analyzed.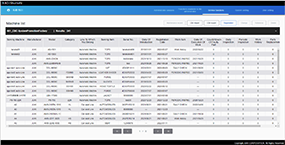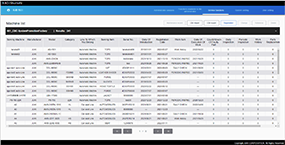 Allowing to comprehend the operator skills and to manage maintenance tasks
Various data stored in the cloud can be analyzed as performance records of individual operators.
This allows to comprehend each operator's skill, enabling efficient evaluation and trainings.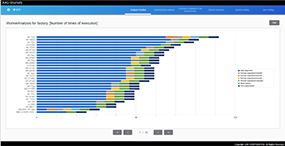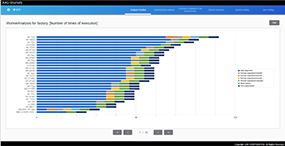 Decreasing the number of failures and making lives of sewing machines longer
Cleaning, oil supply, and replacement of consumable parts on a daily basis will significantly decrease sudden failure of sewing machines in number.
Regular inspection achieves stable production quality, as well as extends the product life cycle of the sewing machines.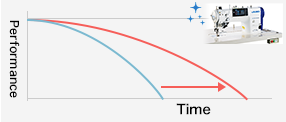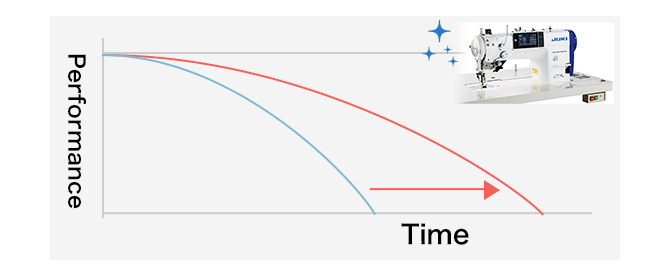 Longer lives of sewing machines!
System Structure
JUKI-ShuHaRi consists of two applications: a smartphone app and a cloud app accessible from a Web browser.
Operators can use their smartphones to perform, for example, sewing machine inspection.
Administrators use the cloud app to manage data submitted from PC.
* JUKI-ShuHaRi is a free service offering. Customers are responsible for the physical terminals/device cost and the Internet connection fee.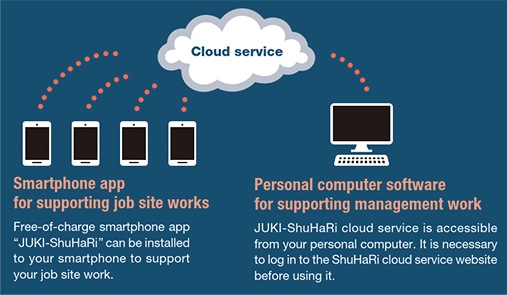 Smartphone app
The smartphone app can be used to display sewing machine inspection items, as well as to register other task details.
(1) Specify a sewing machine by the nameplate or the QR code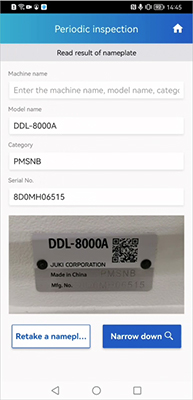 (2) Select the inspection type to perform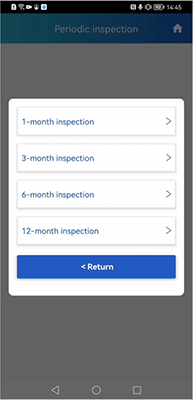 (3) Perform the inspection according to the displayed instruction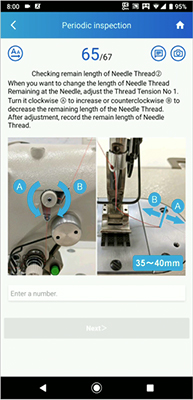 Click here for more detail about Smartphone app
Cloud app
The cloud app enables the administrator to manage and analyze necessary information, including the sewing machine list and maintenance history.
Sewing machine list display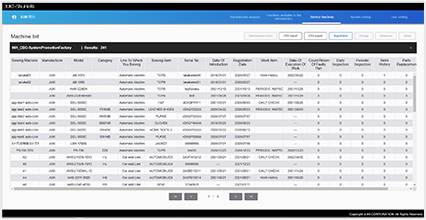 Graph view screen for analysis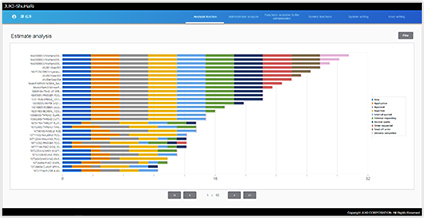 Smartphone app overview
In the inspection with JUKI-ShuHaRi, the operator scans the sewing machine's nameplate or the QR code to display the inspection items suitable to the sewing machine.
Even beginners can inspect the sewing machine because it is explained with simple task description and easy-to-understand image display.
Rich features beyond inspection
In addition to daily inspection, four types of regular inspection items based on the use period (1-month, 3-month, 6-month, and 12-month) as well as rich features to empower operation
Work report feature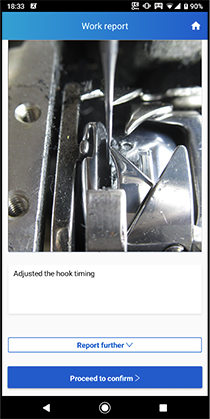 Operators can add pictures and comments to the task records, such as sewing machine tuning and attachment modification.
Parts estimation feature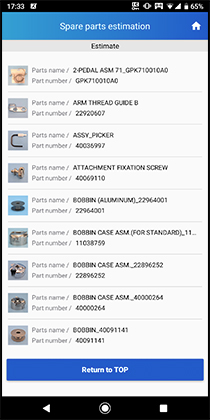 Required parts can be searched as a list of sewing machine spare parts and replacement parts are displayed.
Part detail display feature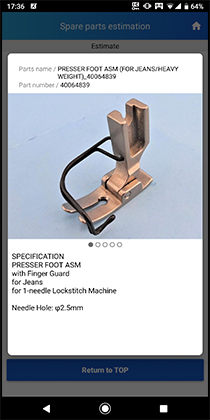 Purchase request of the selected parts can be sent to the administrator within the app.
Part list linkage
JUKI-ShuHaRi is linked to the part list, and purchase requests of the part in the cart of the list can be sent to the administrator within the app.
Purchase request of the parts in the cart of the part list can be made from JUKI-ShuHaRi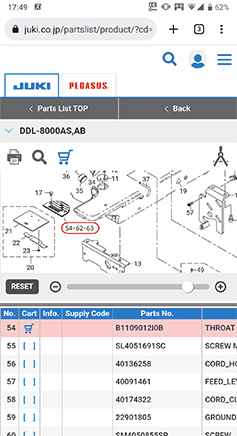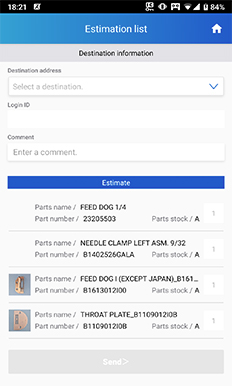 Operating environment
Android 7 - 11 (Performance guarantee version: Android 9 - 11)
* iPhone is not supported. (as of July 2022)
* Although performance is not guaranteed, ShuHaRi App is also available on HarmonyOS.
30 languages are supported:
Japanese / English / Chinese (Simplified) / Arabic / Bengali / Bosnian / Bulgarian / Danish / Dutch / Finnish / French / German / Hindi / Indonesian / Italian / Khmer / Macedonian / Myanmarese / Norwegian / Polish / Portuguese / Romanian / Russian / Serbian / Spanish / Swedish / Tamil / Turkish / Urdu / Vietnamese
Cloud app overview
The cloud app is an administrator application designed for management and analysis.
Administrators can view various lists, inspection history and task history registered from the smartphone app, as well as analyze trends of consumable parts of each sewing machine.
It also enables the administrators to manage tasks and accounts of the staff in the factory.
Easy estimate and order of sewing machine parts
Administrators can aggregate and select parts that operators requested for purchase and parts in the cart of the part list.
As parts requested for purchase can be ordered to the distributor within the cloud app, errors related to part number and quantity input are eliminated.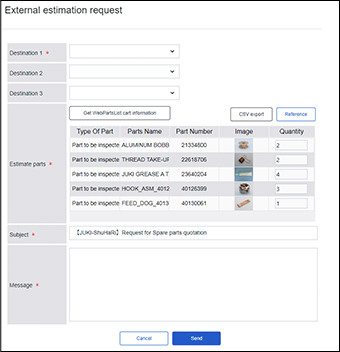 Visualized maintenance tasks and analysis for sewing machine maintenance
Each sewing machine's maintenance record (inspection/task history) enables management and analysis of frequency of failures and part replacement.
Operator analysis
As aggregation of inspection/task history per operator is available, the data is utilized for each operator's skill analysis (analysis of suitable tasks and unsuitable tasks) and operation management (evaluation of tasks performed within a given time period).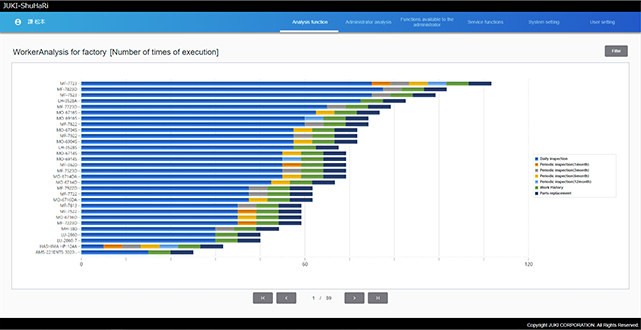 Analysis per sewing machine/production line
Data can be compared across sewing machines and production lines.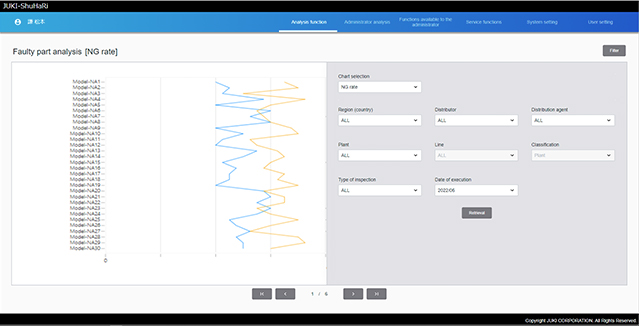 Operating environment
Supported browsers: Chrome / Edge / Firefox / Opera
* Performance is guaranteed for Chrome.
Screen resolution: 1920 x 1080 recommended
Users may need to scroll the screen vertically or experience truncated screens with screen resolution lower than 1920 x 1080
30 languages are supported:
Japanese / English / Chinese (Simplified) / Arabic / Bengali / Bosnian / Bulgarian / Danish / Dutch / Finnish / French / German / Hindi / Indonesian / Italian / Khmer / Macedonian / Myanmarese / Norwegian / Polish / Portuguese / Romanian / Russian / Serbian / Spanish / Swedish / Tamil / Turkish / Urdu / Vietnamese