High-speed, 1-needle, Lockstitch, Zigzag Stitching Machine
The sewing machine produces soft seams with consistency with a low tension applied to the thread even when it runs at a high speed.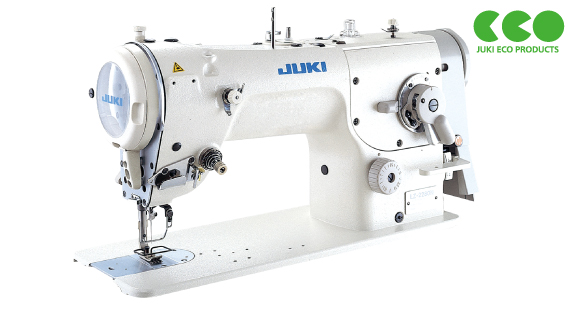 Product features
Uneven feed of the upper and lower cloths is totally eliminated

Simplified mechanism for easy operation

Drop-feed sewing machines are widely said to feed in the lower cloth more quickly than the upper cloth. However, this machine prevents uneven feed of the upper and lower cloths in spite of its a drop-feed mechanism. In appearance, the gauge parts are identical to those of a conventional zigzag stitching machine, and operability is in no way affected by the newly developed feed mechanism.
Specification
Model
name
Without automatic thread trimmer
LZ-2280NU
LZ-2284NU
With automatic thread trimmer
—
LZ-2284NU-7
Stitch system
Standard zigzag
Standard/
3-step zigzag
Stitch pattern
Max. sewing speed
4,500sti/min*
Max. zigzag width
10.0mm
10.0mm (standard)
10.0mm (3-step)
Max. feeding amount
2.5mm (standard)
2.0mm (3-step)
Min. cutting allowance of lower knife
-
Lower knife driving method
-
Lift of the presser foot
By hand: 5.5mm
By knee: 10.0mm
Hook
DP hook (with titanium-treated inner hook)
Thread take-up
Rotary type
Lubrication
Fully automatic
Lubricating oil
JUKI New Defrix Oil No.1 (equivalent to ISO VG7)
Needle (at the time of delivery)
438 (Nm70),
DP×5 (#10)
Needle position changing mechanism
Provided as standard
Reverse feed stitching mechanism
Provided as standard
Needle throw pattern cam
Triangular cam
Grooved cam
Standard Guage
(at the time
of delivery)
Needle plate
225-48010
225-82407
Feed dog
225-48119
225-81508
Presser foot (asm.)
225-48671
235-03162
*sti/min is the abbreviation for "stitches per minute"

When you place orders