Computer-controlled Cycle Machine with Input Function
Digital sewing system proposes the production process added with a computerized new value to all the people who engage in production.
Computer-controlled cycle machine AMS-221F has achieved increased productivity with its maximum sewing speed of 2,800 sti/min and beautifully finished seams with its new feed control system.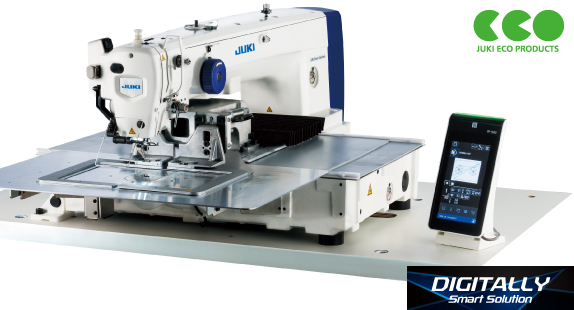 Product features
Industry's most accurate needle entry point is ensured

Increased rigidity and JUKI's unique high-performance feed control system contribute to increased feed accuracy, thereby reducing uneven material feed during outward/inward sewing. Uneven material feed during outward/inward sewing is reduced. In addition, for the feed system of the feeding frame, either the intermittent feed or the continuous feed can be selected.

High-quality seams that respond to heavy-weight materials and light-weight materials

The thread clamp mechanism and the feed mechanism that succeeded JUKI's unique technologies have been reviewed for improvement. As a result, more beautifully-finished seams are now produced. In addition, the main-shaft retry function can be selected with the memory switch. This improves the penetration force of the needle when sewing heavy-weight materials.

Beautifully-finished seams without bird's nests (bird's nest reducing function) are produced

Since thread trimming is performed at the beginning of sewing, so-called bird's nest (thread tangling in at the beginning of sewing) is reduced, thereby producing more beautiful seams.

Shorter thread remaining function *

Since the counter knife position has been changed, length of needle thread and bobbin thread remaining on the material after thread trimming is reduced to 5 mm or less. As a result, securing of thread at the end of sewing is no longer required.
* The bird's nest reduction function and shorter-thread remaining function cannot be used simultaneously.

Newly-developed active tension

Highly-evaluated active tension that is used for setting the needle thread tension is now added with new functions. The output can be changed over with the memory switch between the low-tension side output and the high-tension side output to enable fine adjustment of the thread tension in the actual area of use. Not only the thread tension during sewing can be changed at a pin point but also it can be set in accordance with the material thickness. In addition, the needle thread tension that is likely to vary with the sewing direction can also be corrected. All of these adjustments can be done on a stitch-by-stitch basis through the operation panel with ease. Since the needle thread tensions adjusted in accordance with various sewing conditions are reproducible, setup changing time is reduced at the time of changeover of processes.

The AMS-221F Series comes in two different models which differ in sewing area

2516 (X 250mm × Y 160mm)

AMS-221F-SS2516·HS2516
AMS-221F-SL2516·HL2516
This model of sewing machine is best-suited to sewing topstitching / shape-tacking of apparel products in general such as labels and emblems, and bags and shoes. It is widely applicable to sewing of various kinds of sewing materials and processes.

3020 (X 300mm × Y 200mm)

AMS-221F-HS3020·GS3020
The sewing machine is applicable to sewing products which require a wider sewing area than that of the "AMS-221F-2516." This model of sewing machine is best-suited to sewing car interior parts, attaching handles to bags, and topstitching/shape-tacking boots and shoes. This model of sewing machine responds to the sewing that requires medium-size sewing area.

Operation panel provided with programmable functions IP-500
(provided as standard)

The IP-500 is the newly-developed operation panel that comes with a high-resolution touch-panel screen. The speed of response to the operation is increased. The operator is able to input/edit data while visually observing the needle entry points. A file name consisting of 12 alphanumeric characters can be set to a piece of pattern data. As a result, It is possible to manage the sewing pattern using the file name. In addition, since the corrective measure is additionally displayed to the error message, easy resetting of the error is enabled.

The memory storage capability of the main body of the sewing machine has been dramatically enhanced

Sewing data created with the IP-500 can be stored in the memory of the main body of the sewing machine. The memory storage capacity is 50,000,000 stitches and 999 patterns (max. 50,000 stitches per pattern) at the maximum.

Management of sewing performance and sewing machine by the utilization of IoT (Internet of Things)
Various digitalized functions Management, browsing and editing of data can be carried out on the application software

Data on sewing machine adjustments made according to the product to be sewn can be transferred to a commercially-available Android tablet in contactless mode. This enables quick check for uniform settings as well as confirmation of conditions of sewing machines in a sewing line, thereby facilitating setup changes. The operation panel is also provided as standard with a USB port. Data management and software update can be carried out with ease using a USB thumb drive.
Data items of sewing can be numerically managed to ensure "stable quality" and reduction in time required for setup changes. Quantified sewing data can be externally taken from the sewing machine using an Android tablet or USB thumb drive.

JUKI Smart APP allows you to send and confirm various data

In the application, there are items of management setting (terminal registration), sewing machine data (sewing data), problem-solution chart. In the problem-solution chart, we can generate production graphs,the availability chart, etc. for each acquired sewing machine data so it can be used for checking the current situation and analyzing it.

*Android OS Version 6.0 is recommended to use JUKI Smart APP.
(Operation is confirmed with respect to Versions 5.0 and later.)
Contact JUKI distributor in your area for how to use the application software.
Basic performance
Two different types of feeding frames

The feeding frame comes in two types; one is the monolithic feeding frame and the other is the separately-driven feeding frame (consisting of separate right and left parts). Since the right and left parts of separately-driven feeding frame can be operated independently, easier placement of the material under the feeding frame is promised. The amount of lift and lifting/lowering speed of the feeding frame can be set separately for its right and left parts.

Intermediate presser

Height of the lower dead point of intermediate presser can be changed steplessly in order to respond to sewing of multi-layered sections of material.
(Standard: 0 - 3.5 mm; Maximum: 0 - 7.0 mm)
The intermediate presser stably holds the sewing material, thereby preventing sewing troubles such as stitch skipping and thread breakage. In addition, the intermediate presser can be held at a desired height according to the material thickness, thereby preventing the sewing product from being damaged. Since the intermediate presser lifting amount is increased from the conventional 20 mm to 25 mm, ease of placement of the material on the sewing machine is increased.

Double-stepped stroke feeding frame (for separately - driving feeding frame)

The feeding frame can be lowered in two steps. It is very convenient for finely positioning the material on the sewing machine. The stopping height of the feeding frame can be set as desired with ease.

Non-magnetic throat plate auxiliary cover

Non-magnetic material is adopted to the throat plate auxiliary cover. As a result, the presser foot pressure or sewing performance is not affected by a magnetic resistance even when a magnet throat plate is used.

Bobbin winder

This bobbin winder does not require the operator to wind the thread on the bobbin at the beginning of bobbin winding procedure. The bobbin winder starts winding a bobbin only by placing the bobbin on it.

LED light

The illuminance-adjustable LED light is provided as standard to allow the operator to check the needle entry points with ease. This LED light can be adjusted in illuminance to such a level that the operator carries out sewing work with ease, thereby contributing to enhanced work efficiency.

Reduction in the power consumption

The AMS-221F has adopted the direct-drive system by means of a compact AC servomotor. Thanks to the capabilities enabled by the direct-drive system such as the panel screen display OFF feature and motor-excitation OFF feature, the power consumption is reduced by 12.2 % as compared with the AMS-221EN.

Reduction in noise/vibration

Reduced noise/vibration helps provide the operator-friendly work environment
Specification
Model name
AMS-221F-SS2516
AMS-221F-SL2516
AMS-221F-HS2516
AMS-221F-HL2516
AMS-221F-HS3020
AMS-221F-GS3020
Application
Light- to
medium-weight
Medium- to
heavy-weight
Medium- to
heavy-weight
Heavy- to
extra heavy-weight
Feeding frame type
Monolithic feeding frame(AMS221F-*S)
Separately-driven feeding frame(AMS221F-*L)
Monolithic feeding frame
Sewing area
X: 250mm × Y: 160mm
X: 300mm × Y: 200mm
Max. sewing speed
2,800sti/min*
Stitch length
0.1⁓12.7mm (0.05mm step)
Needle bar stroke
45.7mm
Lift / Stroke of the intermediate presser
Lifting amount: 25mm / Stroke: Standard 4mm (0⁓10mm)
Variable lower position of the intermediate
Standard 0⁓3.5mm (max. 0⁓7.0mm)
presser
Active tension (with an output cure changeover function)
Needle
DP×5 (#14)
DP×17 (#18)
DP×17 (#18)
DP×17 (#23)
Thread
#80⁓#20
#50⁓#2
#50⁓#2
Hook
Double-capacity shuttle hook
Storage of pattern data in the memory
Main-body memory: Max. 50,000,000 stitches, 999 patterns (max. 50,000 stitches / pattern)
External media: Max. 50,000,000 stitches, 999 patterns (max. 50,000 stitches / pattern)
Enlarging / Reducing facility
1⁓400% (0.1% step), Pattern enlargement / reduction can be done by increasing /decreasing either stitch length or the number of stitches
Bobbin thread / Product counter
Up / Down system (0⁓9,999)
Lubrication
Semi-dry / hook section, Lower shaft gear section: minute-quantity lubrication (tank system)
Lubricating oil
JUKI New Defrix Oil No.2 (equivalent to ISO VG32)
Sewing machine motor
AC servomotor 550W (direct-drive system)
Power requirement / Power consumption
3-phase 200V/400VA
Compressed air / Air consumption
0.5⁓0.55 (max. 0.55) MPa, 1.8dm³/min (ANR)
Dimensions
1,200mm(W)×1,150mm(D)×1,150mm(H) (thread stand is not included)
Weight
245kg
252kg
* sti/min is the abbreviation for "stitches per minute"

When you place orders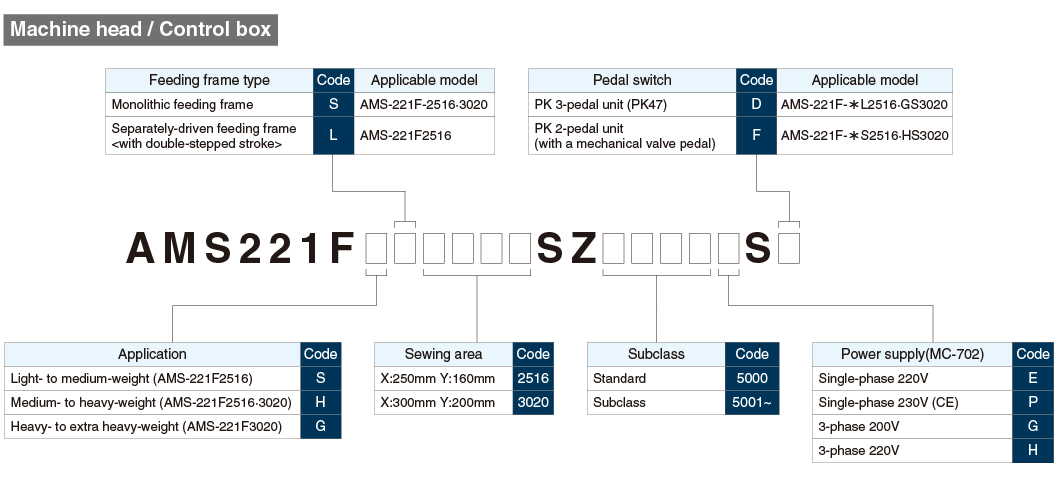 Gauge
AMS-221F-SS2516
AMS-221F-SL2516
AMS-221F-HS2516
AMS-221F-HL2516
AMS-221F-HS3020
AMS-221F-GS3020
Application
Needle
NEEDLE HOLE GUIDE
INTERMEDIATE PRESSER
Figure
-
-
-
-
Number
P/N
Needle hole size
P/N
Dimention(ΦA×ΦB×H×L)
Knitwear(OP)
#9~#11
40207153
Φ1.6
B1601210D0E(OP)
φ1.6×φ2.6×5.7×37.0
Light weight to medium weigt (S type)
AMS-221F-SS2516
AMS-221F-SL2516
#11~#14*1
40196061
Φ1.6
40023632(Standard)
φ2.2×φ3.6×5.7×38.5
Medium weight to heavy weight (H type)
AMS-221F-HS2516
AMS-221F-HL2516
AMS-221F-HS3020
#14~#18*2
40196067
Φ2.0
B1601210D0FA(OP)
φ2.2×φ3.6×8.7×41.5
Heavy weight (OP)
AMS-221F-GS3020
#18~#25
40196071
Φ2.4
B1601210D0BA(OP)
φ2.7×φ4.1×5.7×38.5
Heavy weight (Standard)
AMS-221F-GS3020
40196074
Φ3.0
14433601
Extra heavy weight (OP)
AMS-221F-GS3020
40207154
Φ3.0(With counterbore)
B1601210D0CA
φ3.5×φ5.5×5.7×38.5
For the prevention of stitch skipping on heavy weight materials (OP)
AMS-221F-GS3020
40213021
Φ3.0(Eccentric)
S type: Fitting thread number #80~#20, H type: Fitting thread number #50~#2
*1 The needle equipped as standard(DP×5 #14)
*2 The needle equipped as standard(DP×17 #18)