High-speed, Cylinder-bed, 1-needle, Lockstitch, Zigzag Stitching Machine with Automatic Thread Trimmer
(with standard/3-step zigzag stitching pattern changeover function)
The sewing machine produces soft seams with consistency with a low tension applied to the thread even when it runs at a high speed.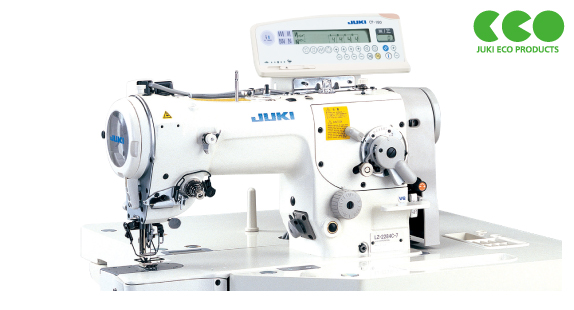 Product features
Cylinder-bed,Lockstitch, Zigzag Stitching Machine

This is a cylinder-bed, lockstitch zigzag stitching machine based on the LZ-2284N-7 model. The cylinder-bed more than adequately facilitates the handling of tubular sewing products in circular sewing processes, thereby contributing to increased productivity and upgraded seam quality. This zigzag stitching machine is best suited to the attaching or counter stitching of elastic tape.
Specification
Model
name
With automatic thread trimmer
LZ-2284C-7
Stitch system
Standard/
3-step zigzag
Stitch pattern
Max. sewing speed
5,000sti/min*
Max. zigzag width
10.0mm (standard)
10.0mm (3-step)
Max. feeding amount
2.5mm (standard)
2.0mm (3-step)
Min. cutting allowance of lower knife
-
Lower knife driving method
-
Lift of the presser foot
By hand: 5.5mm
By knee: 10.0mm
Hook
DP hook (with titanium-treated inner hook)
Thread take-up
Rotary type
Lubrication
Fully automatic
Lubricating oil
JUKI New Defrix Oil No.1 (equivalent to ISO VG7)
Needle (at the time of delivery)
438 (Nm80)
Needle position changing mechanism
Provided as standard
Reverse feed stitching mechanism
Provided as standard
Needle throw pattern cam
Grooved cam
Standard Guage
(at the time
of delivery)
Needle plate
225-82407
Feed dog
225-81508
Presser foot (asm.)
235-03162
*sti/min is the abbreviation for "stitches per minute"

When you place orders