High-speed, Overlock / Safety Stitch Machine
This advanced overlock / safety stitch machine is easier to use and promises superior cost effectiveness.
The MO-6800S Series responds to various kinds of sewing materials and processes, producing delicate and beautiful soft-to-the-touch seams while further reducing operating noise as well as increasing durability. This advanced overlock / safety stitch machine is easier to use and promises superior cost-effectiveness.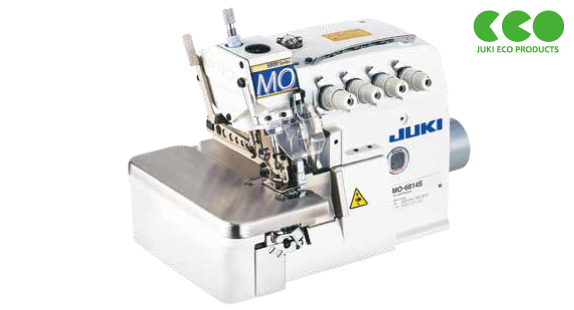 Product features
The machine achieves beautifully finished seams of improved quality even when run at a high speed

The machine is widely applicable to the sewing of light- to heavy-weight materials. Since the machine is provided with a needle thread take-up mechanism and a looper thread take-up lever, it ensures high-quality, well-tensed and soft seams with a beautiful texture which flexibly correspond to the elasticity of the materials even when run at speeds as high as 7,000 sti/min. In addition, the machine has a wider and brighter needle entry and provides improved responsiveness to the materials, thereby helping the operator use the machine more easily. The optimally-balanced design of the machine reduces both operating noise and vibration, contributing to more comfortable sewing work.

The machine is provided with functions which contribute to easier operation

The differential-feed micro-adjustment mechanism, external increasing of the differential feed ratio and the main feed dog height can all be adjustable on the front face of the sewing machine with a screwdriver. The machine is provided as standard with functions which enable easy and best-suited adjustments according to the material to be used.
Specification
Model name
MO-6804S
MO-6814S
MO-6816S
MO-6843S
Stitch type
1-needle overlock
2-needle overlock
Safety stitching
3-needle safety stitching
Stitch style in the U.S.A.
504
514
516
-
Max. sewing speed
7,000sti/min*
Stitch length
0.6~3.8 (4.5)mm
Needle gauge (mm)
-
2.0
3.0, 5.0
3.0+2.0, 5.0+2.0
Overedging width (mm)
1.5, 4.0
2.0, 3.0, 4.0
4.0, 5.0, 6.0
3.0
Differential feed ratio
For gathering 1:2 (Max. 1:4), For stretching 1:0.7 (Max. 1:0.6)
Needle bar stroke
24.5mm (60H:27.0mm)
Inclination angle of the needle
20°
Needle bar bushing
Lower bushing method
Needle
DC×27 (excluding some subclass model)
Max. lift of the presser foot
7mm (excluding some subclass model)
Max. presser foot pressure
63.7N (6.5kgf)
Stitch adjusting method
By push-button
Differential-feed adjusting method
By lever (with micro-adjustment)
Weight of the machine head
27kg
Lubrication
Automatic
Lubricating oil
JUKI Machine Oil 18 (equivalent to ISO VG18)
Needle cooler
Provided as standard
Needle thread heat remover
Provided as standard
Micro-lifter
Option
*"sti/min" stands for "Stitches per Minute."

When you place orders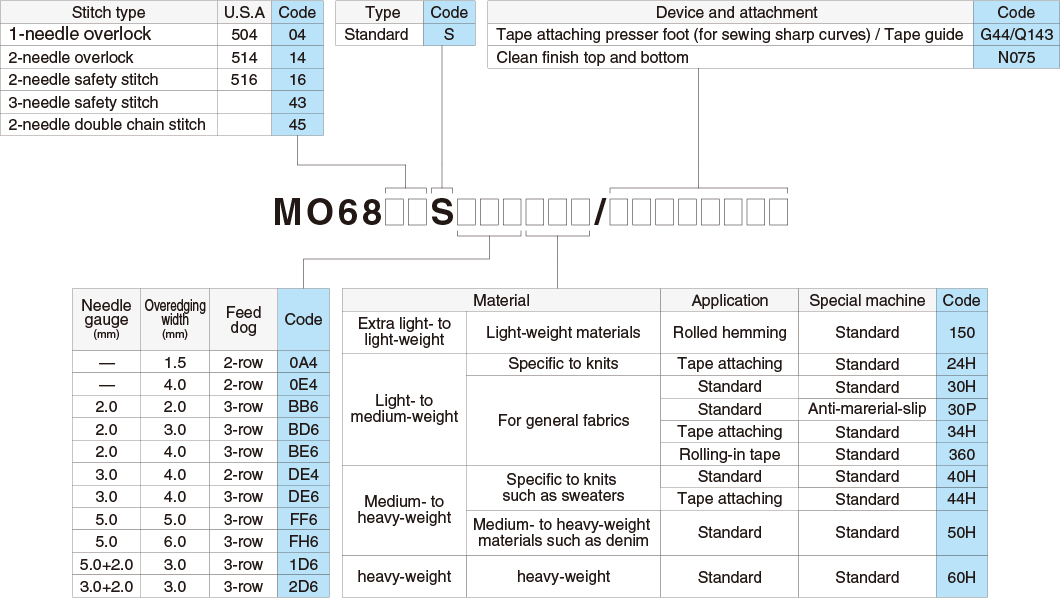 Subclass machine list