Cylinder-bed, Top & Bottom Coverstitch Machine
The MF-7900 Series is a newly developed coverstitch machine provided with lots of mechanisms for improving the seam quality.
It is provided with many different sewing-related mechanisms which contribute to improved seam quality, such as the new feed mechanism, and differential-feed micro-adjustment mechanism. In addition, the machine is provided as standard with a looper thread twining prevention mechanism for improved maintenance.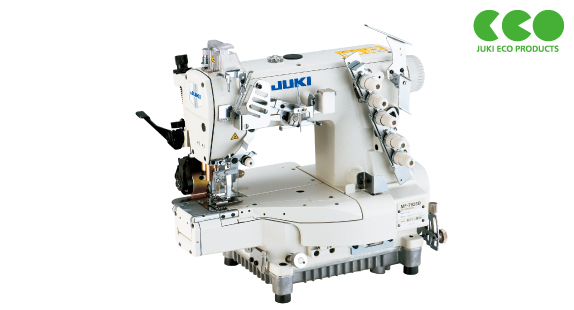 Product features
H11 For elastic band welting H11 with PL

This model is best suited to elastic-band welting for swimwear, briefs, etc. It welts the elastic band which has been overlocked on the garment body.

JUKI's dry-head technology protects sewing products from being stained with oil

With the excellent functions inherited from the MF-7900 Series, the MF-7900D is provided with a dry frame mechanism to eliminate the cause of oil stains. Stain removing work or re-sewing work is substantially reduced by protecting sewing products from being stained with oil, thereby improving the quality of finished products.
Basic performance
Thanks to the new feed mechanism, many different types of sewing are achieved

The feed locus can be adjusted externally. The feed locus is now adjustable in terms of the vertical direction and horizontal direction, thereby improving responsiveness to sewing materials.

Micro-lifter mechanism

Elastic material or delicate material can be sewn with the presser foot kept slightly raised. This effectively helps reduce the degree of slippage, warpage and damage of the material.

Differential-feed micro-adjustment mechanism

It is possible to finely adjust the differential feed amount to a best-suited value for the material to be used. The differential feed ratio is constant even if the stitch length is changed.

The looper thread twining prevention mechanism has been improved and is provided as standard for the sewing machine

In the case of looper thread breakage, the looper thread twining prevention mechanism is activated to trim the looper thread before the thread twines on the looper thread cam. In this way, the looper thread twining prevention mechanism prevents the looper thread from twining on the looper thread cam. In addition, the looper thread cam, which has been incorporated in the sewing machine, has been changed so that it is mounted outside of the sewing machine. The externally-mounted looper thread cam promises improved maintainability.

Commercially-available gauge components are applicable with no additional work

As a result of the commonality of components, commercially-available components (presser foot, throat plate and needle clamp) are now applicable and easily obtainable.

All of the sewing machines with a thread trimmer are provided with a direct-drive motor

The direct-drive motor system has been adopted by all of the sewing machines with a thread trimmer. As a result, the sewing machine starts up swiftly and promises increased stop accuracy, thereby demonstrating improved responsiveness. In addition, the machine is no longer provided with a V-belt. This means that the adoption of the direct-drive motor is also effective in the elimination of belt shavings. Power is directly transmitted from the motor to the sewing machine, thereby contributing to reduced power consumption. (This sewing machine reduces power consumption by 27% as compared with the conventional models.)
Specification
Model name
MF-7900 series
MF-7900D series
Stitch type
2-needle/3-needle top
and bottom covering stitch
2-needle/3-needle top
and bottom covering stitch
Needle
UY128GAS (#10S) #9~#12S
Lift of the presser foot
5mm (with top and bottom covering stitch),
8mm (with bottom covering stitch)
Stitch pitch adjustment
By dial
Differential feed adjustment
By micro-adjustment mechanism
Lubrication
Automatiac
Automatic (frame: no lubrication)
Lubricating oil
JUKI Machine Oil 18 (equivalent to ISO VG18)
Feed dog inclination adjustment
Provided as standard
Micro-lifter
Provided as standard
Needle gauge (mm)
3.2, 4.0, 4.8, 5.6, 6.4
Needle bar stroke
converting function
U11, H11, H22, H23, E11:
Provided as standard:
31mm: at the time of delivery /
When sewing a heavy-weight material:
33mm
U11, H22, H23, H24, H25, E11:
Provided as standard: 31mm:
at the time of delivery /
When sewing a heavy-weight material:
33mm
E22, E23:
Provided as standard:
33mm: at the time of delivery /
When sewing a heavy-weight material:
35mm

-

Silicon oil tank for needle tip
and needle thread
Provided as standard
Cartridge oil filter
Provided as standard
Power requirement /
Power consumption
Single-phase 100~120V / 200~240V,
3-phase 200~240V / 500VA (with automatic thread trimmer)
Weight of the
machine head
U11
41kg (without device), 49kg (with UT51), 51kg (with PL/UT52), 44kg (with UT57)
H11 (with PL)
43kg (without device), 51kg (with UT52), 46kg (with UT57)
H22, H23
42kg (without device), 50kg (with UT51), 45kg (with UT57)
H24, H25
-
46kg (with UT57), 46kg (with UT59)
E11 (with PL)
44kg (without device), 48kg (with UT55), 47kg (with UT56)
E22, E23 (with PL)
43kg (without device), 51kg (with UT52), 46kg (with UT57)

When you place orders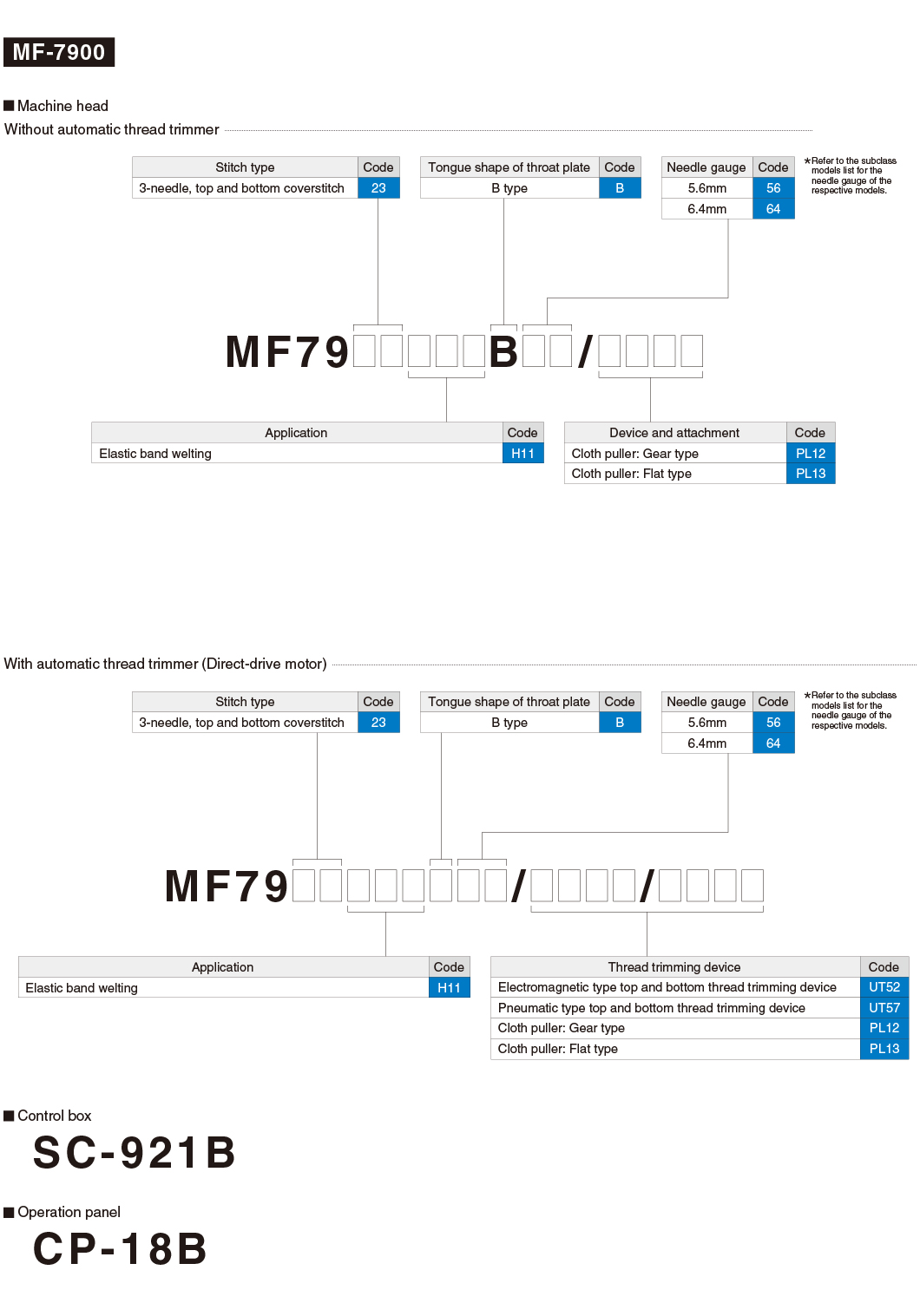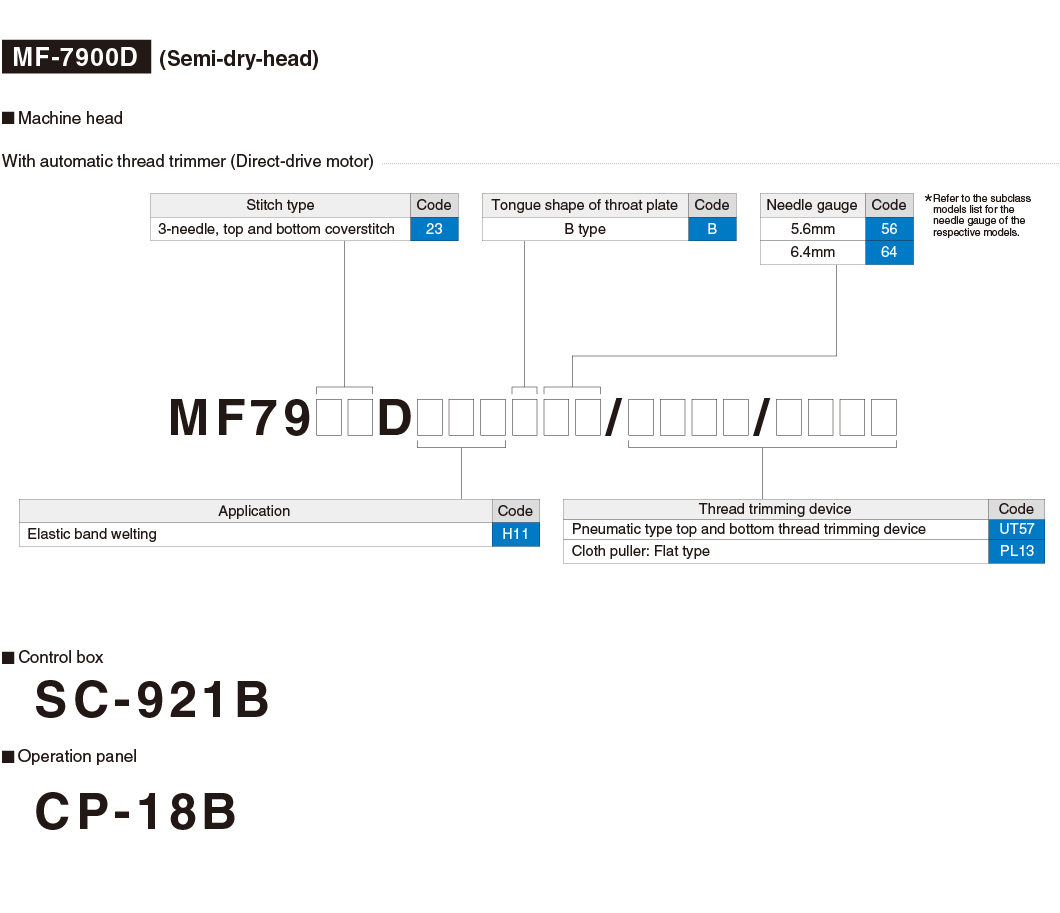 Subclass machine list