Computer-controlled, High-speed, Lockstitch, Button Machine
JUKI Simple Series sewing machine LK-1903S has been designed to have simplified and narrowed down capabilities that are essentially required to produce JUKI's established seam quality. In addition, it supports the operator with the voice guidance system to improve work efficiency.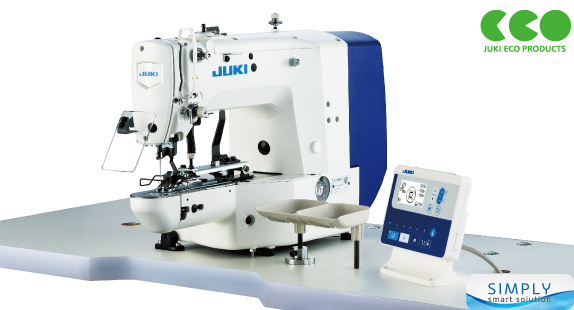 Product features
Voice guidance for the operator

This sewing machine is provided as standard with the voice-guidance system with clock function. This voice guidance can be used for the purpose of production support such as giving the operator information about the number of pieces produced, work progress management and the operation rate of sewing machine, though the initial setting is required.

The operation panel is provided as standard with a USB port. This means that the sewing machine data management and software updating can be carried out with ease by means of the USB port.

Higher productivity

The machine's starting, stopping, thread-trimming, up and down of button clamp jaw lever and the jump speeds have reducing to total cycle time.
Basic performance
This sewing machine quickly carries out sewing of various kinds of sewing patterns

The machine is provided as standard with 50 different sewing patterns. The machine permits easy changeover of sewing patterns for effortless execution of an inexhaustible range of sewing specifications.
The LK-1903S is also able to sew buttons using the same data used for the LK-1903 (Data in EP-ROM are enabled by conversion).

Auto-lifter mechanism utilizing a system

The machine is provided as standard with auto-lifter that uses a stepping-motor system. This helps reduce operator fatigue.
The work clamp foot lift can be set to a maximum of 13mm.

LED light (light quantity in five levels + light-out function)

The LED light that illuminates the needle entry area is provided as standard. The LED light is provided with the six-step changeover switch to control its brightness and light-out.

Excellent responsiveness promises comfortable work

The direct-drive system that directly connects the compact AC servomotor to the main shaft of the sewing machine has been adopted.
This system enables quick startup and promises increased stopping accuracy, thereby contributing to improved responsiveness.

TABLE OF THE SEWING PATTERNS
Specification
Model name
LK-1903S-SS
Application
Standard
Max. sewing speed
2,700sti/min*
Button size
Type : Round-shaped, flat button (2-holed, 4-holed)
Size : φ8~φ32mm
301 : φ8~φ20
302 : φ10~φ20
OPTION : φ15~φ32
Lubrication
Semi-dry head (Hook: minute-quantity lubrication)
Stitch length
0.1~10mm (0.1mm step)
Needle bar stroke
45.7mm
Lift of the work clamp foot
Max.13mm
Auto-lifter
Provided as standard (stepping motor type)
Needle thread tension
Spring type dial thread tension controller
Needle (at the time of delivery)
DP×17 (#14)
Hook
Standard shuttle hook
Number of stitches that can be stored in memory
Max. 20,000 stitches
Number of standard patterns
50 patterns
Number of data that can be input
200 patterns
Enlarging/Reducing facility
20~200% (1% step), Pattern enlargement/reduction can be done by increasing/decreasing the stitch length
Memory medium
Internal-organs memory
Bobbin thread counter
Provided as standard (up/down method)
Lubricating oil
JUKI New Defrix Oil No.2 (equivalent to ISO VG32)
Sewing machine motor
Compact AC servomotor (direct-drive system)
Power supply/Power consumption
Single-phase 200~240V/250VA
Weight
Machine head (include motor) 42kg, Control box 5.1kg
*"sti/min" stands for "Stiches per Minute"

When you place orders