Automatic Pocket Setter (For Jeans)
The machine fully automatizes a series of pocket setting processes to achieve higher productivity and consistent quality.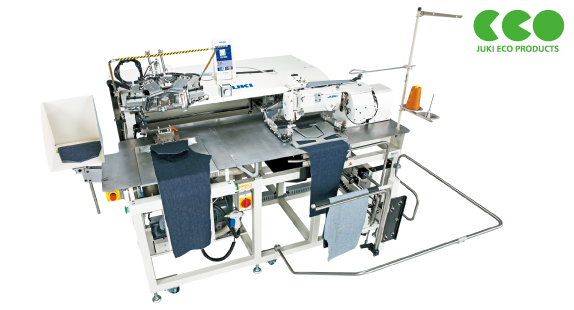 Product features
Increased productivity

The machine carries out a series of pocket setting processes at 9.9 seconds/pocket
It achieves 7.1 times as productive as general-purpose machines

9.9 sec./pocket *

The machine is able to fold a subsequent pocket and place it on a garment body while the machine is still engaged in the sewing of the current pocket. This means higher productivity can be achieved simply with one machine. The exclusive high-speed, 1-needle lockstitch zigzag stitch machine with an automatic thread trimmer has been adopted as the machine head for the AP-876. The maximum sewing speed is 4,000 sti/min. The AP-876 reduces the cycle time by 5% as compared with JUKI's conventional model, AVP-875.
*Pocket sewing condition: 340 stitches (medium-size pocket)

Reduction in the number of facilities and that of operators to be used

The AP-876 fully automatizes a series of pocket setting processes. If these processes are done by means of the general-purpose machine, the following eight facilities (eight operators) will be required to achieve the daily production equivalent to that of the AP-876.

Steam Iron: two machines (Fold hip pocket)
1-needle lockstitch machines with automatic thread trimmer: five machines (Sew hip pocket to back)
Bartacking machine: one machine (Bartack hip pocket edge) The AP-876 is able to carry out these processes alone (one operator).

Quality production without relying on operator skill, quality improvement

The hip pocket of jeans and other garments is a highly visible element of those products.
Its finished quality determines the product value. The pocket setting process is, therefore, a very important process.
The AP-876 contributes to easier operation to allow the operator to carry out pocket setting even if he/she has no specific skills, thereby achieving consistent high-quality pocket setting.

The machine folds pocket cloths with fine, sharp creases and absolutely no material slippage.

A pocket cloth is folded on the table surface and properly tensed by a pocket style jig to create sharp creases without material slippage or bulging. The pocket cloth is vertically shifted and pulled to the suitable tautness for placement on the garment body. This prevents the pocket cloth from slipping out of the correct position and makes it easy to adjust folding timing. With this pocket-folding and pocket-positioning mechanism, the machine is widely adaptable to various materials.

The machine achieves consistent seam quality.

The presser plate clamps the pocket cloth at the center of the sewing area so that the entire pocket cloth is pressed down evenly, thereby preventing the cloth from flopping. In addition, by installing JUKI's unique hook-driving-shaft offset mechanism in the machine head, the machine produces beautiful seams with consistency while preventing the stitch skipping or thread breakage that is liable to occur when the needle throws to the right and left.

Large-sized easy-to-read color liquid crystal display has been adopted

The AP-876 has adopted, as its operation panel, the IP-420 which has a large color liquid crystal touch panel. Entry and modification of sewing data can now be carried out on the main body of the sewing machine. In addition, the machine supports USB, allowing for the use of various USB thumb drives and media. (SD Card, CompactFlash, Smart Media, Floppy disks)
[PM-1 Ver.3] *Separately available
Programming software for computer-controlled sewing machines
On the PM-1 programming software, a sewing data can be easily input, checked and corrected in more detail as compared with the IP-420.

The machine supports pocket settings on overalls

A space is provided at the back of the setting table to support pocket setting work on items such as overalls, which require a large distance from machine arm to needle.

Active tension

Market-proven active tension has been introduced to the needle thread tension controller. Pinpoint adjustment of the needle thread tension is enabled during sewing. Data on the thread tension setting relative to the material thickness and thread tension correction which varies depending on the sewing direction can be entered through the operation panel on a stitch-by-stitch basis. The needle thread tension is reproducible. This reduces the setup time required when changing the material thickness.

The pocket style jig can be easily replaced

The pocket style jig can be changed in less than five minutes without requiring a tool. This means that the machine supports small-lot production flexibly. In addition, the number of components of the pocket style jig has been reduced for price reduction. The running cost can be reduced as compared with the conventional machines.
Basic performance
Encoder control system contributes to reduced power consumption

The stepping motor provided with an encoder has been adopted for the X-Y feed control. The motor runs with a minimum of power in accordance with the material weight and stitch length, thereby reducing power consumption. This AP-876 reduces power consumption by 12% as compared with the conventional model (AVP-875).

The stacker which completes a series of pocket setting operation procedures

The stacker can stack 64 pieces of finished products at the maximum. In addition, the stacker is equipped as standard with a stacker-capacity detector. The stacker can be stored inside the main body of the AP-876 sewing machine. Stacker can be retracted by operating the operation panel (IP-420). This system is very helpful when moving the machine.
Specification
Model name
AP-876
Machine head
High-speed, 1-needle, lockstitch, zigzag stitching machine
(exclusive machine head)
Max. sewing speed
4,000 sti/min*
Sewing area
250mm × 250mm
Stitch length, Max zigzag width
0.1mm ~ 6.0mm , 4.3mm
Needle (at the time of delivery)
SCHMETZ 134 SERV7 (Nm130)
Hook
Horizontal-axis full-rotary 1.7 fold-capacity hook
Needle thread breakage detection
Provided as standard
Stacking capacity
Max. 64 pieces of jeans bodies
Number of patterns that
can be stored in memory
Main-body memory: Max. 999 patterns
External media: Max. 999 patterns
Feeding method
Stepping motor (encoder control system type), X-Y clamp drive
Power requirement / Power consumption
Single-phase 220V / 683.9VA, 3-phase 200V / 655.2VA
Compressed air and air consumption
0.5Mpa (5kg/cm²), 220 dm³/min
Total weight
558Kg
*sti/min stands for Stitches per Minute.

When you place orders

Gauge
AP-876
Guage
NEEDLE
HOOK
NEEDLE HOLE GUIDE
NEEDLE HOLE GUIDE
Figure
-
P/N
P/N
P/N
Dimension A
P/N
Dimension B
-
MC200531300
(SCHMETZ 134 SERV 7)
Nm130
Standard
40072028
G2422875000
2.4mm
G930287500B
2.4mm
MC200531200
(SCHMETZ 134 SERV 7)
Nm120
40077836
G242287500A
2.0mm
G9302875000
G930287500A
2.0mm
2.2mm
MC200521100
(SCHMETZ 134 SES SERV7)
Nm110
G18148750AB
G242287500B
1.6mm
-
-
Guage: Guage exchange kit
GUAGE FITTING
PLATE A
GUAGE FITTING
PLATE B
GUAGE PIN
GUAGE PIN
GUAGE PIN
SCREW
Figure
-
P/N
P/N
P/N
P/N
P/N
P/N
40125822
40125823
G6017875000
G6028875000
G6029875000
SM1040801SC
SM1051201SC
Please refer to the part list for the presser origin gauge, template origin gauge, and fold origin gauge.