JUKI's "Edge control seamer AE-200AN Series": The newest addition to JUKI's lineup of industrial sewing machines -Configured with a large-format touch panel for improved work efficiency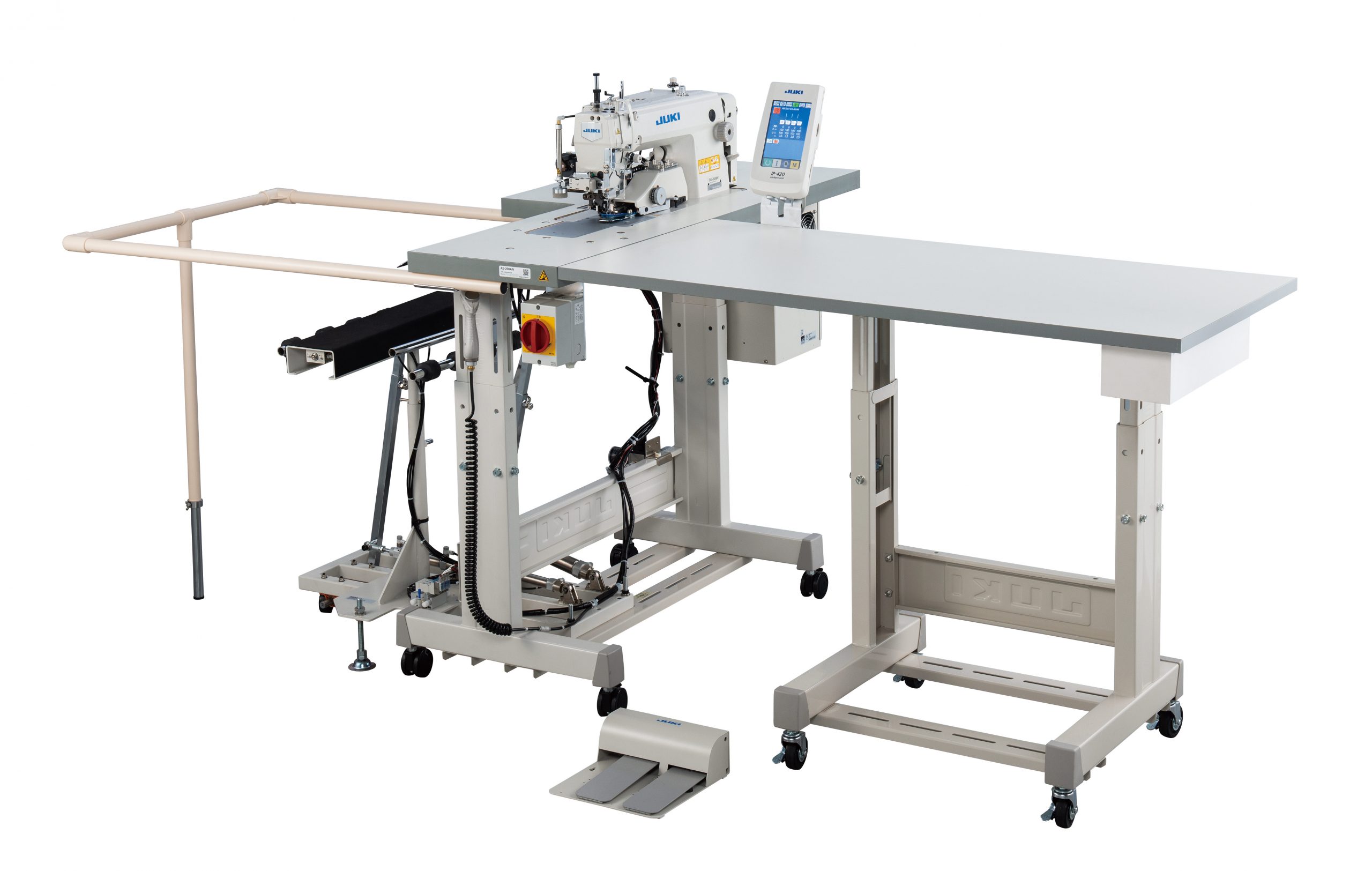 JUKI will soon be launching the AE-200AN series, a new series of edge control seamers designed to join delicate, high-quality seams based on JUKI's unique material-edge-control technology. Sales will begin in overseas markets this July.
An edge control seamer is a sewing machine designed to automatically joins two plies of materials with different curved edges placed on the machine with their top ends aligned. The process for joining materials with different curved edges generally requires an operator with advanced skills. The new AE-200AN edge control seamer comes with a unique JUKI manipulator cloth-control system to ensure that even a beginner operator can join the seams with high finesse and quality results. In addition to promising higher quality, the AE-200AN increases productivity.
The AE-200AN comes with an improved touch control panel to enable higher efficiency sewing through streamlined setting control.
The sewing of three-dimensional clothes that conform with the curves of the body involves a great many steps to join materials with different curved edges. To proceed smoothly from step to step, the operator must often return to the operation panel to change the machine settings. To streamline operation, JUKI has switched from a monochrome to color panel and has enlarged the LCD portion by about six-fold to enable touch control. With these improvements, the operator can select a stitch shape and set the number of stitches with a few intuitive taps of the finger.
JUKI has also improved the manipulator by introducing an active pressure mechanism that allows the operator to quickly check the presser foot pressure and differential feed amount. Man-hours for pattern changes are dramatically shortened.
A USB thumb drive or CompactFlash™ can be connected to the AE-200AN to ensure easy data transfer between sewing machines.
JUKI will expand sales of the AE-200AN Series Edge Control Seamer to enable customers to enhance the quality and productivity of their sewing lines. Line solutions will also be provided for the total support of production line improvements and productivity enhancement.
* Much bigger LCD screen: Previous size 30×57 mm à new size 88×117 mm
◆Features
●Improved operation with a large touch panel
The improved operation panel is six times bigger, switched from monochrome to color, and configured with touch technology. The operator can now select a stitch shape, set the number of stitches, and change other settings with a few intuitive taps of the finger.
Data can be stored on an external memory device (USB thumb drive or CompactFlash™), copied, and transferred between sewing machines with ease.
Using the cycle function, the AE-200AN can carry out a range of continuous processes, such as back center stitching and run-stitching to join the right and left sides of garments.
* As many as 20 cycles, each containing up to 15 patterns, can be stored.
●JUKI's unique material edge control technology
With this technology, the AE-200AN can join materials with higher-quality results than ever before. The machine joins materials with different curved edges and easily handles combination stitching for different types of fabric.
The AE-200AN allows anyone to easily join materials with high finesse, achieving levels of quality before only delivered by skilled operators. In the process, the machine also promises substantially higher productivity.
The manipulator, with its active pressure mechanism, gives the operator numerical control of the upper and lower manipulator pressures/top differential feed amount (differential feed amount) via touch panel input. The man-hours normally spent on pattern changes are drastically shortened as a result.
●Improved productivity
Compared with a general lockstitch machine, the edge control seamer completes the sleeve cap sewing (front cloth) process for ladies' jackets in about half the time. (Introduction example)
The AE-200AN can be used for a variety of processes, such as stitching on the fronts and backs of men's and women's jackets, reverse-side stitching, stitching on the sides of skirts, and pintuck stitching on blouses.
* Productivity will vary under different sewing conditions.
●A menu of options to improve the work environment
Various devices and parts are offered as options to improve productivity and quality, including a micro-lifter, stacker, and sensor to detect the amount of bobbin-thread remaining. The bobbin thread detector sounds a buzzer to warn the operator when the remaining bobbin thread has reached a set value. With this device, the operator can focus on the work at hand without having to guess when the bobbin thread will run out.