Announcing the release of Juki's new 3D AOI & AOM machine called the "RV-2-3DH" featuring super-high resolution optics, blazing speed and precision high accuracy measurements.
JUKI launched the 3D visual inspection machine " RV-2-3DH" on December 10, 2018 as a 3D high-speed evolving new model for the RV series distributed to electronics companies all over the world. By increasing the speed and precision of inspections and measurements, we are able to improve productivity, quality and SMT line effeciencies throughout the SMD mounting and reflow process.
The RV-2-3DH is the latest imaging system from Juki used for inspecting printed circuit boards during manufacturing and both before and after soldering. This new 3D SMD measurement system is highly repeatable and has the measurement accuracy needed to quickly eliminate defective SMD part mounting and soldering processes preventing defective board manufacturing from continuing.
With the adoption of a 12 million-pixel high resolution camera, the FOV has increased from 30×30 mm to 48×36 mm, resulting in a 192% increase compared to the previous model. In addition, JUKI's proprietary high-speed image-processing algorithms have enabled us to achieve the fastest inspection speed of 61.8c㎡/second, shihc is best in class. The optional high-resolution 5μm lens also allows inspection of ultra-compact components of 0.2mm x 0.1mm used in smartphones, medical devices, and other high-reliability, electronics miniaturization, applications.
In addition, the implementation of the new Juki brand "JaNets" connection software, enables external output of test information and centralized 3D defect images for quick muli-line review. This enables us to grasp the progress of SMT production real time, contributing to improving productivity and quality.
The RV series, including the RV-2-3DH, is also being used for a variety of other measurement and visual inspection applications, for example automotive mechanical parts, medical devices, and odd-form electronic devices, in addition to the standard inspection of printed circuit boards. JUKI's Smart Solutions improve the productivity of the entire pick and place mounting process, reducing labor, and always improving line balance while boosting efficiencies.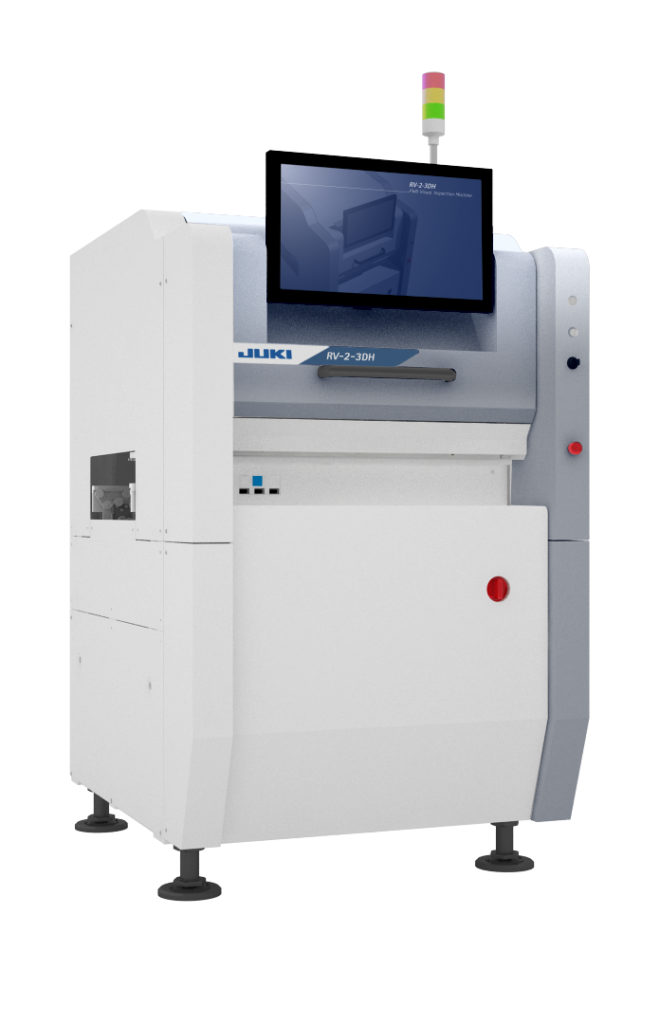 Features
12 Mega pixel camera coupled with high-speed image processing algorithms
Proprietary high-speed image processing algorithms achieves inspection speeds of 61.8c㎡/second*.
※ At 12 μm camera resolution
High-resolution lens improves test inspectin and measurement accuracy
The optional high-resolution 5μm lens supports the next-generation mainstream 0.2×0.1mm-size SMD component inspection. Super high-precision inspection is possible even for high-density, narrow-neighbor SMT mounting conditions.
Two inspection program modes
The RV-2-3DH is flexibe to choose between a 'Template Mode' and 'Process Mode' to create programs.
'Template mode' allows easy program creation by one click, greatly reducing data creation time. The alternative Advanced 'Process Mode' allows you to freely edit and configure internal algorithms, allowing you the flexibly to respond to custom inspection requirements, making precision measurements for special components, as well as deplying special inspection algorithms.
Applicable to use for both measurement and visual quality test inspection
Application and utilization of process modes can be used not only for electronic circuit board manufacturing, but also for measurement and visual inspection at various mechanical factories. This system achieves automation, labor saving, and quality improvement of replacing the visual inspection by human beings, including planarity inspection and clearance inspection of machine processed and milled parts, including press fit parts.