Maximum speed of 47,000 CPH per head mounter class New Launch of RS-1R High-Speed Smart Modular Mounter
 JUKI will launch the High-Speed Smart Modular Mounter RS-1R in Japan and overseas on March 21, with the addition of new features that increase the component placement speed on printed circuit boards while improving productivity and quality.
 RS-1R is an all-in-one mounter that can accommodate a wide range of productions, beyond the boundaries of high-speed and general-purpose machines, for placing electronic components on "boards" during printed cirtcuit board assembly.
 The RS-1R is the latest revision of the high-speed smart modular mounter RS-1, which has been popular since its launch in 2017. The construction and mechanics of the RS-1 have been improved, increasing the mounting speed by 12%, resulting in a speed of 47,000 CPH (at the optimum condition). This is the highest in class for a single head mounter.
 Juki's unique "Takumi design head", which self-optimizes the height to give the best balance of speed and flexibility in all situations, is also improved on the RS-1R. The previous 5 height positions has been increased to 6 to give even greater flexibility and speed optimization.
The RS-1R is also available with optional nozzles with embedded RFID tags for identification. The RFID tags will make it possible to more accurately track nozzle usage, maintenance, and failure analysis in order to improve overall quality.
 The fast pace of modern production requires tremendous flexibility. The RS-1R is designed to work in any production environment, including low-volume, high changeover production and high-speed lines that include Juki's high speed RX-7R mounter.
 Juki's total line solutions address all production needs for the entire SMT assembly line, including upstream and downstream processes.
JUKI's Smart Solutions provide the flexibility and productivity needed throughout the entire plant.
* 1 nozzle: A component for adsorbing an electronic part and mounting it on a substrate. There are various types depending on the electronic part size.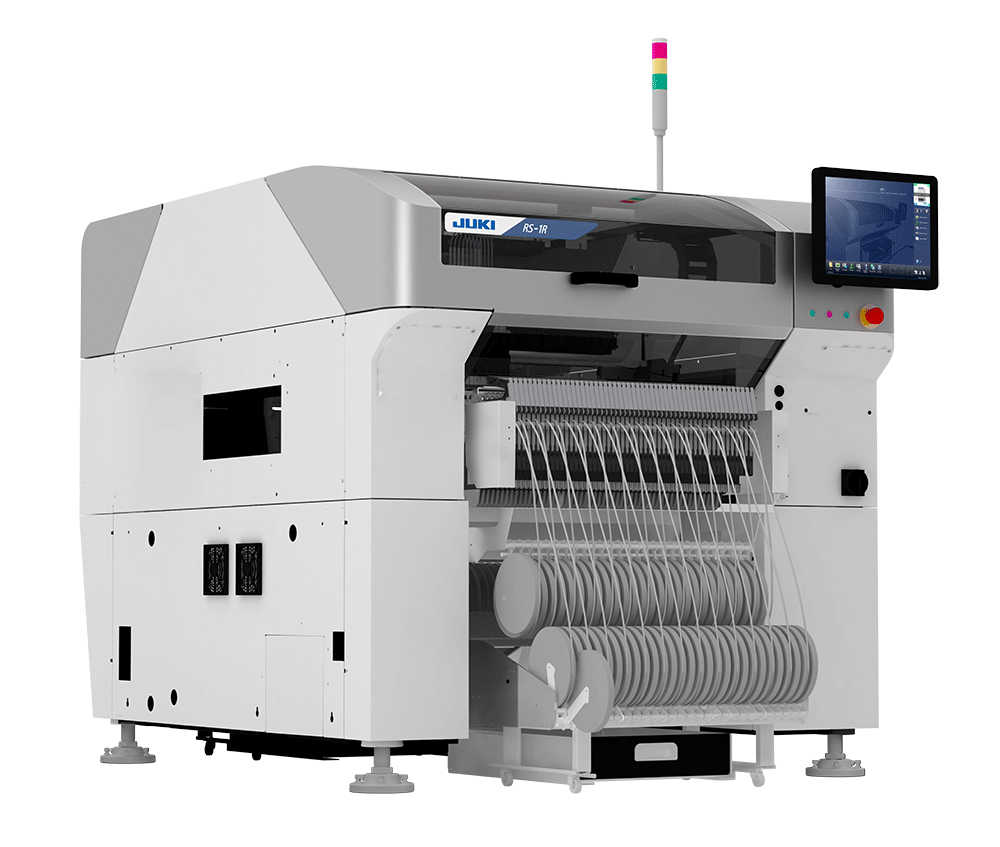 Feature
Maximum speed of 47,000 CPH
By bringing the laser sensor closer to the PCB and shortening the travel time from pick to placement results in a tact time of 47,000 CPH (under optimum conditions).
Evolution of the "Takumi head" in which self optimizes its height for optimal placement speed and highest component flexibility
An additional height setting has been added, bringing the total to six (1mm, 3mm, 6mm, 12mm, 20mm, and 25mm). This results in improved tact time for the more common, shorter components.
Industry-first RFID tagged nozzles (optional)
Juki's latest nozzle can be purchased with RFID tags and an optional reader embedded in the placement head. The RFID tag enables more accurate tracking of use, maintenance, and errors on every nozzle. This leads to improved quality by ensuring maintenance is performed and better defect analysis.
Improved productivity and operability
Options for larger nozzles, up to 7 x 28mm, make the RS-1R more flexible to handle a wider rage of components. The standard touch screen with pen touch makes it easier for users to create and edit data.
Contact