Introducing the JM-100 Odd-form Inserter for automating manual insertion, increased insertion speed and expanded part size
JUKI launched the JM-100 in Japan and overseas on October 29, 2018. The JM-100 is a new product that increases the insertion rate for odd-form insertion that automates manual insertion and expands the component range.
Juki's odd-form insertion machines were the industry's first in 2012 with the release of the JM10. These machines replace traditional manual insertion with reliable, accurate automatic insertion of various odd-form components along with support for traditional SMT components.
The new JM-100 utilizes Juki's advanced TAKUMI placement head. This head automatically adjusts it's height to provide the optimal speed and component handling at the same time. It can pick with up to 8 nozzles at the same time, as compared to the JM-10's 6 nozzles. The result of these improvements is up to 38% faster insertion time. The TAKUMI head also supports larger and taller components than the previous design.
New options increase the JM-100's flexibility and capability even further. A clinching unit provides active clinching for a variety of lead sizes and patterns. A new 3D image recognition sensor provides fast and accurate centering of even complicated lead patterns and shapes.
The JM-100 is supported in Juki's JaNets line control software, along with all other current pick and place models. This makes it easy to program the entire line from one software package.
As a leading company in post-process automation, JUKI is working to develop more automated manual insertion processes for customers. We will continue to offer equipment based on 'JUKI Smart Solutions' to increase productivity, automation, labor saving, and efficiencies of the entire packaging factory, and support our customers.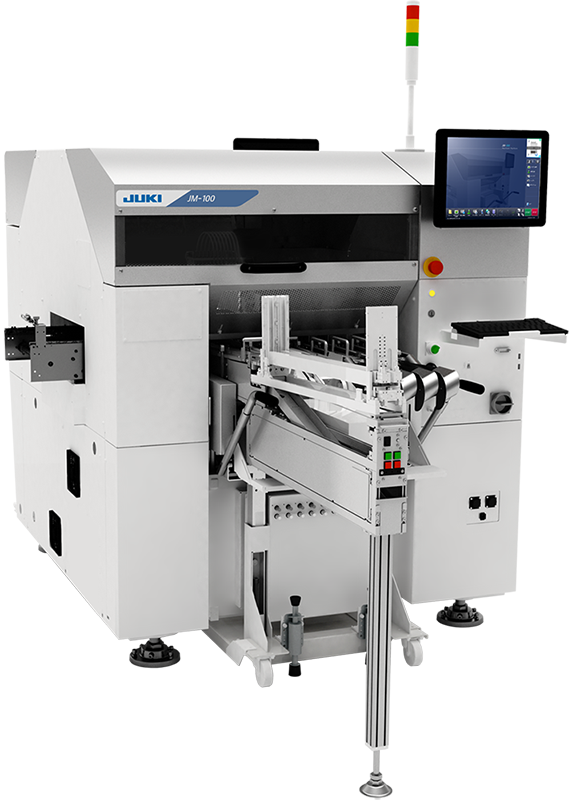 Feature
Equipped with new "Takumi-Head". Higher speed and wider component range
Vacuum nozzle insertion time is reduced from 0.8 sec to 0.6 sec (25% faster).  Gripper nozzle insertion time is reduced from 1.3 seconds to 0.8 seconds (38% faster).  Overall best tact time in class.
In addition, the maximum part size and height that can be handled have also been greatly expanded.
New Clinch Unit to Improve Production Efficiency and Quality
The new active clinch unit option provides greater production flexibility for cases where components have a risk of bouncing out of the PCB.  Different clinching patterns are possible including inner bend, outer bend, and N shape bend.
3D Image Recognition Option for High-precision Insertion of a Wide-range of Parts
The 3D recognition option uses a phase-shifting technique to measure the entire component quickly and accurately, including the lead tip. This sensor works well even for low reflectivity components and ones with a wide height range.
Wide variety of nozzles and feeders
Many different feeder types are available for taped, tube, bulk, and tray components.  Many standard and custom nozzles make it possible to pick a variety of odd-form components.
JaNets Line Control Software
Juki's JaNets line control software is compatible with the JM-100.  This makes it easier for programmers to prepare files for both the SMT and odd-form machines at the same time.