Introducing the RX-7R compact high-speed mounter, featuring higher placement accuracy and larger PCB capability.
JUKI is releasing the RX-7R high-speed compact modular mounter. The RX-7R includes an upgrades to the PCB handling flexibility and placement accuracy using a new placement head design. As with all previous Juki mounters, the high speed RX-7R can be combined with a flexible mounter to create a complete production line. The RX-7R will be available for worldwide sales starting September 21, 2018.
The RX-7R is a high speed mounting system for smaller components.
The dual lane conveyor expands the board size capability and now can handle two L size PCBs (420 x 450mm) as compared to the of previous range of two M-sized boards (250 mm x 330 mm). This was done while keeping the overall machine dimensions the same. The compact size makes it possible to keep lines shorter when combined with the flexible Juki RS-1 for high speed or high flexibility production.
The P16S placement head features a new axial design that increases angular placement accuracy. This is especially beneficial for LED boards that are growing dramatically in use.
New options include either fixed feeder banks or feeder trolleys and conveyor options for dual or single lane.
The RX-7R continues the evolution of Juki Smart Solutions to improve flexibility and capability while providing Total Line Solutions for today's SMT production environment.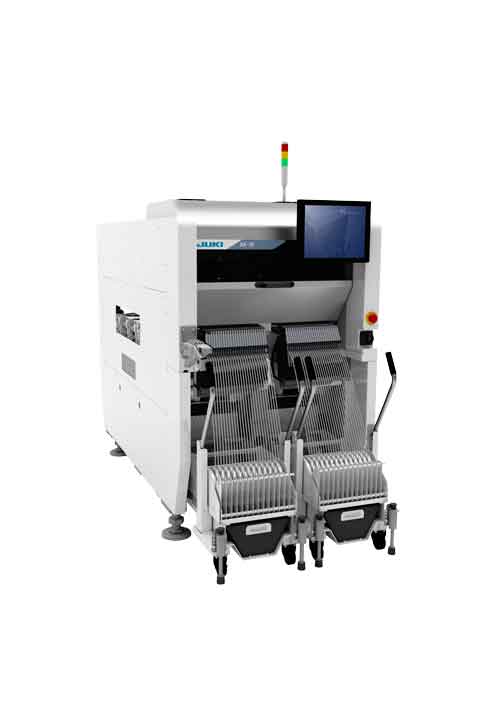 Features
New P16S head achieves further high-precision mounting.
The P16S head is a 2nd generation design that greatly improves the placement angle accuracy. It is ideal not only for chips and small ICs, but also for printed circuit board production using LED edge lights, which require high accuracy.
Simultaneous production of two L-sized boards.
The dual lane conveyor of the RX-7R supports PCBs up to 420 mm x 450 mm. This capability greatly increases the flexibility of the RX-7R and improves productivity.
Upside down component check
Adding to the previous capability of checking chip component orientation, the P16S head can also determine if leaded components are picked upside down. This function increases quality and reduces rework costs.
Low impact placement
The P16S head has a two stage H axis speed that slows the up and down motion closer to the PCB to reduce impact with the PCB. This is especially beneficial for flexible PCBs with large warping.
High-speed production
The RX-7R has best in class placement rate of 75,000 CPH (optimum conditions).
Compact machine design
The RX-7R is extremely compact and has an overall width of 998 mm.
Wide component range
The P16S head is compatible with very small parts from 0.3mm x 0.15mm up to 5mm square and height up to 3mm.
The optional P8 head supports components from 0.6mm x 0.3mm up to 25mm square and height up to 10.5mm.