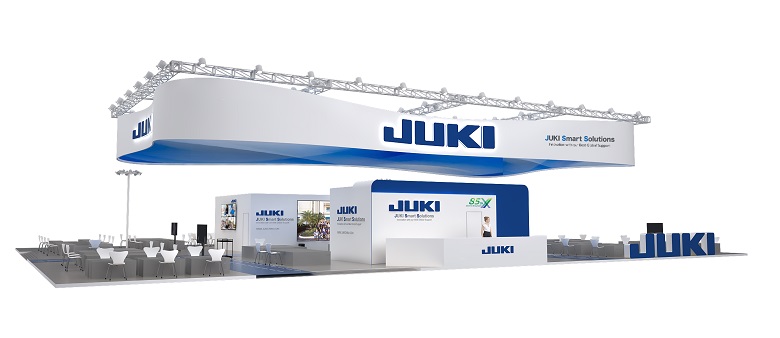 JUKI will be taking part in the China International Sewing Machinery & Accessories Show 2023 (CISMA 2023) from the 25th to 28th of September 2023 in Shanghai, China.

JUKI's exhibit at CISMA 2023 will be based on the concept of "JUKI Smart Solutions ~ Innovation with JUKI Global Support ~ (Future success with JUKI based on trust and innovation!)." The JUKI exhibition team will be proposing the latest industrial sewing machines equipped with advanced automation technologies to complement manual operations, automatic machines for improved production capacity and quality, the latest lineup of enhanced digital sewing systems, and the newest systems designed to "visualize" the sewing sites that will be rapidly reshaping the Chinese market.
【JUKI's activity slogan】


【Exhibition concept for CISMA 2023】
Future success with JUKI based on trust and innovation!

Overview of the JUKI exhibition booth
■Exhibition site  Booth No. D02, Hall No. W3, Shanghai New International Expo Centre
■Exhibition space 775 m2
■Models to be introduced Industrial sewing machines, systems, etc. (51 units)
* Note that the number of units and product models on exhibit may change.
Exhibition sections
[JaNets hanger system]
This section demonstrates the JaNets hanger system at work in the processes from parts sewing to assembly in a polo shirt sewing line. The hanger system transfers parts between processes according to the control instructions issued by the JaNets machine operation management and production management system. Machines from PEGASUS CO., LTD., JUKI's solution partner, will also be exhibited on this line.
[JaNets]
The exhibit introduces the interactive communication feature of the latest JaNets system configured to achieve the "visualization" and "networking" functions essential to the realization of a smart factory.
[Sportswear/inner wear]
This section introduces JUKI's latest zigzag stitching machine together with a bonding machine for elastic materials that require no sewing.
[Pattern seamers]
Visitors to this section can experience a fully configured consultation center, together with a lineup of pattern seamers that handle different sewing areas and functions. JUKI would like to offer a range of proposals on the most efficient and productive ways you can use your machines. We invite you to consult with us on your specific needs.
[Jeans line]
In addition to the JP-1, JUKI's automatic machine for the sewing of Jeans, this section introduces a full-fledged jeans production line made up of JUKI machines in combination with JUKI's automatic machine brand "JTRON" equipment.
[Non-apparel products]
A host of products have been added to the JUKI lineup by JUKI TECHNOSOLUTIONS CORPORATION, a joint venture company established in July 2022. Many of those products are introduced in the section for automotive interior products, shoes, and safety/cargo belts.
[JIN]
JUKI has created a new brand called "JIN" to develop new markets. This section introduces the JIN brand products.
[Support for overseas expansion]
The JUKI exhibition team has set up a consultation counter to support customers seeking to expand their businesses overseas by making the most of JUKI's global network and experience.
[Service solutions]
・ JUKI e-learning
This section introduces the JUKI e-learning system, an online training system developed based on the digitization of JUKI knowhow. Engineers and operators working in the apparel industry can train in E-learning courses with their tablets or PCs.
・ JUKI - ShuHaRi
JUKI-ShuHaRi is a sewing machine inspection support system encompassing two applications: a smartphone app operated on a terminal and a cloud app run on a personal computer. ShuHaRi users can share data on sewing machine conditions across a sewing factory unit by unit in real time.
・ Parts consultation
This section introduces a selection of JUKI's genuine parts and offers consultations on parts.
New products
JaNets Hanger system
The JaNets hanger system is now capable of acquiring data for JaNets JT Simple from the equipment installed in the hanger line. This capability realizes more efficient equipment use by raising productivity and eliminating waste.
* JaNets JT Simple is a machine operation management system with specialized functions to visualize a sewing site based on information received from sewing machines via terminals. Sewing machine data received in real time such as needle movement data and the number of thread trimming cycles is used to visualize production management parameters such as operation rates, machining time, and production.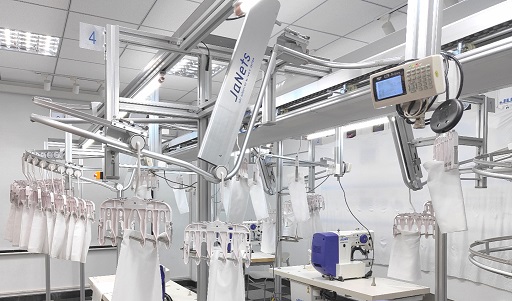 LZ2284BT0BK
High-speed, 1-needle, lockstitch, zigzag stitching machine
The LZ2284BT0BK is a sub-model of the LZ2280 Series that adopts an electrical control box integrated with the machine head and the standard-/3-step zigzag stitch changeover function. The model without a thread trimmer is also configured with a DD motor integrated with the electrical control box. Reverse stitching with the hand button, an operation not possible with earlier models, is now available as a result. And program stitching patterns such as condensation stitching and multi-layer stitching can be set on the operation panel.
This model achieves more stable stitching quality and feed efficiency while maintaining the low-tension stitching capability of the conventional machines.
MOL254
A new option: 2-needle, lockstitch, automatic computer-controlled belt-loop bartacking machine (openable fork type)
A new optional model with an openable fork has now been added to JUKI's lineup of 2-needle, automatic computer-controlled belt-loop bartacking machines. The development innovations in this model include a new fork mechanism, an easing-in-of-fullness mechanism, and revisions in the presser foot and feed plate designs to solve the long-standing dog-ear problem and reduce the length of the seam allowance. The new adjustable feed plate adds another efficiency boost by eliminating the need for feed plate replacement during setup changes.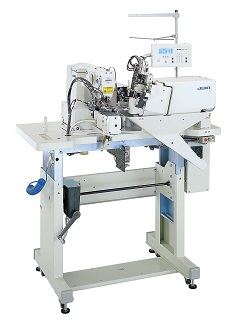 PLK-J250100R/AW3S
Computer-controlled cycle machine with an extra-large sewing area (for curtains and airbags)
Exhibit visitors can meet JUKI's extra-large computer-controlled cycle machine with a sewing area size of 2.5 m x 1.0 m for curtains and airbags equipped with the PLK-J unit and a machine head lifting device.
The PLK-J is a half-finished unit product combining the sewing mechanism with an XY motor and control unit. The customer can realize a system fully adapted to their needs by combining this unit with carrier structure suitable to the customer's use.
This section introduces the PLK-J unit equipped with the AW-3, an automatic bobbin thread winding and feeding device that can be retrofitted to a computer-controlled cycle machine with a full-rotary hook. The operator running this machine can fully concentrate on the sewing without worrying about bobbin winding or the remaining amount of bobbin thread.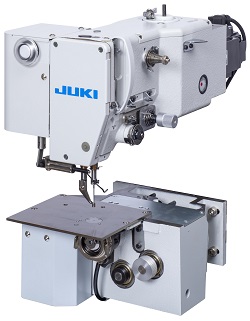 PS-800SB-3830/Z-00036
The 3830/Z-00036 is a small PS-800 Series model that comes with a dry head, achieves a maximum sewing speed of 3,000 stitches per minute, and supports various materials and stitch types. With the space-saving footprint of only 1020 mm × 1220 mm, this pattern seamer can be easily installed in a sewing line to enable the automatization and deskilling of parts sewing processes for attaching pockets, moon patches, front plackets, etc. The full-rotary double-capacity hook of the machine promises further stabilized seam quality by reducing the frequency of bobbin thread replacement to achieve stable seam quality. The advanced dry head technology adopted for the machine head eliminates the need for oiling for all parts but the hook section. The dry head provides crucial protection for sewing materials on which oil stains tend to easily spread.