TAPE Cutter Device (for LH4578CF/SC956)
Services
TAPE Cutter Device (for LH4578CF/SC956)
Eliminates the work of cutting tape with scissors
AT-45 is a motor-driven device.
Therefore, its operating noise is considerably lower and easy to change workshop layout.
The tape cutter is able to cut the tape short just behind the presser foot (2.2 mm away from center of the presser foot bar).
Since the height of the standby position of the knife is 25 mm above the throat plate surface, operators do not need to worry about the product being caught by the knife.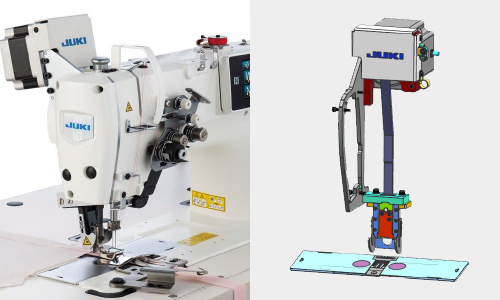 Features of TAPE Cutter Device
Easy to install
Improves productivity in Tape sewing process
Operating noise is considerably lower
Easy to change workshop layout
Tape cutter device
Part number
Device name
40246381
AT45AK (3-phase 200~240V)
40252490
AT45AD (Single phase 200~240V)
40253196
AT45AN (Single phase 200~240V(CE))
Needle gauge size
Throatplate part number
Code
inch
mm
Standard
With Tape guide
D
3/16
4.8
40240834
40246475
E
7/32
5.6
40240833
40246476
F
1/4
6.4
40240832
40246477
G
9/32
7.1
40240835
40246478
H
5/16
7.9
40240836
40246479
* Throat plate is not supplied with the main body of the AT-45 tape cutter.It is therefore necessary to separately place an order for the throat plate given in table as shown above.
* Please note that this throat plate cannot be attached to the sewing machine with automatic thread trimmer.
Specifications
Applicable model
LH4578CF/SC956
Operation method
1.By pressing touch-back switch
2.By depressing the back part of pedal /
3.By operating the external input switch (Option:part number 40232800)
Application
Cutting of various of tape, narrow lace, shoulder straps and lining tapes for foundations and lingerie
Cut specification
Width of Knife : 20mm
Maximum cut width : 14mm