Programming software for computer-controlled sewing machines
It is easy, accurate, and fast !
Its versatile input functions allow to input sewing data of each electronic sewing machine model easily, accurately, and quickly.
It supports high quality production with high added value by utilizing and creating original data for specific designs and applications.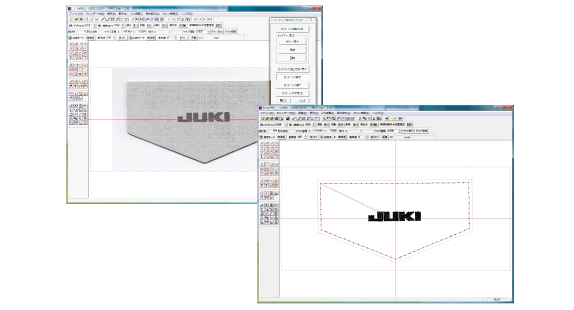 Product features
Creation of sewing data

Create sewing data in an interactive manner during viewing screen displays.

Template functions

Equipped with template functions that allow to create sewing data easily by input each parameter. (For LBH-1790)

Image input function (BMP file)

Input image (BMP file) copied by a scanner.

Keyboard input function

Coordinates entered can be corrected and re-edited by keyboard input.

Other functions

Equipped with a data preview function that displays data configuration before reading sewing data.
Sewing sequences can be checked easily by a function of coloring needle drop points.

Confirmation and correction of sewing data

By connecting with a personal computer line, sewing machine equipped with the latest operation panel can perform sew-off and data can be checked and edited on the spot.
Specification
Models suited for PM-1
AMS Series(B, C, D, E, EN type)
LK-1900 Series(A, AN, B, BN type)
LBH-1790 Series(A, AN type)
AMB-289, LZ-2290A, DP-2100, PS-700, AP-876
Operating environment for Personal Computer
Item
Specifications
Support OS
Windows®7, Windows®8, Windows®10(only 64-bit)
CPU
More than 1GHz, 32-bit(x86) or 64-bit(x64) CPU
Memory
1GB RAM(32-bit) or 2GB RAM(64-bit)
Display
More than XGA(1024×768) high resolution
video adapter or monitor
Hard disk
Require Hard disc space for 16GB(32-bit) or 20GB(64-bit)
USB 2.0
CompactFlash™, an adaptor is required.
Locate under any device name from
"A:" to "Z:"
For CompactFlash™, please use genuine JUKI products.
"CompactFlash™" is a registered trademark of SanDisk Corporation, U.S.A.
Microsoft Windows is a trademark of Microsoft Corporation, U.S.A., registered in the U.S.A. and other countries.
All the other corporate names, product/commodity names listed here are trademarks or registered trademarks of their respective companies.
System Formation