Semi-dry Direct-drive, Post-bed, Unison-feed, Lockstitch Sewing System with Vertical-axis Large Hook
Digital sewing system proposes the production process added with a computerized new value to all the people who engage in production.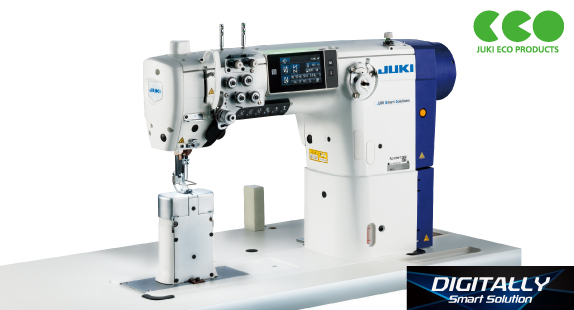 Product features
Sewing Adjustment Digitalization

Digitalization adjustment made possible for core specifications such as thread tension, pitch length, sewing speed, presser foot pressure and alternating vertical movement. Crucial adjustment work are now made simple without excessive experience and skills while reinforcing high quality reproductions. Man-hours in setup changing and maintenance are substantially reduced. Password protection is introduced to ensure that alteration of settings by an unauthorized third party is prevented.

Sewing conditions are featured on one display

Users can now easily grasp relative condition from the information displayed in one glance. A 4.3 inch colored touch panel is adopted as an intuitive graphical user interface, enhancing usage simplicity.

Active presser foot pressure mechanism

Presser foot pressure can be controlled, managed and set
(numerical) digitally. Automatic detection or manual hand switch control can be selected to allow adjustments of presser foot pressure in response to a multi-layered section of material.

Multi-layered section detection function

When sensor detects a multi-layered section during sewing operation, system can automatically adapt to it by changing to other pre-registered setting (pitch length, upper thread tension, presser foot pressure and alternating vertical movement).The multi-layered detection threshold value is automatically calculated based on the measured value.

Needle-thread active tension

Upper thread tension can be set via the panel based on sewing material to be used. Settings can be saved and loaded, ensuring reproducibility. Ensuring stability in product qualities and usage simplicity even when operated by inexperienced personnel.

Convenient continuous sewing function

Functions such as automatic switchover of pre-registered patterns in a cycle operation (Cycle pattern, Polygonal-shape stitching) or Custom pitch composing for continuous sets of different pitch length are available for user convenience.

Manual unit controls different operations

A "One-touch" hand unit allows manual control over crucial settings during the sewing operation.

Multi-functional 6-string switch

A switch which allows a "One-touch" switchover of pattern and functions. In addition to the one-touch changeover switch to which any desired operation can be assigned, automatic reverse feed switchover switch and the needle entry alignment switch are also available.

Jog dial

Pulley rotates in correspondence to the dial. Lifting and dropping of the needle bar can be done without reaching out to the hand wheel. In addition, the dial works as the needle "UP/DOWN" correction switch when it is pushed.

Touch back switch

When pushed, sewing direction becomes reversed (reversed stitch). When released, sewing direction returns to the normal feed.

Data and sewing machine management with IoT (Internet of Things)

A "Two-way" contactless communication for parameter adjustment data can be conducted with the sewing machine by a commercial Android terminal. This feature allows sewing machines in a sewing line to be uniformly set and status checked quickly, thereby contributing to stabilization in product quality. Control panel is standardized with USB ports, promising simplicity in data management and system updates.

*Android OS Version 6.0 is recommended to use JUKI Smart APP.
(Operation is confirmed with respect to Versions 5.0 and later.)
Contact JUKI distributor in your area for how to use the application software.
Basic performance
Longer distance from machine arm to needle working area

Superior workability for large sewing operation and extra heavy material.

High-torque direct-drive motor is installed

Adopts a high-torque direct drive motor to support heavy-weight operations. The motor delivers efficient demonstration of enhanced responsive capabilities and high penetrative force during sewing of multi-layered sections.

Walking-foot/presser-foot alternating vertical movement mechanism prevents irregular stitches

The sewing machine incorporates a mechanism which maintains a steady balance of alternating vertical movement of the walking foot and presser foot even when the material is changed. Maximum alternating height is featured with 9 mm, thereby allowing smooth passage when overcoming the step.

Higher lift of the presser bar

Auto lifter's maximum lift is realized at 20mm. This capability allows products such as high end sofas etc. with processes requiring joining of leather and thick sponges to be carried out easily.

Eccentricity of the feed driving cam is adjustable

Vertical rise/drop volume of bottom feed are adjustable. This feature allows the machine to adapt to different material used. For example, the rise/drop volume of the bottom feed increases when sewing heavy materials to ensure passage and decreases for light material to reduce flopping results.

The upper and lower feed ratio is adjustable

The top/bottom feed ratio can be changed by only adjusting the bottom feed amount while keeping the top feed amount unchanged. This feature is helpful to prevent uneven material feed.

Vertical-axis double-capacity hook is adopted

Utilizes a design which allows adjustment (screw) for the needle guard opening volume. As adjustment for the needle guard is simple, sections of the needle guard is hardened to prevent wearing of the blade point on the hook and skip stitches.

Consistent oil supply to the sewing machine even at low speed operation

Adopts mechanism that prevents backward flow of oil, guarantees consistent supply of oil even during low speed operation. With the stable supply of oil to the hook, quality seams can be achieved.

"One-touch" Bobbin winding device

Bobbin winding system eliminates the requirement to manually wind the bobbin during the beginning of the operation. User can simply set the bobbin to enable auto winding.
Specification
Model name
PLC-2710V-7
PLC-2760V-7
Type
1 needle
2 needle
Max. Sewing speed
2,500sti/min*
Stitch length
9mm at the time of shipment (max. 12mm)
Stitch adjustment method
Electronic control
Needle bar stroke
40mm
Hook
Vertical-axis 2.0-fold capacity hook (latch type)
Lift of the presser foot
20mm
Alternating vertical movement
0.5⁓9.0mm
Alternating vertical movement adjusting method
Electronic control
Safety mechanism
Provided as standard
Bobbin thread winder
Built in the machine arm
Bottom-feed micro-adjustment mechanism
Provided as standard
Lubrication
Automatic (Tank system)
Distance from needle to machine arm
347mm
Post height
170mm
Knee-lifter
Provided as standard
Auto-lifter
Provided as standard
Needle
134×35(Nm100⁓180, Standard Nm140)
Thread
#46⁓266, 60/3⁓10/3 (#30⁓5)
Weight of the machine head
82kg
87kg
Power requirement / Power consumption
Single-phase: 100⁓120V / 220⁓240V, 3-phase: 200⁓240V / 200VA
*"sti/min" stands for "Stitches per Minute."

When you place orders