1-needle, unison-feed, lockstitch machine with vertical-axis large hook and automatic thread trimmer (shorter-thread remaining type for sewing car seats)
This model of sewing machine is best-suited to car-seats manufacturing factories.
The machine achieves beautifully-finished seams with its shorter-thread remaining type thread trimming mechanism.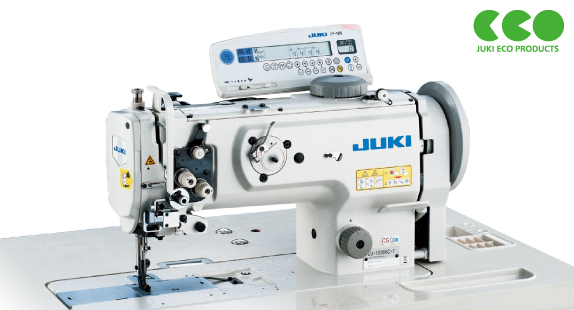 Product features
Responsiveness to materials has been substantially improved

This single unit of machine is able to smoothly sew a wide variety of materials such as genuine leather, J-clip (plastic), heavy-weight materials for men's trousers, light-weight fabric materials and even light-weight materials which need to be sewn with stretched to remove the slack in garment body.

Seam quality and sewing performance have been greatly improved

Well-tensed seams can be produced with a lower thread tension. (Needle thread tension can be reduced by 50% in comparison with that required for the conventional models.)
Even when sewing a light-weight material which needs to be sewn with stretched, the machine is able to reduce puckering.
The machine is able to reduce the frequency of occurrence of thread breakage, stitch skipping, needle breakage and isolated idling loops.
Since the machine produces well-tensed seams even when using a thin higher-count needle, it is able to provide finished seams that ideally match the material.

Needle thread clamping device

This device pulls the needle thread into the wrong side of the material at the beginning of sewing, thereby ensuring more beautifully-finished seams.

The length of thread remaining on the material after thread trimming has been reduced to save manual nipping by the operator

The machine has adopted newly-designed direct-drive thread trimming mechanism to shorten the length of thread remaining on the material after thread trimming.
This results in the reduction of manual thread nipping at the end of sewing.
Frequency of use of scissors is also reduced, thereby contributing to the prevention of damage to the fabric by scissors.
Specification
Name of model
LU-1520NCS-7
Max. sewing speed
2,000 sti/min*
Max. stitch length
Normal/reverse: 7 mm
Needle bar stroke
38 mm
Pitch changing method
By dial
Thread take-up
Slide type
Hook
Vertical-axis, double-capacity hook
Lift of the
presser foot
Manual
9 mm
Auto
16 mm
Alternating vertical
movement amount
1~6.5 mm
Needle
135×17, SY3355
Nm120 (Nm100~Nm160)
Thread
#30~#5
Lubrication
Automatic (Partly manual with an oiler)
Lubricating oil
JUKI New Defrix Oil No. 2
*"sti/min" stands for "Stitches per Minute."

When you place orders