Computer-controlled Cycle Machine with Input Function (Rotary hook type)
The rotary hook contributes to the achievement of beautifully-finished seams which are required for bags and leather products.
AMS-221F3020R/AW-3 eliminates the need for the operator to change the bobbin thread.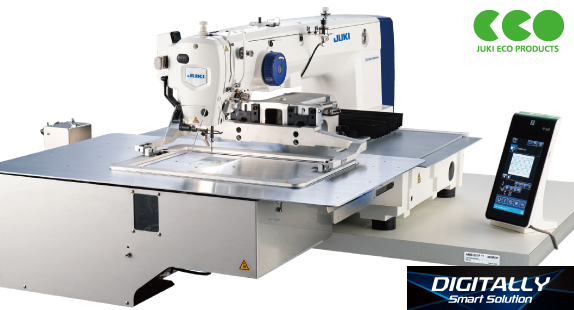 Product features
AW-3 Automatic bobbin-thread winding and feeding device

OPTION

AMS-221F has high sewing machine operation rate and bobbin thread occurs frequently replacement. Since the AW-3 changes the bobbin automatically before the bobbin-thread runs out and bobbin-thread is wound during sewing, the operator is able to concentrate on sewing without worrying about shortage of bobbin thread.
In addition, only two bobbin cases are required for sewing. As a result, burdensome control of bobbin thread tension and bobbin-changing work are no longer required, thereby contributing to increased productivity.
Basic performance
Rotary hook

In addition to the shuttle hook type model which is favorably accepted by users, the rotary hook type model is newly developed. The rotary hook contributes to the achievement of beautifully-finished seams which are required for bags and leather products. In addition, inner hook stopper is adjustable not only laterally but also longitudinally, thereby enabling accurate positioning of the bobbin case according to the needle count.

Industry's most accurate needle entry point is ensured

Increased rigidity and JUKI's unique high-performance feed control system contribute to increased feed accuracy, thereby reducing uneven material feed during outward/inward sewing. Uneven material feed during outward/inward sewing is reduced. In addition, for the feed system of the feeding frame, either the intermittent feed or the continuous feed can be selected.

High-quality seams that respond to heavy-weight materials and extra heavy-weigh materials

The thread nipper mechanism and the feed mechanism that succeeded JUKI's unique technologies have been reviewed for improvement. As a result, more beautifully-finished seams are now produced. In addition, the main-shaft retry function can be selected with the memory switch. This improves the penetration force of the needle when sewing extr heavy-weight materials.

Beautifully-finished seams without bird's nests (bird's nest reducing function) are produced

Since thread trimming is performed at the beginning of sewing, so-called bird's nest (thread tangling in at the beginning of sewing) is reduced, thereby producing more beautiful seams.

Shorter thread remaining function*

Since the counter knife position has been changed, length of needle thread and bobbin thread remaining on the material after thread trimming is reduced to 5 mm or less. As a result, securing of thread at the end of sewing is no longer required.
*The bird's nest reduction function and shorter-thread remaining function cannot be used simultaneously.
Specification
Model name
AMS-221FH3020R
AMS-221FH3020R /AW-3
AMS-221FG3020R
AMS-221FG3020R /AW-3
Application
Medium- to heavy-weight
Extra heavy-weight
Feeding frame type
Monolithic feeding frame
Max. sewing speed
2,800sti/min*
Sewing area
300mm (X) × 200mm (Y)
Settable stitch length
0.1~12.7mm (0.05mm step)
Needle bar stroke
45.7mm
Lift of the feeding frame
Max. 30mm
Lift / Stroke of intermediate presser
Lifting amount: 25mm / Stroke: Standard 4mm (0~10mm)
Variable lower position of the intermediate presser
Standard 0~3.5mm (max. 0~7.0mm)
Change in height of the intermediate presser
Stepless control by programming (controlled by a stepping motor)
Needle thread tension
Active tension (electronic thread tension control mechanism)
Needle thread breakage detecting device
Provided as standard
Prevention of the slip-off of thread at the beginning of sewing
Prevented by active tension
Needle (at the time of delivery)
DP×17 (#18)
DP×17 (#23)
Thread
#30~#8
#20~#5
Hook
Double-capacity rotary hook
Sewing machine motor
Compact AC servomotor (direct-drive system)
Power requirement / Power consumption
3-phase 200V / 400VA
Compressed air / Air consumption
0.35~0.55MPa (Max. 0.55MPa) / 156dm³/min (with AW-3), 1.8dm³/min (without AW-3)
*sti/min is the abbreviation for "stitches per minute"

When you place orders