Computer-controlled, High-speed, Eyelet buttonhole bartacking Sewing System
Inspire the Knowledge in Sewing Adjustment Epoch-making Sewing Systems in history.
Digital sewing system proposes the production process added with a computerized new value to all the people who engage in production.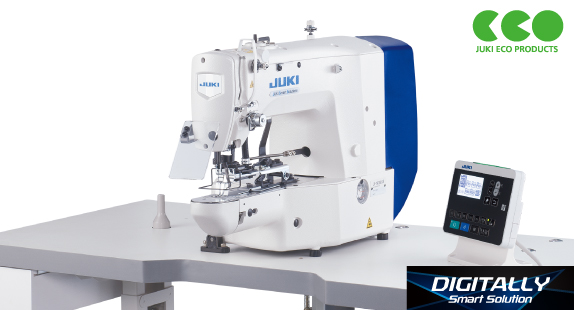 Product features
Machine is mounted with inbuilt NFC (Near Field Communication) and communication devices capable of a 2-way data transmission

Data on sewing machine adjustments made according to the product to be sewn can be transferred to a commercially-available Android tablet in contactless mode. This enables quick check for uniform settings as well as confirmation of conditions of sewing machines in a sewing line, thereby facilitating setup changes.
The operation panel is also provided as standard with a USB port. Data management and software update can be carried out with ease using a USB thumb drive.
Data items of sewing can be numerically managed to ensure "stable quality" and "reduction in time required for setup changes". Quantified sewing data can be externally taken from the sewing machine using an Android tablet or USB thumb drive.
*Android OS Version 6.0 is recommended to use JUKI Smart APP.
(Operation is confirmed with respect to Versions 5.0 and later.)
Contact JUKI distributor in your area for how to use the application software.

The machine ensures high-quality bartacks on eyelet buttonholes

The machine is provided with a material-drawing mechanism which draws the right and left parallel portions of an eyelet buttonhole near to one another.
The machine performs bartacking with the right and left parallel portions of the eyelet buttonhole drawn near to one another after the buttonhole is clamped under the work clamp foot, thereby finishing highly durable and well-tensed eyelet buttonholes.

The material drawing mechanism can be switched to ON/OFF

The material drawing amount can be adjusted to 3mm at maximum. The material drawing mechanism can be switched ON/OFF in accordance with the setting of the memory switch.
With these features, the material drawing mechanism can be used with greater flexibility.

The sewing pattern best suited to the sewing product to be bartacked can be selected by single-key operation

Three different sewing patterns are prepared to enable easy switchover of sewing sizes. If the sewing patterns are assigned to the pattern keys on the operation panel, the sewing patterns can be called up or changed with single-key operation.
The machine sews the most optimally suited bartacks on eyelet buttonholes on the front bodies of garments and straight buttonholes that differ in stitch number and size on jacket lapels, thereby improving the finished quality of sewing products.
Basic performance
Higher productivity

The machine achieves sewing speed of 3,000sti/min. The machine's starting, stopping, thread-trimming and automatic presser lifting speeds have been increased to significantly shorten total cycle time.

Excellent workability and operability
(Low-noise and low-vibration)

The direct-drive head (with no belt), which is directly connected to a compact AC servomotor, achieves outstanding. This head helps create a comfortable working environment with reduced vibration and noise.
The arm section of the machine head is fitted with a hand pulley. This allows the operator to visually check the needle entry points.

Excellent seam quality

Needle thread grasping mechanism helps produce consistent knot tying at the beginning of sewing. (This device has been factory-set to "invoking prohibited" status at the time of delivery.)

The sewing starting point can be corrected

In cases where the needle entry point for button sewing is to be corrected, the sewing starting point can be corrected without the adjustment of the relevant mechanism.

Auto-lifter mechanism utilizing a system

The machine is provided as standard with auto-lifter that uses a stepping-motor system. This helps reduce operator fatigue.
It is also possible to change over the stroke of the auto-lifter from a onestep stroke to a double-step stroke, which offers easier positioning of a material on the machine. For the double-step stroke, an intermediate stopping height can be established on the operation panel.
The work clamp foot lift can be set to a maximum of 17mm. (Standard 14mm)

Oil stains are eliminated

Thanks to our advanced dry-head technology, the frame (needle bar and thread take-up) no longer requires lubrication. This prevents the material from being stained with lubricating oil.
Just a small quantity of clean oil is supplied from the oil tank to the hook.

Eco-friendly power saving

An encoder is installed in the pulse motor, thereby achieving substantially improved power-consumption saving.

LED Light

The LED light can adjust the light intensity to 5 levels, and Off setting is also possible.
The operator can set the brightness which is easy to work, improving work efficiency.
Specification
Model name
Eyelet buttonhole bartacking machine
LK-1901BN-SS
Application
Standard
Max. sewing speed
3,000sti/min*
Sewing area
30mm (L) × 40mm (W)
Stitch length
0.1~10mm
Needle bar stroke
41.2mm
Lift of the work clamp foot
Standard 14mm
(by using the reverse-rotation needle-up function 17mm)
Auto-lifter
Provided as standard (stepping motor type)
Needle thread tension
Active tension
(electronic thread tension control mechanism)
Needle (at the time of delivery)
DP×5 (#14)
Hook
Standard shuttle hook
Number of stitches
that can be stored in memory
Max. 20,000 stitches
Applicable pattern number
11, 12, 13
Number of data that can be input
200 patterns (for up to 150 patterns, sewing data can be added.)
Enlarging/Reducing facility
20~200% (1% step),
Pattern enlargement/reduction can be done by increasing/decreasing the stitch length
Memory method
Internal-organs memory
Material drawing amount
Max. 3mm
Bobbin thread counter
Provided as standard (up/down method)
Lubrication
Hook: minute-quantity lubrication
Lubricating oil
JUKI New Defrix Oil No.2 (equivalent to ISO VG32)
Sewing machine motor
450W compact AC servomotor (direct-drive system)
Power consumption
250VA
Weight
Machine head (include motor) 42kg, Control box 5.6kg
Air consumption
-
*sti/min is the abbreviation for "stitches per minute"
*Other company names and product names/brand names are trademarks or registered trademarks of the respective companies.

When you place orders