Computer-controlled, High-speed Shape-tacking Machine
(without the work clamp foot for attaching hooks & eyes and snaps)
Productivity is increased by using two units of the LK-1910SS5010Z.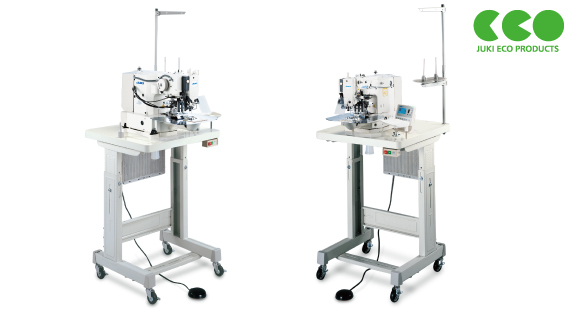 Product features
Productivity is increased by using two units of the LK-1910SS5010Z

Increased productivity is promised when the operator operates two sewing machines alternately, i.e., one is the sewing machine for attaching hooks, and the other is the sewing machine for attaching eyes.
Basic performance
Work clamp foot for attaching hook & eye and snaps

Select a work clamp foot for hooks & eyes and snaps from the optional parts table. Place an order for the work clamp foot required for attaching them.

Snap position

The position of snaps can be changed in three stages from the center in a downward direction (maximum distance from the center : 10 mm).
The snap can be attached at the position that longitudinally deviates from the position of hook & eye attached to the center of waist belt.
As a result, turning over of the belt can be prevented. (See the figure given below.)

Easy operation

Since the feed plate of work clamp foot can be replaced by a simple snap-in operation, setup changing can be carried out with ease.
Since the side zipper can be set on the sewing machine from the front side of the operator as in the case of rear the zipper, workability is improved.
Specification
| Model name | LK-1910SS5010Z |
| --- | --- |
| Application | Standard |
| Max.sewing speed | 1,600sti/min* |
| Stitch length | 0.1mm~10mm |
| Needle bar stroke | 41.2mm |
| Lift of the feeding frame | Max. 22mm |
| Needle | DP×17 (#14) |
| Hook | Double-capacity shuttle hook |
| Wiper | Side-weeping type |
| Feed motion work clamp foot | Max.20,000 stitches |
| Number of patterns that can be input | 200 patterns |
| Memory medium | Memory /EEP-ROM |
| Bobbin thread counter | Provided as standard (Up / down method) |
| Lubrication | Centralized oil wick type |
| Lubricating oil | JUKI New Defrix Oil No.2 (equivalent to ISO VG32) |
| Sewing machine motor | AC servomotor (direct-drive system) |
| Power consumption | 3 - phase 200~240V / 380VA |
| Weight | Machine head (include motor) 46kg, control box 5kg |
*"sti/min" stands for "Stitches per Minute."

When you place orders