Semi-dry-head, High-speed, Overlock / Safety Stitch Machine

JUKI's dry-head technology protects the sewing products from oil stains.
This model of sewing machine has been developed while inheriting JUKI's advanced "dry" technology. JUKI is happy to launch the product which responds to customers' concern about oil stains on the fabric.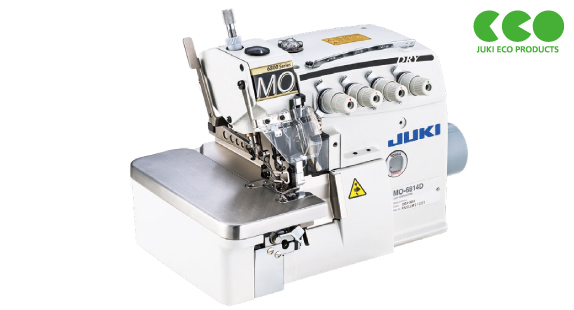 Product features
Oil stains on the sewing product are eliminated

Oil splashes are substantially reduced to eliminate oil stains on sewing products, thereby upgrading the finished quality.
The frequency of stain removal or re-sewing is reduced.
The machine achieves a practical maximum sewing speed of 7,000sti/min.

Cutting-edge dry technology for achieving a lubrication-free mechanism

The needle bar mechanism and upper looper mechanism have been re-designed to require no lubrication.
The most-advanced dry technologies, such as the special surface treatment applied to the major drive unit and the grease feeding method, contribute to higher durability. The machine does not splash oil after a long-period of use. The grease filler openings are newly provided for the sewing machine on two locations, i.e., one on the upper looper component and the other on the sewing machine frame, thereby improving maintainability.



Specification
Model name
MO-6804D
MO-6814D
MO-6816D
MO-6843D
Stitch type
1-needle overlock
2-needle overlock
Safety stitching
3-needle safety stitching
Stitch style in the U.S.A.
504
514
516
-
Max. sewing speed
7,000sti/min*
Stitch length
0.6~3.8 (4.5)mm
Needle gauge (mm)
-
2.0mm
3.0, 5.0mm
5.0+2.0mm
Overedging width (mm)
4.0mm
2.0, 3.0, 4.0mm
4.0, 5.0mm
3.0mm
Bottom differential feed ratio
Gathering 1:2 (Max. 1:4), Stretching 1:0.7 (Max. 1:0.6)
Needle bar stroke
24.5mm
Inclination angle of the needle
20°
Needle mechanism
Lower bushing method
Needle
DC×27 (excluding some subclass model)
Max. lift of the presser foot
7mm (excluding some subclass model)
Max. presser foot pressure
63.7N (6.5kgf)
Stitch adjusting method
By push-button
Differential-feed adjusting method
By lever (with micro-adjustment)
Weight of the machine head
27kg
Lubrication
Automatic (The needle bar mechanism and upper looper mechanism do not require lubrication.)
Lubricating oil
JUKI Machine Oil 18 (equivalent to ISO VG18)
Needle cooler
Provided as standard
Needle thread heat remover
Provided as standard
Micro-lifter
Option
*sti/min is the abbreviation for "stitches per minute"

When you place orders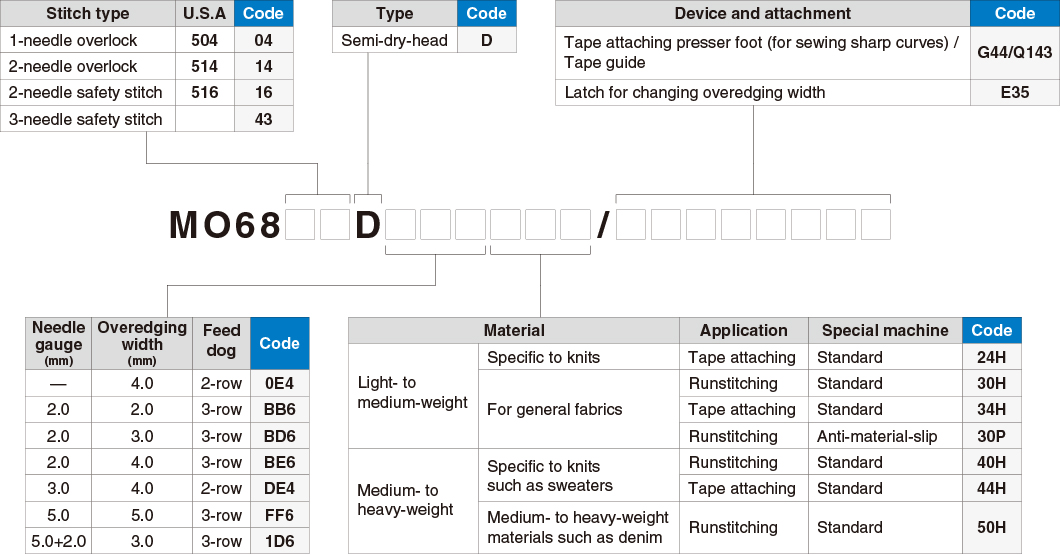 Subclass machine list