Feed-off-the-arm, Double Chainstitch Machine
The machine achieves beautifully-finished seam while preventing puckering and stitch skipping.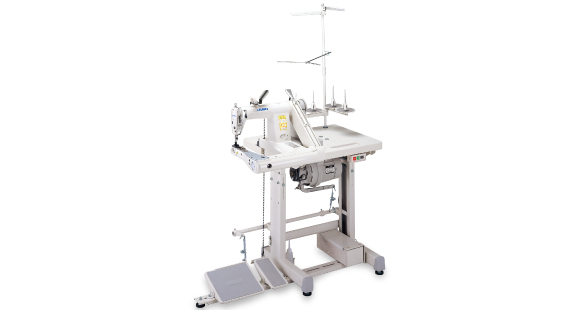 Product features
Low-tension stitching ability and improved stitching mechanism prevents puckering

Both needle thread tension and bobbin thread tension have been decreased after reinvestigation of the double chainstitching mechanism. Furthermore, the stitch dial, gauges and looper have been dramatically improved, thereby forming beautifully finished seams and preventing puckering.
Basic performance
The machine prevents stitch skipping even when it runs at high speed, ensuring high-quality products

With its low-tension sewing capability and the best-suited timing among the needle, looper and feed, the machine forms even stitches with consistency at all times. The machine also prevents stitch skipping at a high speed to help promote high-grade manufacuring.

The machine is equipped as standard, with newly developed folders which enable the machine to perform stitching with consistency

Newly developed folders are equipped as standard for the machine. The folders are designed to match the presser foot and allow overlapping material to be fed smoothly under them. They are easy to use and improve consistency in sewing. Many different kinds of folders are prepared in accordance with the materials to be used, ranging from folders for extra heavy-weight materials to medium-weight materials.

The machine has improved ease of operation

The shape of the bed has been designed to allow the operator to handle it with ease. The push-button type stitch length dial has been introduced to change the feed amount. The timings of the feed driving cam and the looper rocking cam can be separately adjusted. All of these features are designed for easier operation and maintenance.
Specification
Model name
MS-1190
MS-1190M
Application
For light-weight materials
For medium-weight materials
No. of needle
2
Max. sewing speed
4,000sti/min (normal 3,500sti/min)*
Needle bar stroke
28.0mm
Needle
(at the time of delivery)
SCHMETZ B-64 (Nm80)
Nm60~Nm90
ORGAN TV×64-NY (#12)
#8~#14
SCHMETZ B-64 (Nm100)
Nm80~Nm120
ORGAN TV×64-NY (#16)
#12~#19
Needle gauge
3.2mm (1/8"), 4.0mm (5/32"), 4.8mm (3/16"), 5.6mm (7/32"), 6.4mm (1/4")
Stitch length
1.2~3.2mm
Lift of the presser foot
10mm
Thread take-up lever
Thread pulling cam type thread take-up lever
Needle bar thread take-up lever
Circumference of tube at the needle entry
171mm
Needle guard
Longitudinally-fixed needle guard
Stitch adjusting system
By push-button (with locking mechanism)
Lubrication
Semi-automatic lubrication
Lubricating oil
JUKI New Defrix Oil No.1 (equivalent to ISO VG7)
*"sti/min" stands for "Stitches per Minute."
When you place orders