1-needle, Lockstitch Buttonholing Machine
A good buttonholing machine should finish seams of consistent quality and be widely adaptable to many different kinds of materials and seam specifications. The LBH-780 series buttonholing machines respond to these needs and help reduce operator fatigue, thereby finishing high-quality buttonholes with a higher degree of efficiency.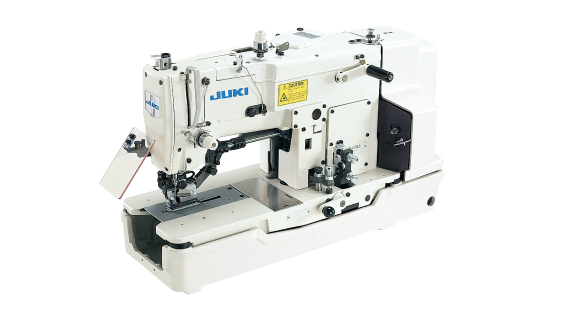 Product features
The buttonholing position can be easily adjusted

The buttonholing position can be easily adjusted. This further enhances ease of operation.
A newly introduced mechanism in the needle thread trimmer prevents interference with the positioning of buttonholes. The shape of the face plate is designed to provide sufficient clearance around the needle entry position. As a result, ease of operation is further improved.
Basic performance
Work clamp foot lifting height

The work clamp can be lifted as high as 12mm. The machine is capable of sewing heavy-weight materials such as bulky knits.
The maximum lift of the work clamp is 12mm, enabling the machine to make high-quality buttonholes in heavy-weight materials.

Operator-friendly environment

Work clamp can be easily lifted. This helps to substantially reduce operator fatigue. The pressure required to depress the start pedal and lifter pedal has been reduced. This helps to dramatically reduce operator fatigue.
The knife mechanism and stop-motion mechanism produce less noise when they actuate, thus contributing to a more comfortable working environment. Thanks to the simple design of the stop-motion mechanism and unique knife mechanism, the machine operates with low noise. The machine starts, decelerates and stops smoothly.
Specification
Model name
LBH-780
LBH-780NB
Application
Buttonholing for ordinary cloth, knit, etc.
For double-stitching with gimp and gimp cutter
Sewing speed
3,600sti/min*
Max. 3,300sti/min*, Normal 3,000sti/min*
Needle bar stroke
34.6mm
Max. lift of the work clamp
12mm
11.5mm
Max. thickness of material that can be used
4mm (with the work clamp lowered)
Number of stitches
54~345 (by gear-change method)
Length of buttonholes
6.4~38.1mm
11.5~38.1mm
Needle
DP × 5 #11J, For JE: 134 Nm75
Hook
DP type, automatic-lubricating full-rotary hook
Deceleration method
Belt-shifting method
Lubrication
Automatic
Lubricating oil
JUKI New Defrix Oil No.1 (equivalent to ISO VG7)
Motor
300W general-purpose motor
(A 250W general-purpose motor can be used when the machine is used at a sewing speed of 3,100rpm or less.)
Weight of the machine head
40kg
*"sti/min" stands for "Stitches per Minute."
When you place orders