Computer-controlled, High-speed, Buttonholing Sewing System
Management of sewing performance and sewing machine with JUKI's next-generation sewing system.
Machine is mounted with inbuilt NFC (Near Field Communication) and communication devices capable of a 2-way data transmission.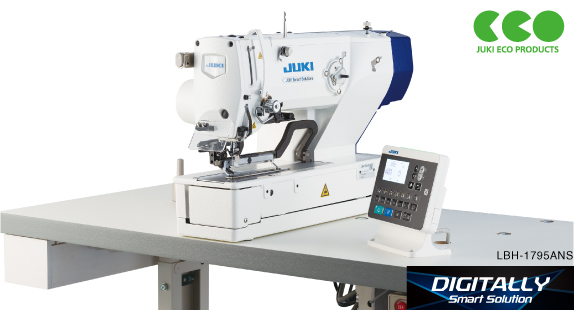 Product features
120mm presser type

The knife supports sewing lengths of 41mm at the maximum. Since the LBH-1795ANS is provided as standard with the 120 mm presser, it is capable of sewing 120mm long buttonholes. The LBH-1795ANS is capable of sewing long buttonholes such as belt holes in car seats. In addition, it is applicable to the sewing of buttonholes in men's shirts (continuous sewing of two buttonholes and the use of two units of sewing machines), etc.
The upper limit of the adjustment of the presser foot pressure has been expanded. The presser foot pressure is now digitally controlled. As a result, the machine acquires improved responsiveness to knit materials and car seats.

Management of sewing performance and sewing machine by the utilization of IoT (Internet of Things)

Management, browsing and editing of data can be carried out on the application software

Data on sewing machine adjustments made according to the product to be sewn can be transferred to a commercially-available Android tablet in contactless mode. This enables quick check for uniform settings as well as confirmation of conditions of sewing machines in a sewing line, thereby facilitating setup changes. The operation panel is also provided as standard with a USB port. Data management and software update can be carried out with ease using a USB thumb drive.
Data items of sewing can be numerically managed to ensure "stable quality" and "reduction in time required for setup changes".
Quantified sewing data can be externally taken from the sewing machine using an Android tablet or USB thumb drive.
*Android OS Version 6.0 is recommended to use JUKI Smart APP.
(Operation is confirmed with respect to Versions 5.0 and later.)
Contact JUKI distributor in your area for how to use the application software.
Basic performance
Higher productivity

The maximum sewing speed is 4,200 sti/min., and the jump speed is 200 mm/s. The cycle time has been further reduced for continuous sewing.

Cycle sewing and continuous sewing

Cycle sewing

Twenty different programs can be registered, and as many as 30 different patterns can be stored in one program.

Continuous sewing

The machine is able to continuously sew two or more different patterns without requiring the work clamp foot to be lifted. As may as 20 programs can be registered, and six different patterns can be stored in one program. (Related parts need to be exchanged for optional ones.)

All drive mechanisms are electronically controlled

Electronic control of the material feed mechanism, needle feed mechanism, needle thread trimming mechanism, bobbin thread trimming mechanism, cloth trimming mechanism, presser lifter mechanism and other mechanisms has been achieved.
All adjustment values are digitalized to enable the operator to set and store those values on the operation panel.

Operator-friendly environment

Operation with reduced noise is ensured by the adoption of the direct-drive motor.
The illuminance of the LED light is adjustable and is located on the underside of the arm jaw. It is provided as standard for all models of the LBH-1790AN Series.
The sewing product can further be placed on the machine easily by installing the auxiliary table (standard accessory). In addition, the needle entry is located in the center of the bed, promising easier positioning of the sewing product.

Many functions of the pedal

The machine is provided as standard with a newly-developed auto-lifter driven by a stepping motor. This helps reduce the operator's fatigue. As for the pedal, one-pedal and two-pedal models can both be changed over and the intermediate stop, which facilitates positioning of the sewing product, can be specified.
The work clamp foot lift can be set as desired. The reverse-rotation needle-up function offers a maximum work clamp foot lift of 17mm.

* Please order two-pedal model by a part.

JUKI's unique active tension (Electronic thread tension control system)

Needle thread tension for sewing parallel and bartacking sections of buttonholes can be separately controlled through the operation panel and stored in memory according to various sewing conditions (e.g., type of thread, type of material and sewing speed).
The machine is able to change the needle thread tensions at the parallel and bartacking sections of the buttonhole, to produce a beautiful buttonhole shape. This capability helps greatly in preventing thread breakage.
Needle thread tension is activated at the beginning and end of sewing. This prevents unthreading of the needle thread, and thread fraying that is likely to occur at the beginning of sewing.
Thread tension for basting stitching can be specified separately.

Basting stitch mechanism is effective for the production of beautiful buttonholes

The basting stitch is effective on elastic materials such as knits. Basting stitch: Since the needle thread is tucked in without fail, it will never jut out of the buttonhole seams. Basting stitch can be sewn by nine rounds.

The machine is equipped with a multiple knife-dropping function

Thanks to the multiple knife-dropping function, it is no longer required that the knife be changed at the time the buttonhole size is changed. The number of knife dropping times can be automatically set according to the buttonholing size in cases where the buttonhole size is frequently changed for small-lot productions or during the cycle sewing of buttonholes that are different in size.
The double-acting stepping motor type knife mechanism is free from the faulty dropping/returning of the knife.
The knife supports sewing lengths of 41mm at the maximum. In addition, knife mechanisms for 70mm and 120mm are optionally available.

Sewing settings can be easily changed

The machine eliminates oil stains on the sewing product

Thanks to our advanced dry-head technology, no lubrication is required except for the hook section. This eliminates oil stains on the sewing product.
The machine can be completely changed into a dry-head machine by replacing the hook with an optional non-lubricated hook. (In this case, the maximum sewing speed will be 3,300sti/min)

Adjustment of the hook oil quantity

The newly installed "hook oil quality adjustment screw" can be found by opening the hook lid cover. With this screw, the operator is able to to adjust the oil quantity in the hook with ease.
Oil can be easily added to the hook oil quantity tank with an oiler.

The machine is provided as standard with as many as 31 stitch patterns for buttonholing

It is able to store 99 different patterns in its memory, which can be selected as desired from the operation panel.
Specification
Model name
LBH-1795AN
Sewing speed
Max. 4,200sti/min*, Normal 3,600sti/min* When the non-lubricated hook (optional) is used: 3,300sti/min*
Needle bar stroke
34.6mm
Size of cloth cutting knife
6.4~31.8mm (1/4"~1-1/4")
Bartacking width
Max. 5.0mm (with special-specification part: Max. 10mm*)
Buttonhole length
Max. 120mm
Precision of needle throwing mechanism
0.05mm
Needle thread tension
Active tension (electronic thread tension control system)
Number of stitches
Automatically computed from the size of the buttonhole and stitch pitch
Needle (at the time of delivery)
DP×5 (#11J) #11J~#14J
Hook
DP type, full-rotary hook Non-lubricated hook (optional)
Lift of the work clamp
14mm (17mm when the reverse-rotation needle-up function is used)
Auto-lifter
Provided as standard (stepping motor type)
Needle throwing system
Stepping motor
Cloth feeding system
Intermittent feed by stepping motor
Cloth cutting knife system
Stepping motor
Number of standard patterns
31 patterns
Number of patterns that can be input
Max. 99 patterns
Bobbin thread winder
Built-in the machine head
Machine head drive system
Compact AC servomotor (direct-drive system)
Power requirement / Power consumption
3-phase 200~240V/250VA
Lubrication
Only the hook section needs a minute-quantity lubrication.
* No lubrication is required when the non-lubricated hook (optional) is used.
Lubricating oil
Hook: JUKI New Defrix Oil No.1 (equivalent to ISO VG7)
Weight
Machine head (include motor) 55kg,
Control box 6kg
*sti/min is the abbreviation for "stitches per minute"
*The special-specification part is available on a special order. Contact our branch or office in your area.
• Other company names and product names/brand names are trademarks or registered trademarks of the respective companies.

When you place orders

Gauge
LBH-1795AN
Guage
CLOTH CUTTING KNIFE
PRESSER FOOT
PRESSER FOOT
Figure
Standard
Standard
For hosiery
Standard
inch
mm
P/N
P/N
P/N
P/N
1/4
6.4
B2702047F00
B1552781000A
D1508771K00A
B15117710A0B
3/8
9.5
B2702047K00A
7/16
11.1
B2702047I00
1/2
12.7
B2702047L00A
9/16
14.3
B2702047V00
5/8
15.9
B2702047M00A
11/16
17.5
B2702047A00
3/4
19.1
B2702047N00
7/8
22.2
B2702047P00
B1552782000
D1508772K00
D1511772KA0
1
25.4
B2702047Q00A
1-1/4
31.8
B2702047S00A
B1552783000
D1508773K00
D1511773KA0
Guage
CLOTH CUTTING KNIFE
KNIFE GUARD
THROAT PLATE
Figure
Flat knife
-
-
inch
mm
P/N
P/N
P/N
1/4
6.4
B2745771F00
B2746771000
13782800
3/8
9.5
B2745771K00
7/16
11.1
-
1/2
12.7
B2745771L00
9/16
14.3
B2745771H00
5/8
15.9
B2745771M00
11/16
17.5
-
3/4
19.1
B2745771N00
7/8
22.2
B2745771P00
1
25.4
B2745771Q00
1-1/8
28.6
B2745771R00
1-1/4
31.8
B2745771S00