Pattern seamer
(X:1,200mm × Y:700mm)
This is a pattern seamer provided with JUKI's first exclusive machine head. It is able to carry out pattern sewing of large products with flexibility.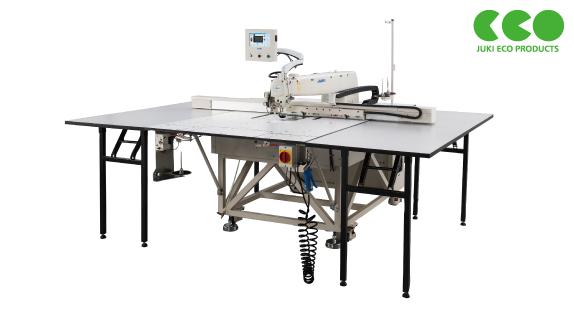 Product features
Increased productivity

With this sewing machine, quilting and runstitching processes for sewing down jackets and winter sportswear can be carried out only with one setup operation. Conventionally regular-interval topstitches have been sewn with a lockstitch machine and the seam quality varies according to the operator's skill. Now, with the PS-700, regular-interval topstitches of stable quality can be sewn without depending on the operator's skill, thereby contributing to substantially increased productivity.

Active tension

The machine has achieved the industry's highest jump speed of 800 mm/s.
Active tension has been introduced to the needle thread tension controller. Since the needle thread tension is reproducible, supporting a broader range of sewing conditions, the time required for setup changing upon process changeover can be reduced.
Basic performance
Excellent quality

The auxiliary clamp holds down the template and material, thereby securely holding the material being sewn. The PS-700 has adopted the guide rail feed mechanism which feeds the template while clamping it with its guide rail. This mechanism demonstrates higher feed accuracy in comparison with the roller feed mechanism, thereby improving seam quality.
Specification
Model name
PS-700
Maximum sewing speed
3,000sti/min*
Jump speed
800mm/s
Possible sewing area
Width (X) 1,200mm × Length (Y) 700mm
Stitch length
0.1 - 12.7 mm (in increments of 0.1mm)
Needle bar stroke
39.8mm
Needle thread tension
Active tension (computer-controlled thread tension control mechanism)
Needle
DB×1 (#9 to #16)
Hook
Full-rotary double-capacity hook
Memory medium
USB thumb drive
Storage of pattern data
Memory in the main body:Max. 60,000 stitches; 999 patterns (Max. 60,000 stitches per pattern)
External memory (128 MB) Max. 999 patterns (Max. 60,000 stitches per pattern)
*"sti/min" stands for "Stitches per Minute."

When you place orders