Lockstitch Automatic Welting Machine (for straight pockets without flaps)
APW-895NE provides excellent performance and high productivity in welting, such as slacks and working pants. It comes with a high-speed machine head that is able to perform sewing at 3,000 sti/min at the maximum. Even an inexperienced operator can easy sewing slacks and working pants by just placing the fabric on the welting machine and carrying out the start operation.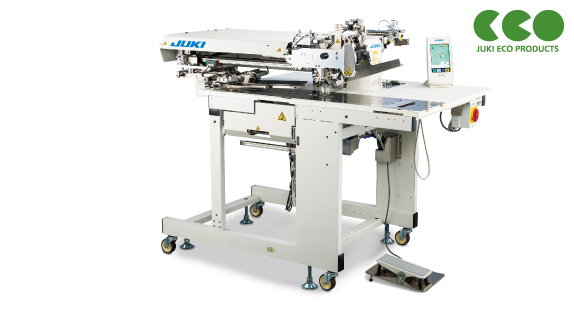 Product features
Increased productivity

It comes with a high-speed machine head that is able to perform sewing at 3,000 sti/min at the maximum.

Selection of a sewing position by control panel

APW-895NE is equipped with a function to select a sewing position (from the operator side, from the counter operator side, at the center of the sewing length) when changing the length of the pocket.
Note that the moving marker (option) is required if you wish to automatically move the marker line.
Basic performance
Adjustment of the corner knife

The corner knives, which can be drawn out in the entire knife unit is adopted.
The knives are easily adjusted and can also be changed with ease. The slim corner knife cover helps reduce material thrusting, thereby achieving material cutting with accuracy. Loosen the screw and manually adjust the position of corner knives.

Pocket bag presser device

When performing welting of slacks and working pants, the pocket bag presser device clamps the pocket bag for sewing it simultaneously with welting.

Dart stretcher

The dart stretcher clamps the end of material to smooth out the wrinkles on a garment body, thereby allowing the sewing machine to perform welting with consistency.

Operation pedal

One-shot operation pedal is adopted to start the sewing machine. The sewing step is moved forward by depressing the front part of pedal, and it is moved backward by depressing the rear part of pedal.
Specification
Model name
APW-895NE
Sewing speed
Max. 3,000 sti/min*
Kind of welts
Parallel double welt, parallel single welt (without flaps)
Stitch length
Standard 2.5mm (2.0~3.4mm)
Stitch length
(fastening stitching)
Condensation stitching : Standard 1.0mm (0.5~1.5mm)
Back-tack stitching : Standard 2.0mm (0.5~3.0mm)
*Changeable between condensation / back tack stitching
Corner-knife cutting adjusting method
Mechanical adjustment
Needle
DP × 17 Standard #16 (#14~#18), 190R Standard #100 (#100~#110)
Thread
SPUN #60 (recommend)
Hook
Vertical-axis 1.7-fold capacity hook
Number of independent sewing patterns
99 patterns (999 patterns when a CF memory card is used)
Number of cycle sewing patterns
20 patterns
Number of alternate sewing patterns
20 patterns
Machine head
2-needle, lockstitch machine
Cloth feeding system
Driven by a stepping motor
Compressed air /Air consumption
0.5MPa, 40dm³/min (ANR)
Weight
238.5kg
Dimensions
1,095mm(W)×1,500mm(D)×1,200mm(H)
Model name
With / Without
(corner knife and center knife)
Sewing length (welt length)
Needle gauge (mm)
APW-895NE (Economy type)
Without
Min. 18mm~Max. 220mm (settable in increments of 0.1mm)
10, 12
With
Min. 35mm
When a solenoid valve is used: Min. 21mm
*For a needle gauge width of 14mm or more, the minimum sewing length is 50mm.
*"sti/min" stands for "Stitches per Minute."

When you place orders

Gauge
APW-895NE
Guage
THROAT PLATE
NEEDLE CLAMP (FOR DELICERY)
NEEDLE CLAMP (FOR REPLACEMENT)
NEEDLE THREAD KNIFE
NEEDLE THREAD COUNTER KNIFE
NEEDLE THREAD CLAMP PLATE
Figure
Needle width
P/N
P/N
P/N
P/N
P/N
P/N
10mm
40046301
40046314
40045696
40023020
16409906
40033815
12mm
40046302
40046315
Guage
SEWING TABLE
DOUBLE WELT PATCH PLATE
Figure
Needle width
P/N
P/N
L
R
A
10mm
40026357
40026627
4.3
4.3
18.6
12mm
40035331
5.4
5.4
22.6
Guage
COURNER KNIFE
Figure
Needle width
P/N
Remarks
10mm
16607301
16607400
A1
A2
12mm