Jeans Pocket Setter (Semi-auto type)
The sewing machine has been specifically designed for being capable of placing the next sewing pocket while engaging in placing the current pocket which is preliminary folded by a pocket folding machine on a garment body and sewing it.
The machine is a state-of-the-art sewing machine which achieves consistent quality and higher productivity.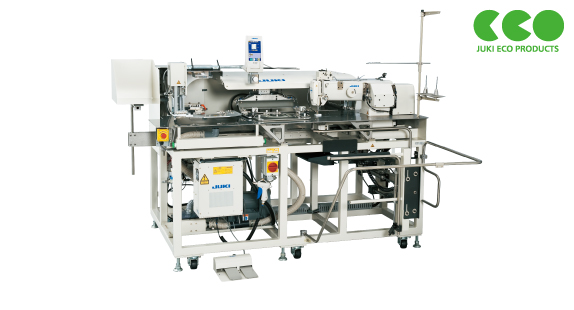 Product features
Higher productivity

The maximum sewing speed of the sewing machine is 4,000 sti/min. The sewing machine demonstrates excellent productivity, with its high-speed feed, its mechanical operation with unwasted motion, and its cycle time of approximately 9.9 sec./pocket.

Operation panel

The machine has adopted the operation panel IP-420 with a large color liquid crystal display. Now, it is possible to input/modify sewing data on the main body of the sewing machine. In addition, the operation panel supports USB. Various USB flash devices are applicable.

Active tension mechanism

The machine has adopted JUKI's unique active tension mechanism for its needle tension control.
The active tension mechanism controls the needle thread tension according to sewing conditions such as the type of material and sewing section of the material, thereby achieving upgraded seam quality.
Basic performance
Sewing area is broadened

The sewing area is as wide as 250 mm × 250 mm. The machine can now sew large pockets.

Encoder control

The machine has adopted the stepping motor with an encoder for the X-Y feed drive. The motor drives the machine using the minimum electric power according the material weight and stitch length, thereby contributing to reduced power consumption.
Specification
Model name
AP-874
Machine head
High-speed, 1-needle, lockstitch, zigzag stitching machine (exclusive machine head)
Max. sewing speed
4,000 sti/min*
Sewing area
250mm × 250mm
Stitch length, Max zigzag width
0.1mm~6.0mm, 4.3mm
Needle (at the time of delivery)
SCHMETZ 134 SERV7 (Nm130)
Hook
Horizontal-axis full-rotary 1.7 fold-capacity hook
Needle thread breakage detection
Provided as standard
Stacking capacity
Max. 64 pieces of jeans bodies
Number of patterns that
can be stored in memory
Main-body memory: Max. 999 patterns
External media: Max. 999 patterns
Feeding method
Stepping motor (encoder control system type), X-Y clamp drive
Power requirement / Power consumption
Single-phase 220V-240V / 820VA, 3-phase 200V-240V / 760VA
Compressed air and air consumption
0.5Mpa (5kg/cm²), 10.6 dm³/min
Total weight
558Kg
*"sti/min" stands for "Stitches per Minute."

When you place orders