Direct-drive, High-speed, 1-needle, Needle-feed, Lockstitch Machine with Automatic Thread Trimmer
The needle feed mechanism, which is widely recognized as offering outstanding efficiency of feed and effectively preventing uneven material feed, responds to a wide range of applications such as the sewing of outerwear, runstitching of men's shirts, etc. and the attaching of various parts to garment bodies.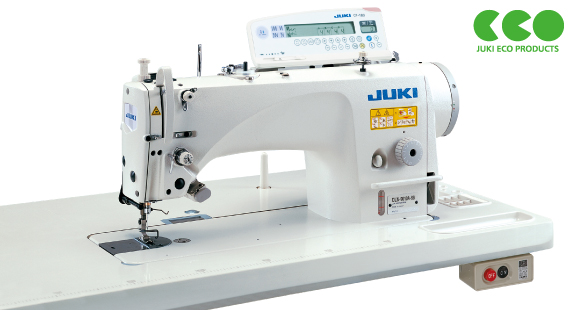 Product features
The machine is installed with a highly reliable needle feed mechanism

Thanks to the needle-feed mechanism which offers excellent efficiency of feed, the machine ensures accurate stitch pitches (stitch length) as well as preventing slippage of the upper cloth.
The bottom feed's locus has been improved to match the needle feed motion, thus the machine produces beautiful seams without stitch gathering, even when it is used for sewing slippery and difficult-to-feed material or for handling a difficult process.
The needle feed mechanism is a so-called "dry type", which does not require oiling. With this mechanism, a highly reliable machine structure, free from oil leakage troubles, has been achieved.
The frame, which requires only a minute quantity of lubricating oil, is structured to eliminate oil leakage.
The machine can be easily changed over from a needle feed mechanism to a bottom feed mechanism easily, through a simple adjustment and gauge replacement. It is a useful feature for those users who also want to use the machine simply as a regular bottom feed type machine in accordance with applications and processes.

The machine no longer uses an oil pan
With this oil pan-less structure, the machine helps create a clean work environment

The machine has been configured to eliminate the oil pan, and supplies a minute quantity of lubricating oil to the hook and needle bar, thereby contributing to the reation of a clean work environment.
The machine saves you the time and trouble of removing the knee-lifter and cover. This means that the machine head can be tilted for cleaning and maintenance without the inconvenience of removing the knee-lifter and cover.
Even if you tilt the machine head while the power is still ON, the safety switch will disable the machine. This means the machine won't start running when the head is tilted even if you press the foot pedal.

The machine is provided with various easy-to-operate functions for increased operability

The new model control box, which energy-saving mode is provided (SC-920A)

The new model control box SC-920A, which consists of an energy-saving mode, has been developed. This control box is the first one which provides an energy-saving mode for the sewing machine. The power consumption during standby, when the motor is at rest, is reduced by approximately 20%.

The operation panel can be selected according to the process (CP-18A,CP-180A)

Two different operation panels, the CP-18A and CP-180A are applicable to the DLN-9010A. Both operation panels are provided with the production support function.
The production support function actually consists of three different functions (six different modes)
Specification
Model name
DLN-9010A-SS
DLN-9010A-SH
Application
For light- to medium-weight materials
For heavy weight materials
Max. sewing speed
5,000sti/min*
4,000sti/min*
Max. stitch length
4.5mm*1
Needle bar stroke
33mm
Lift of the presser foot
By hand: 5.5mm, By knee: 15mm(max.), Auto: 10mm
Needle (at the time of delivery)
DB×1 (#11) #9~#18
For JE:134 (Nm90) Nm65~Nm110
DB×1 (#21) #20~#23
For JE:134 (Nm130) Nm120~Nm160
Hook
Automatic-lubricating full-rotary hook
Lubrication
Minute-quantity lubrication to needle bar and hook
Lubricating oil
JUKI New Defrix Oil NO.1 (equivalent to ISO VG7)
Distance from needle to machine arm
300mm
Size of bed
517mm×178mm
Bobbin thread winder
Built-in the machine head
Micro-lifter screw
Provided as standard
Machine head drive
Compact AC servomotor that is directly connected to the main shaft (direct-drive system)
Automatic reverse feed function
Provided as standard (built-in solenoid type)
Power requirement/Power consumption
Single-phase 100~120V, 200~240V, 3-phase 200~240V / 310VA
Total weight
83.5kg
*1The maximum sewing speed is 4,000 sti/min or less in cases where the maximum stitch length is 3.5 mm or more.
*sti/min stands for Stitches per Minute.

When you place orders