High-speed, Cylinder-bed, 1-needle, Needle-feed Lockstitch Machine with Large Hook
The last word in cylinder-bed lockstitch machines, intended for bottom hemming processes for jeans, casual pants and work uniforms has been launched.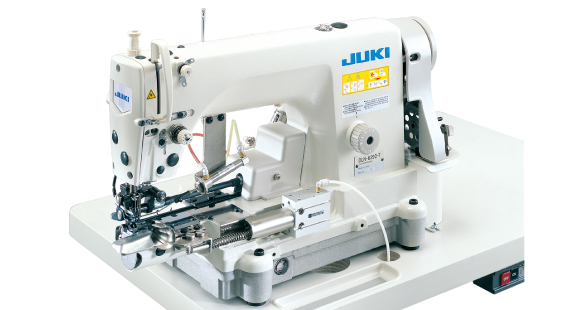 Product features
The machine offers excellent seam quality and sewing capabilities

The needle bar stroke is as high as 35mm. This offers increased penetration of the needle into the material to improve adaptability to heavy-weight materials.
The machine demonstrates excellent sewing capabilities, when sewing heavy-weight denim or multi-layered portions, that free it of sewing troubles such as stitch gathering, stitch skipping and needle breakage.
The machine is able to sew material with a low presser foot pressure while preventing the material from flapping.
As a result, the material can be sewn free of puckering.
The top- and bottom-roller style feed mechanism forms seams with increased consistency to achieve improved hemming quality while reducing uneven hems.

Highly consistent and reliable thread trimmer mechanism

The machine employs a highly reliable horizonta thread trimming mechanism which cuts thick thread without fail.
The entire knife unit can be installed/removed.
The moving knife position can be easily adjusted.
The knife unit is of a bed device type. This means that adjustment of the knife unit is not required after removing the throat plate.
Every time that operation of the thread trimmer occurs, the air blower keeps the knife clean by blowing off thread chips from the blade, ensuring the reliable operation of the thread trimmer.
Basic performance
The lubrication mechanism effectively reduces oil stains on the material

The machine has adopted a forced circulation mechanism in consideration of reliable oiling and oil leakage prevention.
The frame and cylinder-bed sections are provided with a circulation feature to prevent oil leakage. In addition, to ensure reliable operation, a gasket is fitted inside the frame, preventing any leakage of oil from the needle bar.
The machine comes with a newly designed needle bar sliding mechanism that is highly durable and free of play.
Specification
Model name
DLN-6390
DLN-6390-7
Application
Bottom-folding and hemming (lockstitch type)
Max. sewing speed
5,000sit/min*
Stitch length
Standard gears: 3.2mm (2.8mm) / Supplied gears: 2.3mm, 3.6mm /
Optional gears: 2.1mm, 2.5mm, 4.2mm (utilized by changing pitch conversion gears)
Needle
SCHMETS UY180GVS Nm140
range of use: Nm90~Nm150 (equivalent to #14~#22.5)
Needle bar stroke
35mm
Hook
Automatic-lubrication type exclusive full-rotary 1.7-fold hook
Lift of the presser foot
Max. 14mm
Feed system
Top- and bottom-roller style
Binder open/close type
Manual type
Driven by air cylinder
Compressed air and
air consumption
-
0.5MPa (0.5kgf/cm2), 10Nl /min
Lubrication
JUKI New Defrix Oil No.1 (equivalent to ISO VG7)
Cylinder-bed diameter
180mm
Weight of the machine head
34.5kg
36.5kg
*"sit/min"stands for "Stitches per Minute"
When you place orders