1-needle, Differential-feed, Lockstitch Machine
With its highly reliable bottom-differential-feed mechanism, the machine promotes the production of upgraded-quality products while increasing efficiency.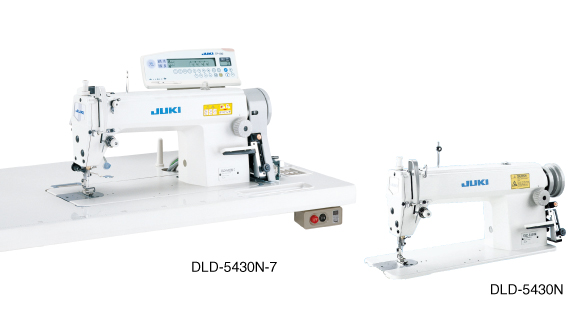 Product features
Sewing mechanism that demonstrates outstanding responsiveness to materials to be sewn

The thread take-up mechanism, thread path components and differential feed mechanism have all been improved. Thanks to these improvements, partial shirring can be performed with minimum tension applied to the material, thus leading to greater flexibility in responding to different types of material.

Sure thread trimming mechanism

The machine comes with a thread trimming mechanism that performs speedy and sure thread trimming to achieve highly efficient sewing work.

The new model control box, which energy-saving mode is provided (SC-920C/M92)

The new model control box SC-920C has been newly developed. The control box is resistant to voltage fluctuations, noise and vibration.
The new model control box is provided with an energy-saving mode for the first time in a control box for sewing machines.
It reduces power consumption during standby time when the motor is not rotating by approximately 25% (in comparison with the SC-910N).
In addition, the current DLD-5430N-7 is lavished with the latest energy-saving technologies, including the adoption of the latest compact servomotor M92, to be more friendly to theenvironment, as well as to provide the power reducing effect and to increase productivity.

The operation panel can be selected according to the process (CP-18A, CP-180A)

Two different operation panels, the CP-18A and CP-180A are applicable to the DLD-5430N-7. Both operation panels are provided with the production support function.
The production support function actually consists of three different functions (six different modes)
Basic performance
Higher lift of the presser foot

This machine is equipped with various devices that reduce the operator's fatigue and allow the operator to easily operate the machine. These devices include the following: The foot pedal needs only light pressure to be operated. The presser foot can be lifted as high as 13mm. The shape of the machine arm has been designed to allow the operator to handle any material with ease.
Specification
Model name
DLD-5430N
DLD-5430N-7
Max. sewing speed
4,500sti/min*
Max. stitch length
5mm
Max. top-feed amount
Shirring 1:1.5 (max. 1: 3*), Stretching 1:0.5
Needle bar stroke
30.7mm
Lift of the presser foot
By hand: 5.5mm, By knee: 13mm
Needle (at the time of delivery)
DB×1 (#14), For JE: 134 (Nm90)
Hook
Automatic-lubricating full-rotary hook
Lubrication
Automatic
Lubricating oil
JUKI New Defrix Oil No.1 (equivalent to ISO VG7)
Automatic reverse feed function
-
Provided as standard
Power requirement
-
Single-phase 100~120V, 200~240V
3-phase 200~240V
Power consumption
-
650VA
Weight
Machine head: 29kg
Total weight: 82kg
* This ratio applies provided that the stitch length does not exceed 2.5mm.
* "sti/min" stands for "Stiches per Minute"
When you place orders