Post-bed, Lockstitch Machine
Well-tensed consistent seam quality. The machine demonstrates outstanding responsiveness when sewing heavy materials.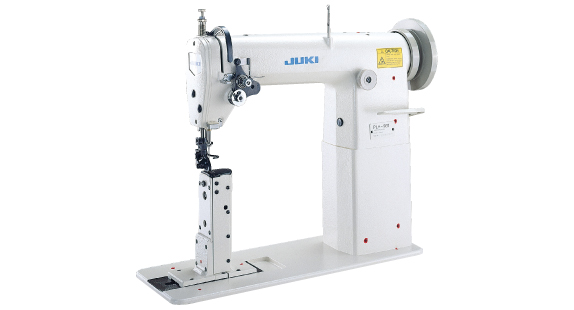 Product features
PLH-981 PLH-982

Post-bed, Bottom-feed Lockstitch Machine

The machine demonstrates outstanding responsiveness when sewing heavy materials, such as bags, boots, and sports shoes.

PLN-985

Post-bed, 1-needle, Needle-feed Lockstitch Machine

With a needle feed mechanism that operates in synchronization with the bottom feed, the machine produces beautiful seams free from slippage even when sewing slippery or hard-to-feed materials.
Basic performance
Consistent seam quality

With JUKI's unique slide thread take-up lever, feed mechanism, and vertical-axis hook, the machine provides well-tensed, neatly finished seams every time.

The machine head structure is designed to improve operability

The stitch length can easily be adjusted with the stitch dial. Reverse-feed stitching is actuated by a simple press of the lever. The machine incorporates a large pulley that can be turned smoothly by hand.
The face plate is designed to provide a clear view of the needle entry area and enable smooth thread feeding.
Specification
MODEL NAME
PLH-981
PLH-982
PLN-985
1-needle
2-needle
1-needle
Feed system
Bottom-feed
Needle-feed
Max. sewing speed
2,500 sti/min*
Max. stitch length
4mm (normal/reverse feed)
Needle bar stroke
36mm
33.4mm
Needle gauge
-
1.6mm
-
Lift of the presser foot
By hand: 7mm, By knee: 10mm
By hand: 6.5mm, By knee: 9mm
Thread take-up
Slide type
Hook
Vertical-axis hook
Needle (at the time of delivery)
DP×5 (#18) #16~#21
DP×5 (#16) #16~#21
Thread
#40~#8, B33~B92, Nm=90/3~30/3
Lubrication
By an oiler
Lubricating oil
JUKI New Defrix Oil No.1 (equivalent to ISO VG7)
Post height
178mm
179mm
Bed size
517mm×178mm
Weight of the machine head
36kg
40kg
*"sti/min"stands for "Stitches per Minute"
When you place orders

Gauge
PLH-982U
| Guage | GUAGE SET | NEEDLE CLAMP | NEEDLE GUIDE | THROAT PLATE | FEED DOG |
| --- | --- | --- | --- | --- | --- |
| Figure | - | | | | |
| Needle width | P/N | P/N | P/N | P/N | P/N |
| 1.2mm | 21016357 | 21017405 | 21018908 | 21016308 | 21021100 |
| 1.6mm | 21016159 | 21017405 | 21018908 | 21016100 | 21021100 |
| 2.0mm | 21016258 | 21017504 | 21018809 | - | 21021209 |
| 2.4mm | 21016050 | 21017504 | 21018809 | 21016019 | 21021308 |
PLH-981U
| Guage | FEED DOG | THROAT PLATE |
| --- | --- | --- |
| Figure | | |
| Needle width | P/N | P/N |
| - | 21007307 | 21000302 |
| - | 21007406* | 21000500 |
| - | 21007505 | 21000401 |
*For Maeda sewing machines
PLN-985U
| Guage | FEED DOG | THROAT PLATE |
| --- | --- | --- |
| Figure | | |
| Needle width | P/N | P/N |
| - | 21024500 | 21023007 |