1-needle, Unison-feed, Lockstitch Machine with Vertical-axis Large Hook and Automatic Thread Trimmer
The machine demonstrates sewing capabilities best suited for sewing car seats of light- to heavy-weight materials without using any additional devices.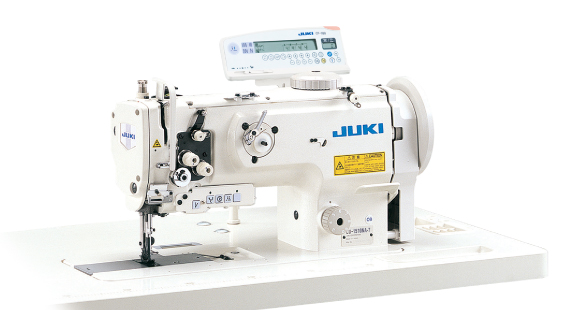 Product features
Comparison of needle-thread tension

The LU-1510NA-7 is able to consistently sew adequately-tensed stitches with a needle-thread tension that is "25%" lower than that of the conventional models. With this feature, the machine is adaptable to light-weight materials and is capable of reducing puckering.

Responsiveness to a broader range of materials

Taking an extreme example, in a process where different types of materials are used or where materials that differ in thickness are used, the machine is able to sew the materials in one shot without adjusting the needle thread tension. The machine, therefore, reduces the load applied to the materials and produces uniformly-tensed stitches with consistency.

Adaptable range of sewing
Specification
Model name
LU-1510NA-7 (for sewing car seats )
Max. sewing speed
2,000sti/min*
Max. stitch length
7mm (forward / backward)
Needle
135×17, SY3355 Nm120 (at the time of delivery) Nm100~Nm160
Needle bar stroke
38mm
Pitch changing method
By dial
Thread take-up
Slide type
Hook
Vertical-axis double-capacity hook
Lift of the presser foot
By hand: 9mm, Auto: 16mm
Alternating vertical movement
1~6.5mm
Lubrication
Automatic
Lubricating oil
JUKI New Defrix Oil No.2 (equivalent to ISO VG32)
DL device (option)

DL25: Instantaneous change-over device for the alternate vertical movement amount
The alternate vertical movement amount can be instantaneously maximized in a process for sewing a hard-to-feed part of material, such as a multilayered part, finishing with beautiful seams free from stitch gathering.
*"sti/min" stands for "Stitches per Minute."
When you place orders