Pinpoint Saddle Stitching Machine
This pinpoint stitch machine is used for topstitching on the front facing of men's wear, as well as front flies, pocket mouths and trouser sides, as a cost-effective topstitching machine that offers increased productivity.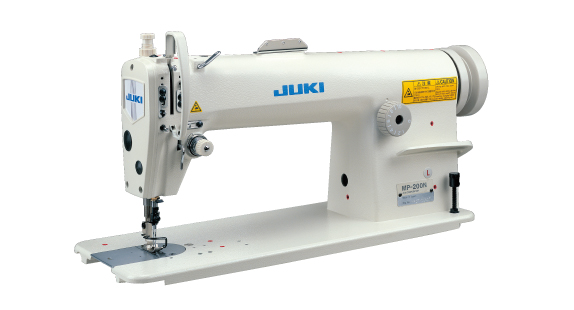 Product features
Excellent seam quality

In addition to balloon-stitching (to produce seams with a hand-stitched touch), smooth sewing of chain-off stitches, and having other outstanding seam quality features of the highly regarded Columbia 100, the MP-200N achieves more improved sewing capabilities and a wider adjustment range.

Responding to the sewing of various types of materials

The machine comes with a box type feed that permits a split adjustment in both horizontal and vertical directions, thereby responding to the sewing of various types of materials. Additionally, the inclination of the feed dog is also adjustable in accordance to the material.

Positioning of needles with increased accuracy

Gauges that are determined by the combination of needles and spacers are of the Columbia type.
This improves the accuracy of the installation of needle positions, which determines the seam quality.

Wider range of applicable needle gauges and yarn counts

Needle gauges support, using replacement parts, stitch widths from as narrow as 1.2mm to as wide as 5.0mm.
The applicable range of yarn counts has been widened from #60 to #8 (B33, Nm = 120/3) for both Tetron and spun thread. This allows the machine to be used for topstitching a wider range of items.
Basic performance
Uses of pinpoint stitching

It can be used for a wider range of applications requiring narrower to wider stitch widths.
Specification
Model name
MP-200NS
MP-200NL
Max. sewing speed
2,000sti/min* (feed pitch 6mm or less)
1,500sti/min* (feed pitch 6~8mm)
1,200sti/min* (feed pitch 8~10mm)
1,500sti/min* (feed pitch 6~8mm)
1,200sti/min* (feed pitch 8~10mm)
Pinpoint stitch width
(needle gauge)
1.6mm
(2.0mm: Spacer is required to be changed with the one supplied with the machine)
5.0mm
Length of thread that appears on the right side of sewing product (reference)
1.1mm
4.5mm
Feed pitch
3.5~10mm
10mm (For the needle gauge of 5mm)
Recommended feed pitch
3.5~10mm (feed pitch that is larger than double of needle gauge is recommended)
Applicable range of gauges
1.2~2.5mm
(for 1.2 and 2.5mm, optional parts are required)
3.0~5.0mm
(for 3 and 4mm, optional parts are required)
Needle
(at the time
of delivery)
Needle
SCHMETZ 29C150 (Nm90) Nm80~Nm140
ORGAN CP×1J (#22U) #18U~#22U
Hook-needle
SCHMETZ 29C151 (Nm100) Nm80~Nm140
ORGAN CP×12J (#23) #19~#30
Recommended thread
Tetron • Spun
Tetron • Spun
Recommended yarn count
#60~#30, B33~B46, Nm=120/3~60/3
#30~#8, B46~B92, Nm=60/3~30/3
Recommended material/process
Wool, lining/ facing-topstitching process
Flannel/ topstitching peripheries of collars and pockets
Lift of the presser foot
By hand: 5.5mm/By knee: 10.5mm
Split adjustment of feed
(vertical/horizontal direction)
Possible
Lubrication
By an oiler
Lubricating oil
JUKI New Defrix Oil No.2 (equivalent to ISO VG32)
* "sti/min" stands for "Stiches per Minute"
When you place orders