Feed-off-the-arm, 3-needle Double Chainstitch Machine
This machine demonstrates increased feed efficiency to handle extra heavy weight 16-ply denim.
Engineered with extra feeding strength for seaming the inside of jeans.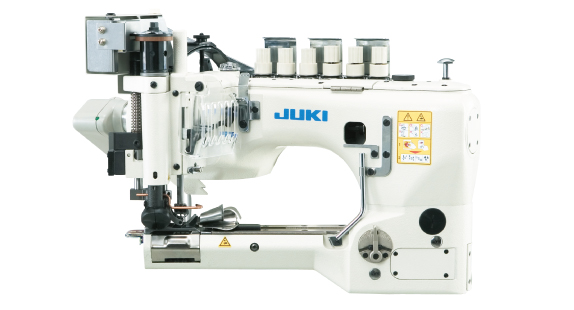 Product features
The machine is best suited for lap seaming jeans, denim jackets, work uniforms, etc. constructed of heavy weight materials

The machine demonstrates increased efficiency of feed even when seaming a yoke part (16-layered) in hip seaming processes.
Basic performance
Strong feeding mechanism of the puller

The puller incorporates a one-way clutch mechanism which contributes to consistent feeding of the material.
(The mechanical part is protected by a cover for added safety.)

Thread take-up device which helps produce even stitches with consistency

The feeding amount of needle thread is automatically adjusted to the pressure foot height during sewing, thereby producing even stitches with consistency.

The machine has been designed to achieve the best possible ease of threading

When the looper pushbutton (*) located on the operator side of the top of the machine head is pushed, the tip of the looper moves downward to allow the operator to thread the machine head with ease.

The differential feed adjusting lever is located on the front face of the machine head

The differential feed adjusting lever can be adjusted even during sewing, thereby effectively preventing cloth slippage between two plies.
Specification
Model name
MS-3580S*1SN
MS-3580S*0SN
Stitch type
3-needle, 6-thread, double chainstitch machine
Application
For medium- to heavy-weight materials: jeans, denim jackets, work uniforms, etc.
Max. sewing speed
4,500rpm
Normal sewing speed
3,500rpm
Needle gauge
6.4mm, 7.2mm
Stitch length
2.1mm~3.6mm (standard 3.2mm)
Needle (standard)
UY130GS (standard) /Nm140 (#22)
Needle bar stroke
33mm
Number of pieces of thread used
6
Weight of the machine head
23.5kg
Lift of the presser foot
Max. 9mm (at the time of delivery 6.5mm)
Top feed roller width
11.9mm
Feed adjusting method
Main feed: Slide-type stitch-length adjusting method
Differential feed: Lever adjusting method
Without the differential feed capability
Lubrication
Automatic rotary-pump type oiling
Lubricating oil
JUKI MACHINE OIL No. 18
Installation method
To be installed on the table by means of an auxiliary drive assembly MT03
When you place orders