Feed-off-the-arm, Double Chainstitch Machine
The machine is the leading double chainstitch machine for heavy-weight materials and achieves higher efficiency in operation and higher quality of finished products.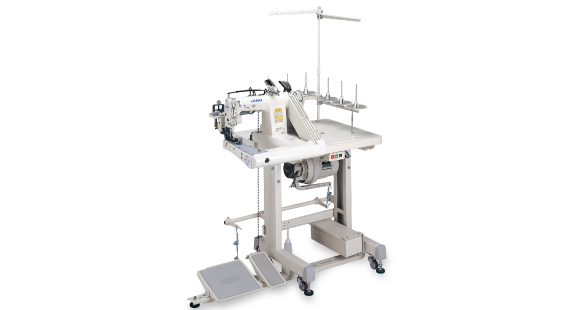 Product features
The looper tucks the thread without fail, thereby preventing stitch skipping

The placement of the feed mechanism has been charged to decrease the feed amount when the needle enters the material, thus preventing the needle from bending. The bobbin thread is clamped without fail, thereby producing consistent thread loops. The looper tucks the needle thread without fail, thereby finishing uniform seams.
Basic performance
The feed mechanism smoothly feeds the material, thereby allowing the machine to finish seams with consistency

The number of teeth of the feed dog has been increased so that it can easily catch overlapping material. The shape of the presser foot has been modified to prevent single-sided contact with the overlapped part. The movable needle guard (rear) is provided with a vertical adjusting mechanism. These features contribute to smoother feed of heavy-weight materials, thereby preventing stitch skipping.

The machine provides beautifully-finished seams even when heavy-weight material is used

Thanks to the thread guide located between the needle bar thread take-up and the intermediate tension release lever, the timing to tense the needle thread can be changed and the bobbin thread tension can be decreased. As a result, the machine is capable of beautiful finished stitches with a soft appearance even when heavy-weight material is used.

The machine prevents uneven material feed

Differences in height between the feed dog and the sole of the presser foot can be appropriately specified and adjusted in accordance with the material thickness. Folders allow the material to be smoothly fed and the cloth puller (optional) has improved fulcrum so that it can run on the material and prevent uneven material feed.
Specification
Model name
MS-1261M
MS-1261
Application
For medium- to heavy-weight materials
For extra heavy-weight materials for jeans
No. of needle
3
Max. sewing speed
3,600sti/min (normal 3,000sti/min)*
Needle bar stroke
33.2mm
Needle
(at the time of delivery)
SCHMETZ UY128GAS (Nm120)
Nm100~Nm140
ORGAN UY×128GAS-NY (#19)
#16~#22
SCHMETZ UY128GAS (Nm130)
Nm100~Nm140
ORGAN UY×128GAS-NY (#21)
#16~#22
Needle gauge
5.6mm (7/32"), 6.4mm (1/4"), 7.2mm (9/32"), 8.0mm (5/16"), 9.6mm (3/8")
Stitch length
1.4~4.2mm
Lift of the presser foot
10mm
Thread take-up lever
Needle bar thread take-up lever
Circumference of tube at the needle entry
190mm
Needle guard
Backward travelling needle guard
Stitch adjusting system
By push-button (with locking mechanism)
Lubrication
Semi-automatic lubrication
Lubricating oil
JUKI New Defrix Oil No.1 (equivalent to ISO VG7)
*"sti/min" stands for "Stitches per Minute."
When you place orders