Single-thread, Chainstitch, Button Sewing Machine
The sophisticated-form machine with excellent operability and productivity.
The single-thread, chainstitch, button sewing machine, which is frequently used for sewing buttons on men's wear and blouses under different sewing conditions, has been redesigned with its capabilities upgraded.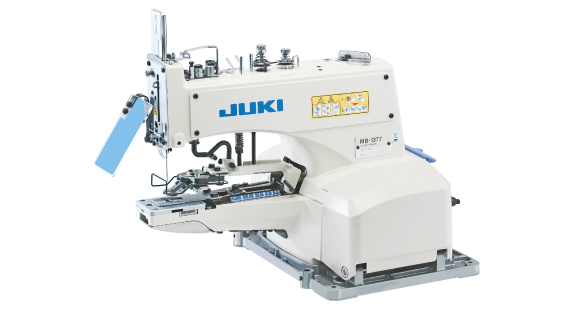 Product features
Thread-fray-prevention ON/OFF changeover mechanism

The machine is provided as standard with a "thread-fray-prevention ON/OFF changeover mechanism" to help produce beautiful seams with added durability.

Speedy sewing

The machine sews buttons with an optimum number of stitches; 8, 16 or 32, according to the sewing conditions.

Attachments

The attachments used for your conventional machines are applicable as they are.

Stitch shape can quickly be changed over between and button-hole configurations (only for MB-1377)

Stitch shape can easily be changed over between and button-hole configurations only by operating the lever.
In addition, this single machine is able to sew two different kinds of buttons to save space and increase availability. (MB-1377)
Specification
Model name
MB-1373
MB-1377
Max. sewing speed
1,500sti/min*
Number of stitches
8,16 and 32 stitches
Needle (at the time of delivery)
TQ×1(#16)#14~20
Feed length (crosswise feed)
2.5~6.5mm
Feed length (lengthwise feed)
0~6.5mm
0~4.5mm
Stitching shape
Thread-fray-prevention ON / OFF changeover mechanism
Provided as standard
Stitching shape changeover type
-
Lever change-over type
Applicable button
Round-shaped flat button (2-holed, 4-holed)
Shank button, Wrapped-around button, Snap, Label, Metal button, Stay button (exclusive attachments have to be used)
Button size
φ10~28mm
Thickness of button
1.8~3.5mm (options max. 5mm)
Needle bar stroke
48.6mm
Lift of the presser foot
9mm
Sewing system
Single thread chainstitch
Lubrication
By an oiler
Lubricating oil
JUKI New Defrix Oil No.1 (equivalent to ISO VG7)
Machine head weight
24kg
Power requirement / Motor used
Single- or 3-phase / 200W (1/4HP), General-purpose motor
*"sti/min" stands for "Stitches per Minute."
When you place orders