1-needle, Needle-feed, Lockstitch Machine with Vertical Edge Trimmer and Automatic Thread Trimmer
With its highly operable knife mechanism, the machine helps promote the production of upgraded-quality products while increasing efficiency.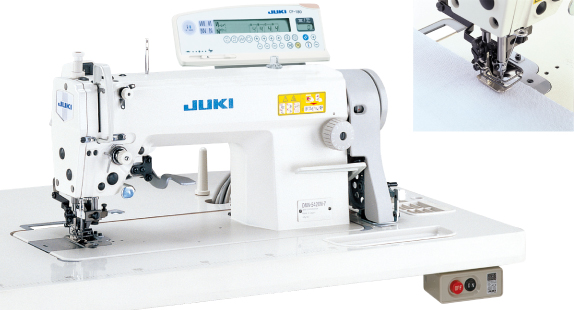 Product features
The stitch quality is consistent even during high-speed operation

Capable of high-speed sewing, it can also flexibly respond to various applications, thus leading to higher productivity.

The knife is sharp enough to cut any type of material

The knife is capable of cutting any kind of material regardless of its thickness or toughness, including heavy-weight material, elastic material and brushing material.

The one-touch utility knife lever enhances the comfort of operation

Since the knife lever has been plasted so as to prevent rust, there is no need to worry about the material becoming soiled with rust.

Sure thread trimming mechanism

The thread trimmer is designed to cut various threads of different thicknesses, so the range of the applicable thread thickness number has been widened. The thread trimmer can therefore cut even a thick thread with ease.

Adjustment of the position of the cloth trimming knife

The cloth trimming knife has been designed so that it can move as much as 5.5mm toward you from the center of the needle.

The operation panel can be selected according to the process (CP-18A, CP-180A)

Two different operation panels, the CP-18A and CP-180A are applicable to the DLM- 5400N-7 and DMN-5420N-7. Both operation panels are provided with the production support function.
The production support function actually consists of three different functions (six different modes)
Specification
Model name
DMN-5420N-7
Max. sewing speed
5,000sti/min *
(Max. 4,000rpm with the stitch length set to 4mm or more)
Feed system
Needle-feed
Max. stitch length
5mm (normal feed), 3mm (reverse feed)
Needle bar stroke
30.7mm
Lift of the presser foot
By hand: 5.5mm, By knee: 10mm
Needle (at the time of delivery)
DBX1 (#14) #9~#18, For JE: 134 (Nm90)
Hook
Automatic-lubricating full-rotary hook
Max. thickness of the material to be cut
4mm
Lubrication
Automatic
Lubricating oil
JUKI New Defrix Oil No.1 (equivalent to ISO VG7)
Automatic reverse feed function
Provided as standard
Power requirement
Single-phase 100~120V, 200~240V, 3-phase 200~240V
Power consumption
650VA
Total weight
84kg
* "sti/min" stands for "Stiches per Minute"
When you place orders