Automatic Inspection and Measurement Solution
Case1. Proposal of visual inspection / measurement automation system line including automatic transportation
Overview
Juki's machines automate the inspection process, which is currently done manually and visually, to verify the quality of machined parts. Four sided parts can be handled using a combination of inspection and robotic rotation mechanisms.




Benefits
High speed 2D inspection of multple points is possible on several parts loaded into a carrier.
Automatic rotation of parts to see 4 sides further reduces cycle time. Inspections that take 180 seconds by hand can be done in just 20 seconds using inspection machines, reducing time by 90%
Without inspection machines, longer cycle times and more workers would be required.
Manual inspections rely on people and can vary from one worker to the next. Even the same worker can have variations based on their fatigue or other physical conditions. Using machines, the inspections are quantified and standardized so there is no variations and a known, consistent cycle time can be used for planning.

Case2. Innovative automation ideas for various inspections and measurements
Overview
Flexible and innovative methods enable fast, automatic inspection of part details.

Manual probes used to
measure important areas manually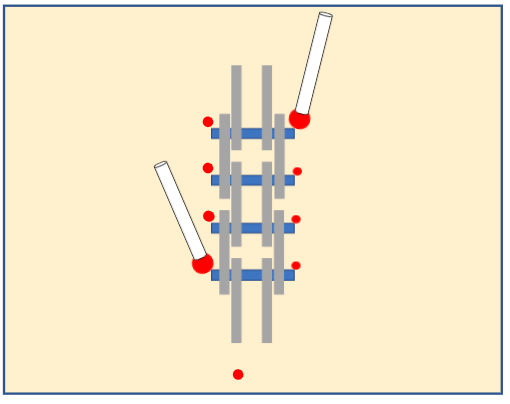 Simultaneous inspection of
top and bottom using
high resolution cameras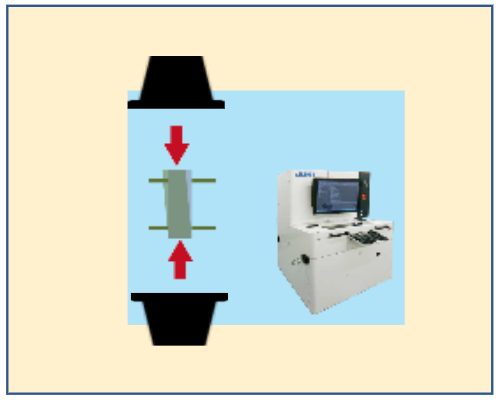 Benefits
Juki has developed a dedicated measurement machine for automotive chains. Pin position and alignment is rapidly measured and reliably.
Two cameras installed above and below the chain measure the position of the pins at the same time, making it possible to accurately calculate the position of the pins.
The inspection time for a typical chain takes two hours using manual measurements. Using Juki's automatic inspection machine, the time is reduced to just five minutes.
The inspection results showing the condition of the pins are recorded automatically for traceability purposes.
Better qualtiy assurance is possible because more points can be measured. Real time feedback can be used to improve the manufacturing process.
Case3. High skill manual inspection can be fully automated.
Overview
Combining 2D camera inspection with XTIA's optical comb laser makes it possible to automatically measure part surfaces for scratches, which is typically done by human touch, and record the exact dimensions of any imperfections.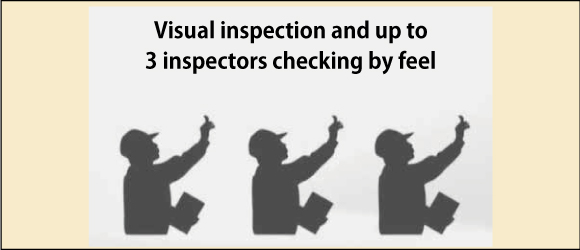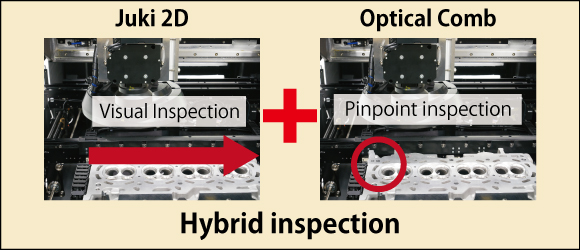 Benefits
JUKI's high speed hybrid inspection technology using 2D cameras and optical comb laser enables high speed, high precision inspection of large parts such as engine blocks requiring short cycle time.
Hybrid inspection systems can replace traditional visual and tactile inspection of engine blocks with consistent and accurate measurements that are not dependent on operator skill. Depth of scratches can be measured and judgements can be made numerically giving quantitative control of results and superior traceability.
The optical comb laser can measure height and depth with 1μm accuracy providing accurate results regardless of geometry around the measurement target.