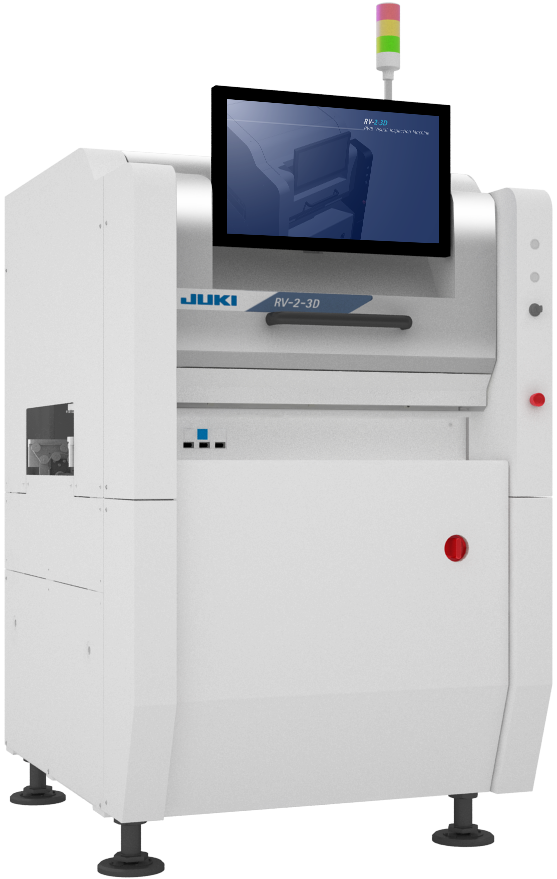 3D solder paste inspection machine (SPI)
3D board visual inspection machine (AOI)
RV-2-3D(AOI/SPI)
Realizing further high accuracy and high speed
Next generation of 3D-AOI Inspection machine
Catalog download
Contact
Features
Realizing of speeding up by latest 3D unit. Achieving of 0.41 sec / FOV and 34% improvement comparing with previous model.
Height resolution 0.1 μm, Repeatability 10 μm *Realizing of significant precision improvement.
With new technology development, acquire clear and high-precision 3D image.
In addition to the previous 2D template and process mode, added newly 3D template mode.
Furthermore, developping of new algorithm for fillet inspection.
*0402 chip
Specification
Model name
RV-2-3D
PWB size
50mm×50mm – 410mm×300mm
50mm×50mm – 630mm×300mm (longer sized PWB)*
FOV(optimum)
P-3D AOI
0.41s / frame
Inspection resolution
15μm (Standard resloution), 10μm(High resolution)*
Inspection resolution
15μm ( Standard resloution ), 10μm ( High resolution )*
Item of inspection
Missing component,Position displacement, Polarity, Front/rear reversal, Unsoldered,Bridge, Quantity of solder, Lack of insertion component, Character recognition*
* This function is supported with an option.
Contact