Home
>
Events and Seminars
> Thank you for coming to CISMA2011(China International Sewing Equipment Exposition2011)
Thank you for coming to CISMA2011(China International Sewing Equipment Exposition2011)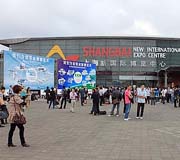 From September 27th, to 30th 2011, China International Sewing Equipment Exposition, known as CISMA2011 was held at New International Expo Center in Shanghai. This exhibition has been held every two years, and the exhibition area, and the number of visitors of the exhibition is the largest among sewing equipment exhibitions in the world.
This year, 1182 of sewing machines equipment related companies from 17 countries participated in this exhibition, with the territories of 100,000m
2
. About 50,000 visited in four days.
It was thriving exhibition with companies that bring advanced technology such as automatic sewing equipment for increasing efficiency, for energy saving, for environmental protection.
JUKI separated its own booth by 11 corners. There, 65 newest industrial sewing machines and systems, 13 household sewing machines were exhibited, using the space of 871m
2
.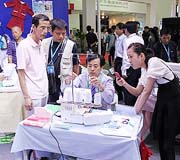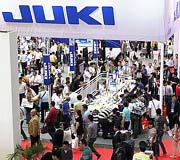 JUKI booth had one T-shirts sewing line, which is all consisted of dry head sewing machines and data measurements devices (IT-Series) Through demonstration by the equipment with the data analysis software (IA-1) ,offered visualization of sewing processes for efficient management as well as saving energy and environmental function.
14 kinds of automatic machines had realized the high efficiency. Furthermore, all the machines at JUKI corner used servomotor which are energy saving.
With those multi kinds of proposals above, JUKI have got great response and attention.
At household sewing machine section, Computer sewing machines HZL-F series (Exceed), HZL-G series and the K-series which to be released soon got attention.
Cover stitch sewing machine MO-735 ,which corresponds to the various sewing, gathered a lot of customers too.