タブコンテンツ1(オレンジ線下から)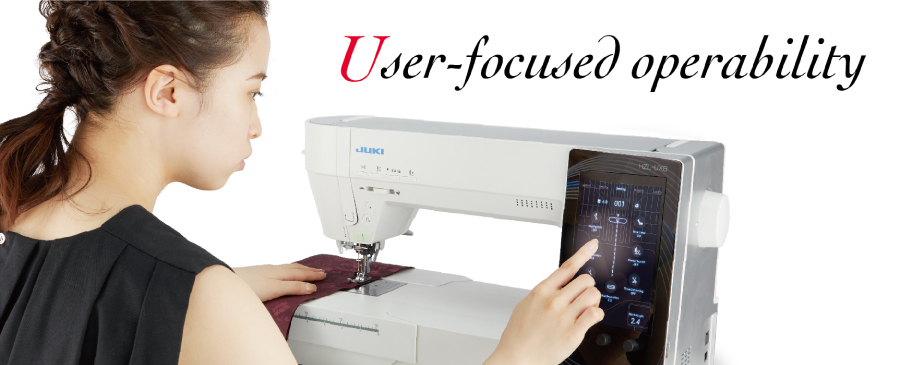 7" color touch panel can be operated like a smartphone.
Just like on a smartphone or tablet, intuitively select and edit patterns, change various settings, and view operation videos. With only the most important and frequently used operations available, the layout and user friendliness of icons, etc., are revolutionary.

Visualization of Adjustment Values【NEW】
Changes in adjustments can be visualized with animations.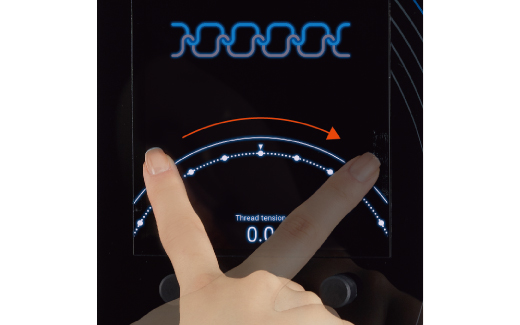 Adjust the thread tension by sliding your finger over the scale in the touch panel.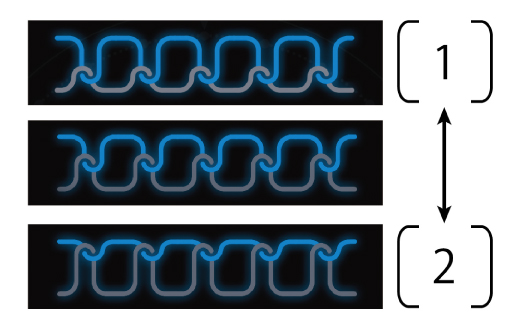 The animation changes according to the adjustment value.
1. Thread tension (Weaker)
2. Thread tension (Stronger)
Store Recall Stitch Patterns【NEW】
The last 10 stitches are stored in the history.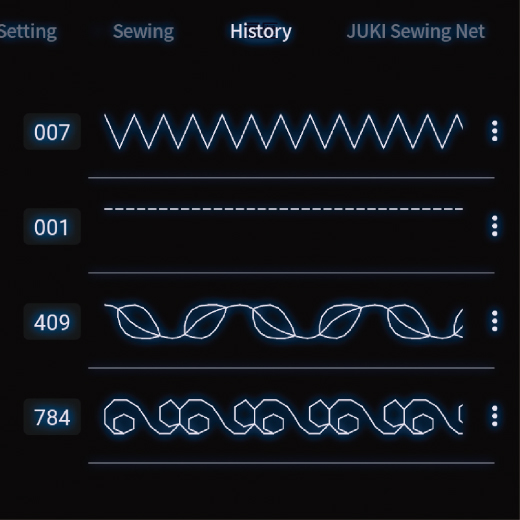 View illustrations of stitch patterns in the history to easily identify and select them with a single touch.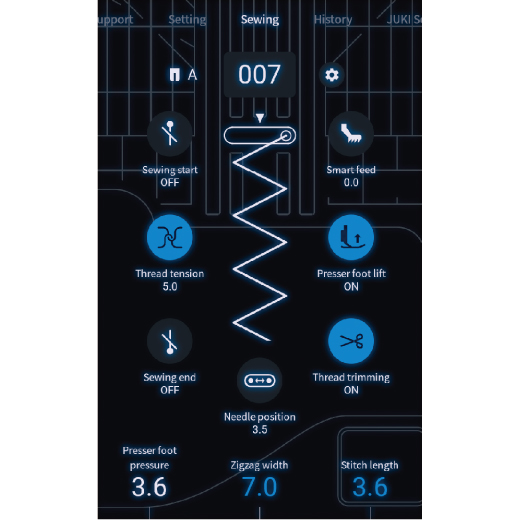 The settings that differ from the defaults are highlighted in blue.
Adjust the Presser Foot Pressure
with the Easily Accessible Dial【NEW】
In addition to the popular stitch width and length adjustments, easily adjust the presser foot pressure with a dial below the touch panel. Being able to change the presser foot pressure while sewing allows you to immediately respond to stretched stitching and uneven feeding.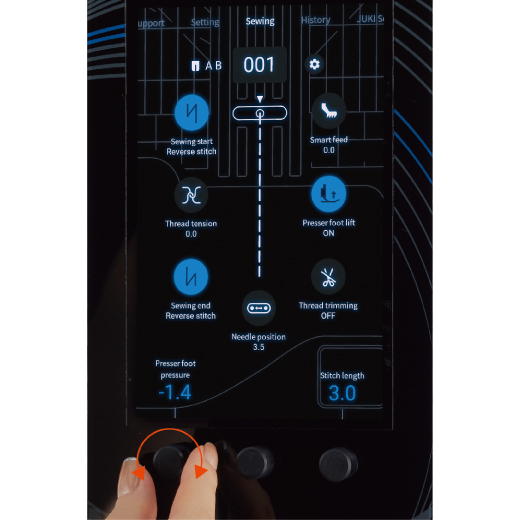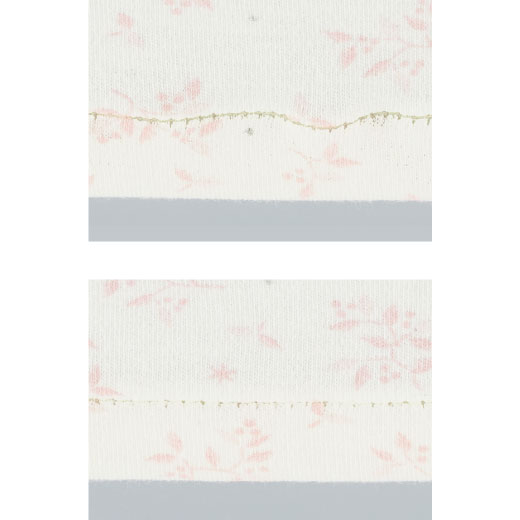 Sew fabrics like knit, fleece, neatly and more without stretching by adjusting the presser foot pressure.
(Above) Before adjustment
(Below) After adjustment
Light Control Function Changes
the Color Temperature of the Light【NEW】
Adjust the color temperature of the bulb between daylight and soft white. This eliminates visibility difficulties with certain fabric and thread color combinations.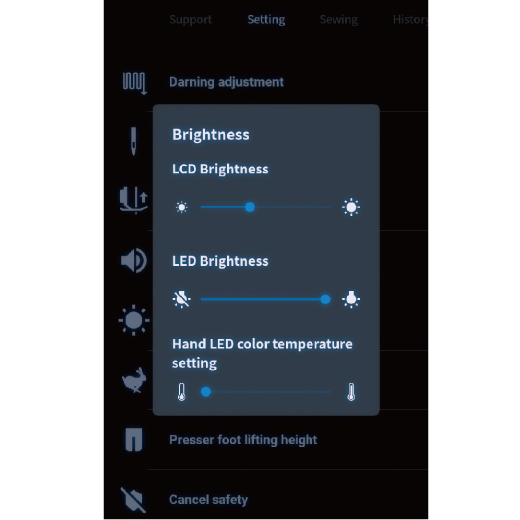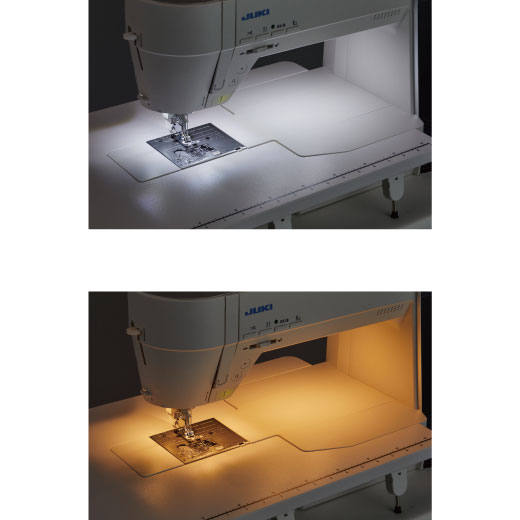 (Above) Daylight
(Below) Soft white
Notification before Bobbin Thread Runs Out【NEW】
An optical sensor will notify you when the bobbin thread reaches a certain amount. Sew with confidence without worrying about the remaining amount of bobbin thread.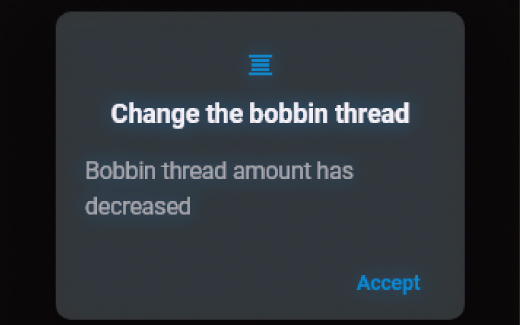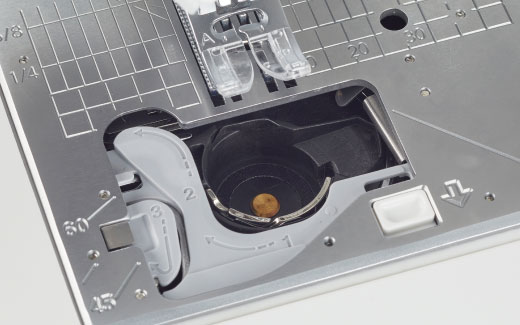 Have Your Favorite Accessories Always at Hand【NEW】
The auxiliary bed with accessory storage is the first among sewing machines with a 12" workspace. Keep your most often used accessories in their place and at your fingertips.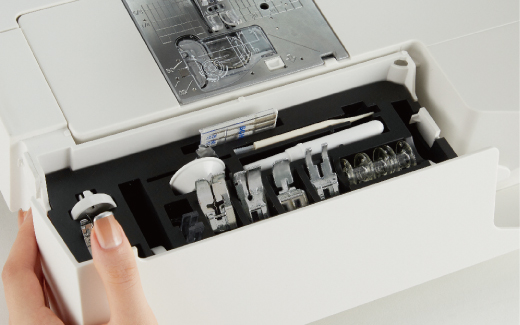 JUKI Smart Feed (built-in dual feed unit)
Using JUKI Smart Feed allows you to reduce uneven feeding and stretched stitching of thin fabric. Feeding can be stabilized simply by lowering the unit.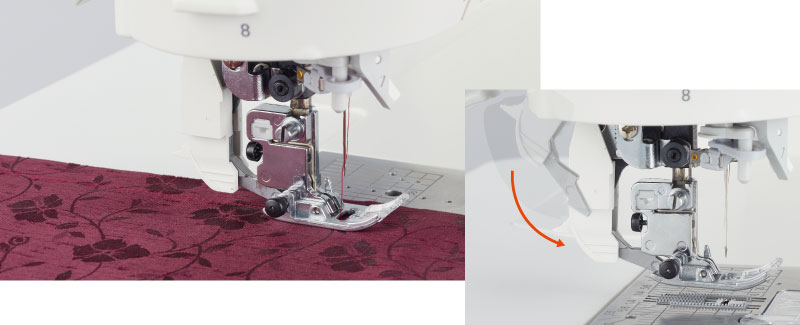 Easily Switch to Straight Stitch Sewing Conditions
Not only prevent the fabric from being pushed into the needle hole at the start of sewing, but realize operability that was only possible with a straight stitch sewing machine, such as sewing edges and sharp curves.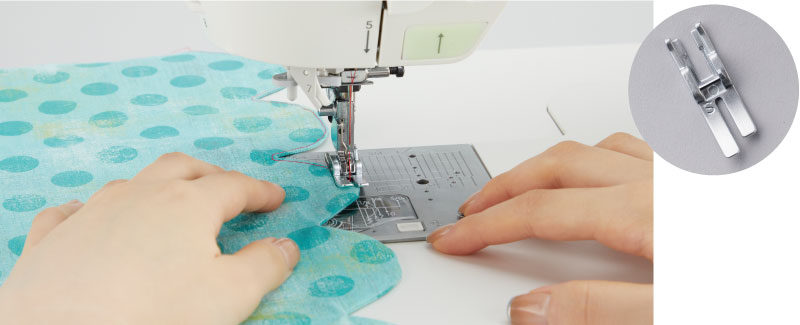 Even with a narrow presser foot, the feed dog for straight stitches firmly feeds the fabric to provide smooth handling while sewing edges and curves.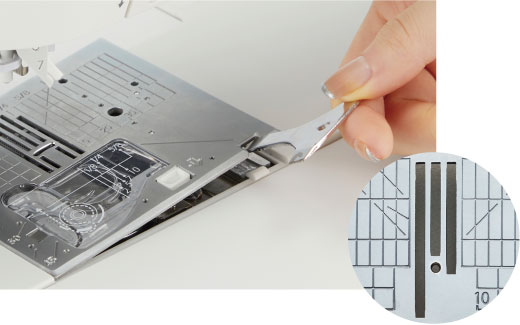 Straight Throat Plate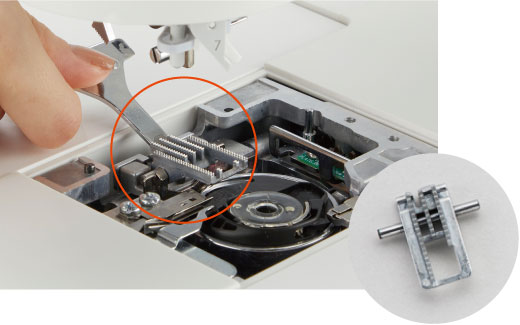 Straight Feed Dog
You can easily change the presser foot, feed dog and throat plate to straight stitch versions.
Enjoy More Variations and Applications with Tapering【NEW】
Increased ranges of the angle and direction settings have expanded the possibilities for sewing tapering.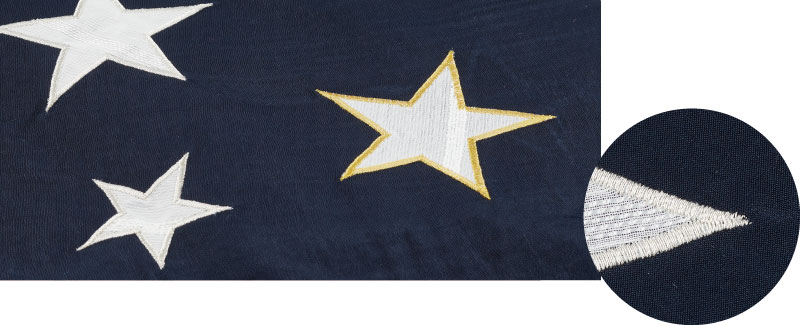 By using the memory and inversion functions, star-shaped appliques can be beautifully finished.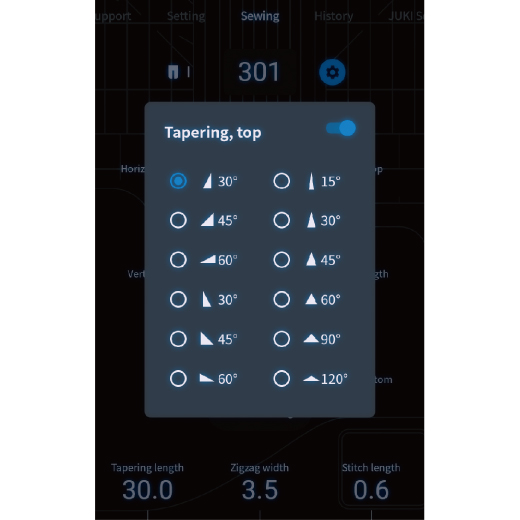 You can select the angle and direction for the beginning and end of tapering.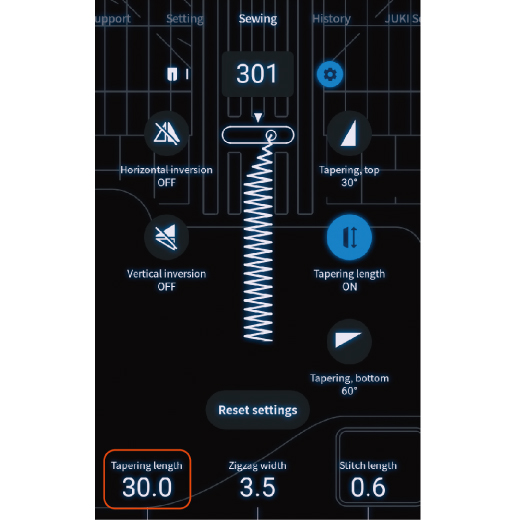 You can set a stitch length in advance or store the length of the stitches that were sewn.
Various Presser Foot Lifting Functions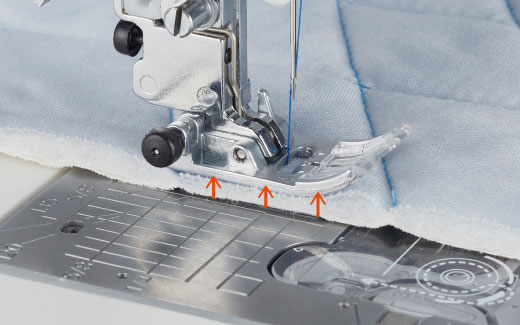 Micro-lifter Function
Using the presser foot pressure dial, you can raise the presser foot slightly to prevent uneven feeding and achieve a beautiful finish when sewing quilts, velvet, and other fabrics.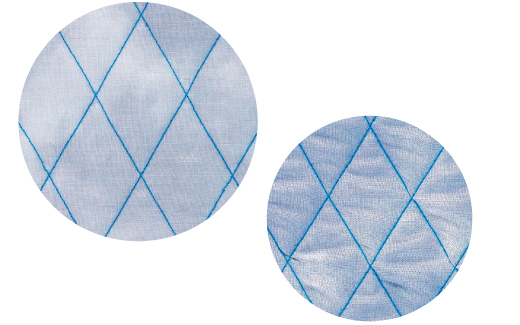 (Left) When micro-lifter function is used
(Right) When micro-lifter function is not used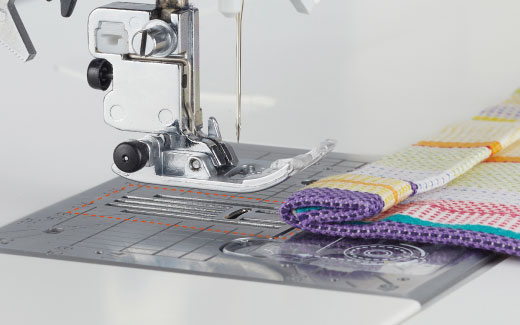 Automatic Lowering of Feed Dog
The feed dog lowers automatically when the presser foot is raised to the extra lift position with the knee lifting lever. This prevents the fabric from getting caught on the feed dog and allows the fabric to be taken in and out smoothly.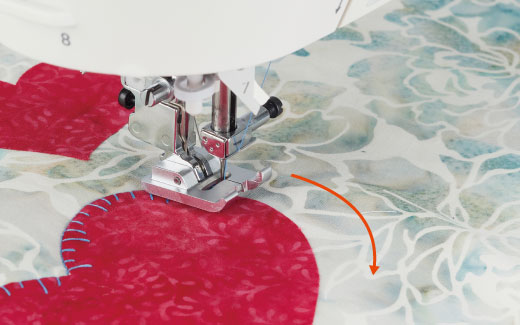 Pivot Function
This allows you to easily change the sewing direction while leaving both hands on the fabric, for example, when sewing corners of appliques. (function to automatically raise the presser foot when sewing is stopped with the needle in the lower position)
Beautiful Buttonholes Surpassing the Quality of Home Sewing Machines
This provides reliable feeding, even on thick fabrics and seams, and automatically corrects the left and right seam densities.
Buttonhole sewing with clamping plate and sensor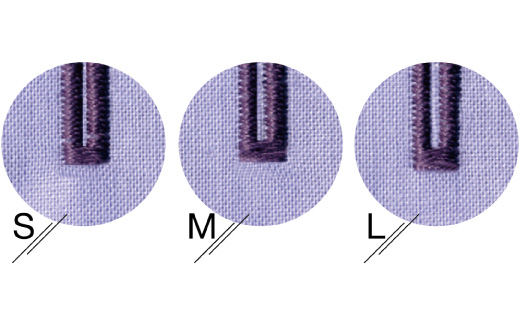 Adjustable Cutting Width for Buttonholes
Since the cutting width can be changed, you can sew a buttonhole that matches not only the button size but also the button thickness.
Smooth and Comfortable Free-motion Sewing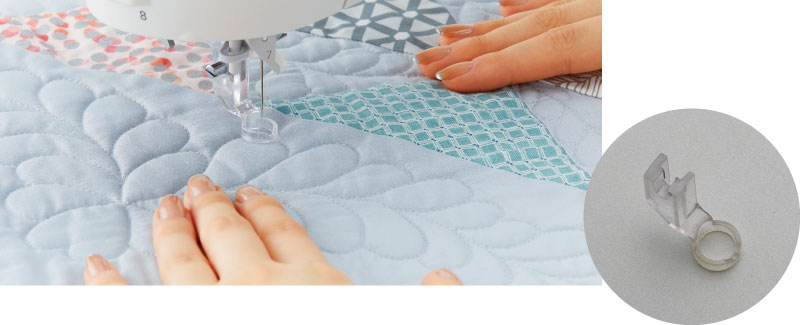 Transparent quilt presser foot makes the needle visible.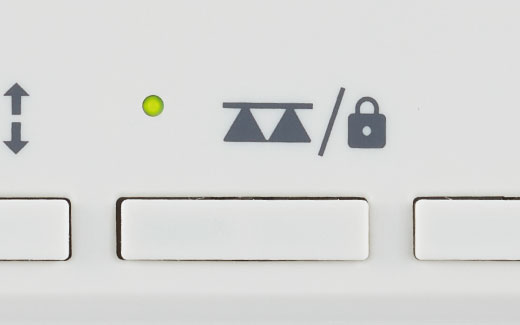 Since the feed dog can be lowered with the push of a button, you can easily set up the machine for free-motion sewing.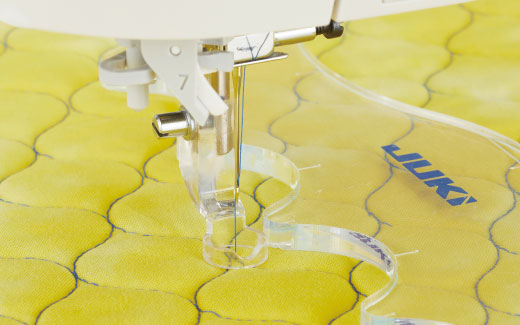 Use the included quilt presser foot for free-motion quilting with a ruler (ruler work).
* The ruler is an optional accessory.
Box Feed - JUKI Industrial Sewing Machine Technology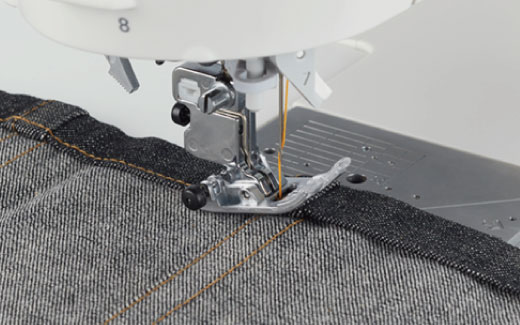 Thick denim folded into three layers for a flat fell seam. Evenly sews thick fabrics effortlessly.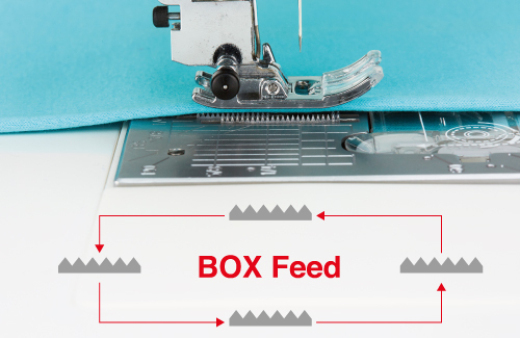 The BOX Feed system stays in contact with your fabrics longer for a consistent, reliable seam every time.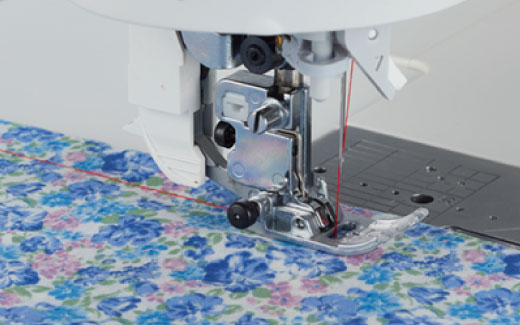 No fabric shrinkage even sewing on light weight cotton.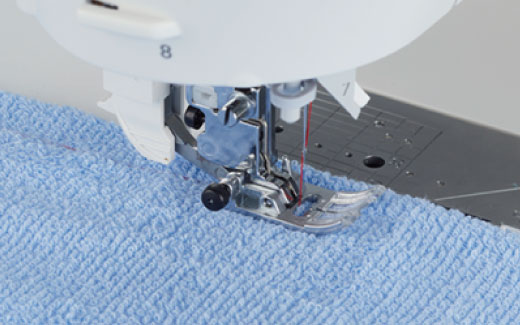 Evenly feeds hard-to-sew high pile fabrics.
Quick Preparation Makes Sewing a Breeze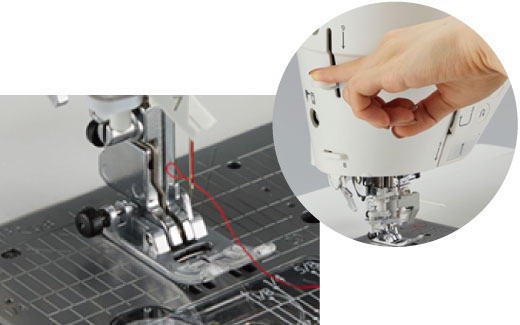 Automatic Needle Threader
Simply place the thread in the guide and lower the lever. Easily and quickly thread a needle with one hand.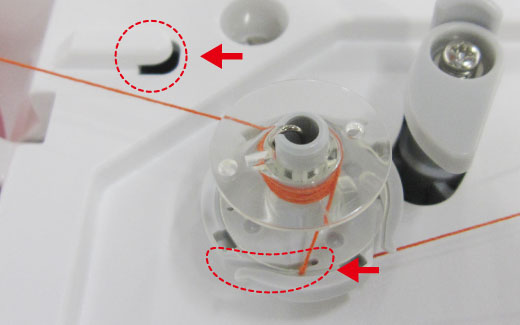 Bobbin Winder with independent Motor
To set up the bobbin for winding, simply wind some thread around the bobbin and pass it through the guide. You can wind the bobbin thread every time, and also use a cutter (red arrows) after winding.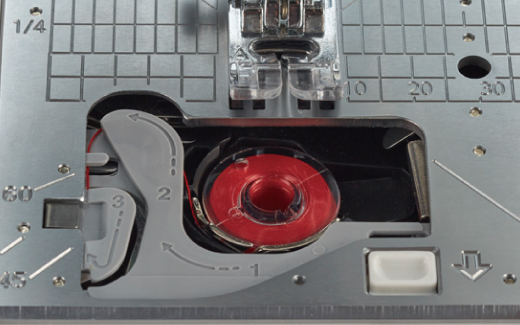 Quick Bobbin Preparation
The bobbin preparation is easy. Just follow the guide and it is not necessary to pull up the bobbin thread.
More Convenience with 7" LCD and Animations!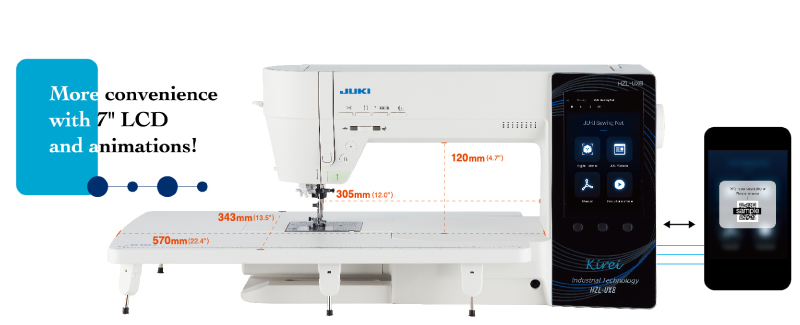 You can view detailed operating procedures on the sewing machine or with instructional videos on a smartphone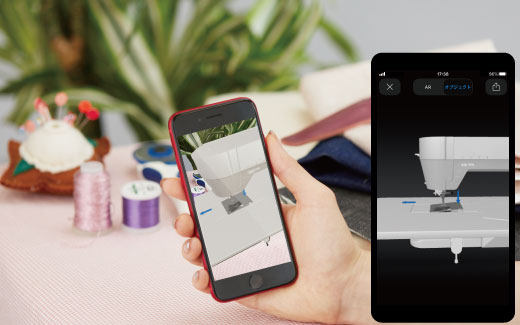 You can view an instructional video on your smartphone by scanning the QR code of the operating procedure that you want to view.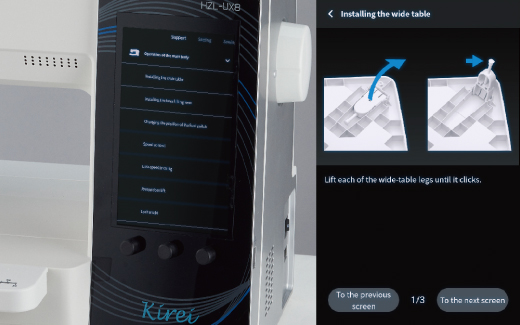 Select the title of the operating procedure that you want to view and follow the step-by-step instructions show in animated video.
Easily combine and recall patterns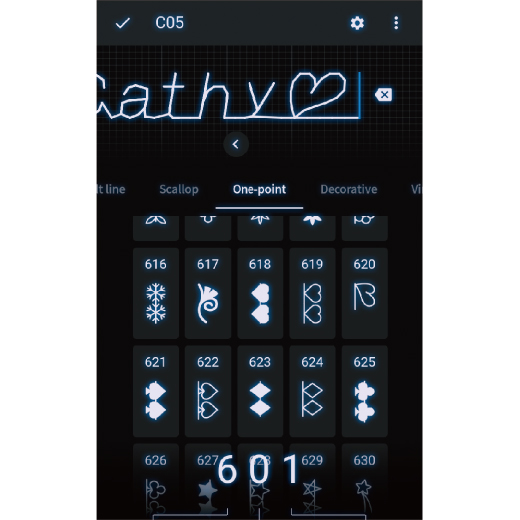 Smartphone-like touch panel operations make it very easy to combine one-point patterns and characters. You can also recall (up to 10) previously created patterns after viewing them on the screen.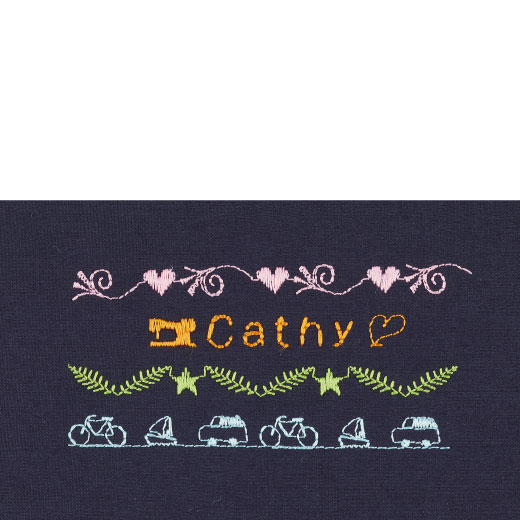 Create multiple variations from a single pattern, such as combining vertical and horizontal inversions.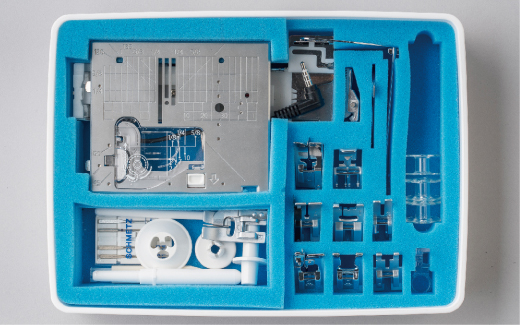 Auxiliary Box
Store all accessories such as presser feet and bobbins.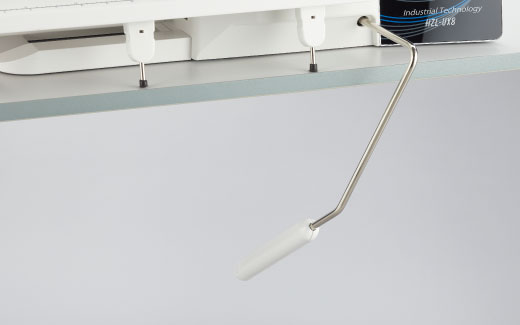 Electric Knee Lifting Lever
This highly responsive lever allows the presser foot to be moved up and down with very little force and without taking your hands off the fabric.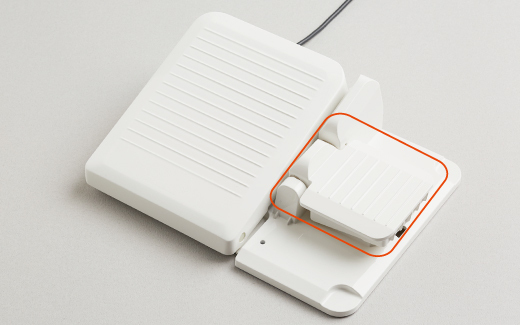 Foot Controller (with independent foot switch functions)
The foot switch can be attached to either the left or right side of the pedal. Any one of seven switch operations can be assigned to the foot switch.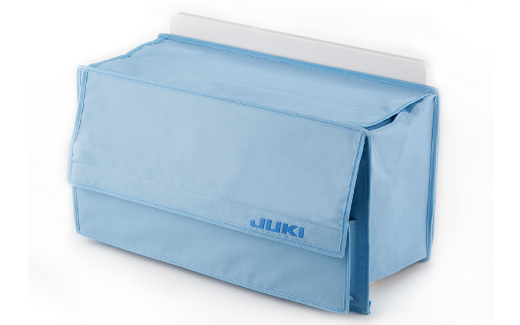 Sewing Machine Cover
Sewing machine cover can store all accessories.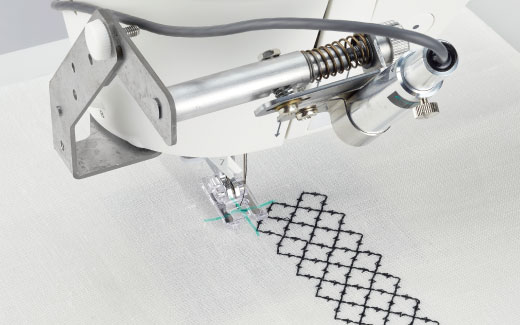 With the LED pointer, you can start sewing without lowering the needle to check the sewing start position. You can also attach a borescope camera instead of the LED pointer.
*Use the mounting base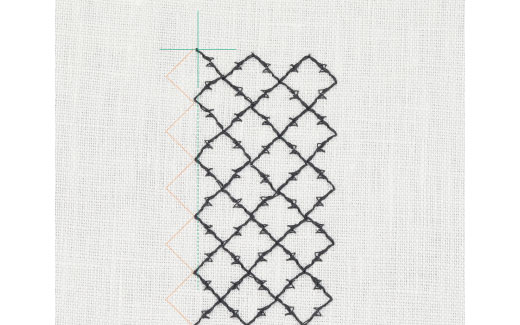 Expand your creativity with the LED pointer as a guide when aligning rows of patterns for sewing.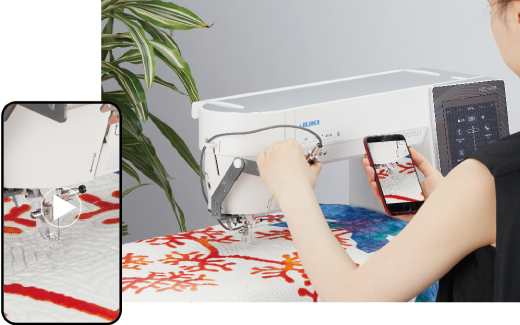 Easily share images and videos you are sewing to social media.
*Please purchase a commercially available borescope camera.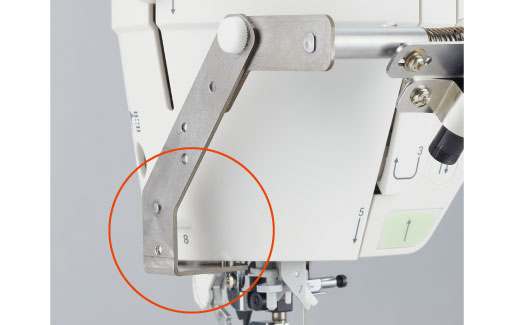 The mounting base allows you to attach the LED pointer, scope, and magnifying lens attachment to the sewing machine.
Dedicated Hook for Thick Thread Decoration (option)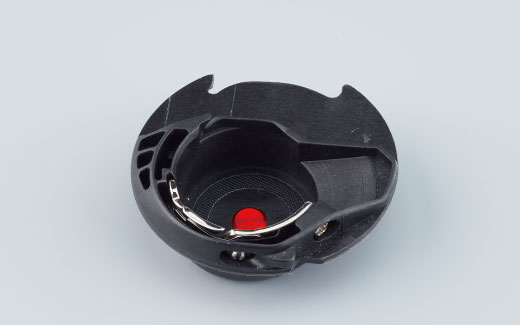 It is used when decorative sewing is performed with bobbin thread using thick thread or ribbon. Wrap the thread you want to decorate around the bobbin and draw a pattern with pattern stitching or free motion.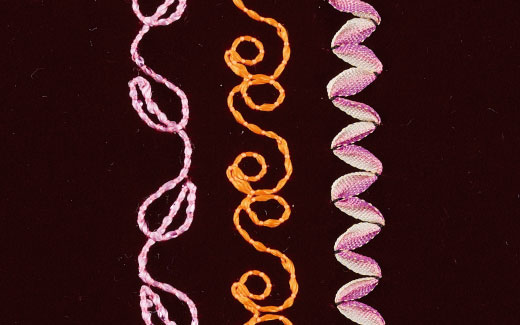 Enjoy more three-dimensional decorations with thick threads or ribbons.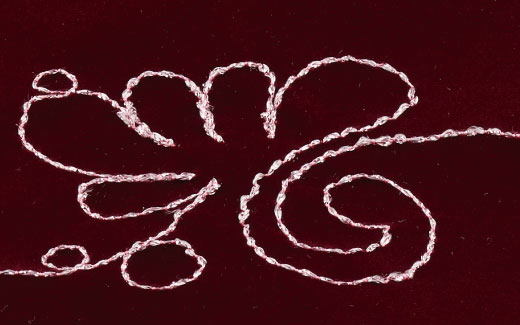 タブコンテンツ1(オレンジ線上まで)
タブコンテンツ2(オレンジ線下から)
| | |
| --- | --- |
| Control system(Arm size) | Computer (Arm Size 305㎜) |
| | |
| --- | --- |
| Dimensions | 602(W) x 310(H) x 264(D) mm |
| | |
| --- | --- |
| Maximum sewing speed | 1,050 sti/min |
| | |
| --- | --- |
| Number of stitch patterns | 368 and Alphabetic/numeric fonts:4 Japanese letters font: 1 |
| | |
| --- | --- |
| Buttonhole | Automatic (sensor system) with clamping plate Cutting width adjustment Buttonhole Length: 0.7 - 3.2cm |
| | |
| --- | --- |
| Direct stitch pattern selection | - |
| | |
| --- | --- |
| Start/stop button | Green: Ready to start and/or while sewing Red: Not ready to start Orange: When the lock stitch button is pressed while the sewing machine is engaged in pattern sewing |
| | |
| --- | --- |
| Adjustable starting / reverse stitch speed | 〇 |
| | |
| --- | --- |
| Automatic needle threader | One hand |
| | |
| --- | --- |
| Thread tension system | Automatic (digital) |
| | |
| --- | --- |
| Low-speed inching sewing | 〇 Press needle up/down button continuously |
| | |
| --- | --- |
| Needle stop position switching | 〇 |
| | |
| --- | --- |
| Lock stitch | Reverse stitch (Button system) Reinforcement stitch (Button system) Automatic lock stitch, thread trimming and presser foot lifting |
| | |
| --- | --- |
| Feed mechanism | 7 point feed dog BOX Feed |
| | |
| --- | --- |
| JUKI Smart Feed (dual feed function) | 〇 |
| | |
| --- | --- |
| Presser foot pressure adjustment | Stepless adjustment (digital) Dial system / LCD numerical display |
| | |
| --- | --- |
| Micro-lifter | spec_float_No |
| | |
| --- | --- |
| Function to straight-line stitching | Staright throat plate, straight feed dogs and straight presser foot |
| | |
| --- | --- |
| Presser foot pivot function | 〇 |
| | |
| --- | --- |
| Presser foot lift (1 step/2 steps) | Button system: 6 ・ 8 ・ 10mm / 12mm Lever system: 6mm / 12mm Knee-lifting lever system: 6 ・ 8 ・ 10mm / 12mm |
| | |
| --- | --- |
| Horizontal presser foot holder button | 〇 |
| | |
| --- | --- |
| Quick bobbin preparation | 〇 |
| | |
| --- | --- |
| Easy bobbin winding (Bobbin winder with independent motor) | 〇 |
| | |
| --- | --- |
| Bobbin thread detection | Bobbin thread run-out sensor |
| | |
| --- | --- |
| Stitch length | Dial system / LCD numerical display Max. 5mm |
| | |
| --- | --- |
| Stitch width | Dial system / LCD numerical display Max. 7mm |
| | |
| --- | --- |
| Number of needle position (straight stitch/other than straight stitch) | 37 / According to pattern |
| | |
| --- | --- |
| Pattern reverse | Up/down and left/right |
| | |
| --- | --- |
| Twin needle sewing | 〇 (Twin needle is option) |
| | |
| --- | --- |
| Save/call of patterns | 10 patterns in history function and 10 patterns in combination mode |
| | |
| --- | --- |
| Type of hook | Horizontal hook |
| | |
| --- | --- |
| Knee lifting lever | Electric knee lifting control mechanism |
| | |
| --- | --- |
| Foot controller | with separate foot switch (6 functions selectable) |
| | |
| --- | --- |
| Accessory storage | Auxiliary bed/ accessory box |
| | |
| --- | --- |
| Sewing machine cover | Soft cover with accessory storage |
| | |
| --- | --- |
| Operation support | Operation guide Youtube (Wireless LAN connection) |
| | |
| --- | --- |
| Supported languages | spec_light16lang |
| | |
| --- | --- |
| Accessories (presser feet) | Standard presser foot (A) Straight presser foot (S) Zipper presser foot (B) Overcasting presser foot (C) Blind stitch presser foot (D) Buttonhole presser foot (E) Manual buttonhole presser foot (I) Open toe presser foot (O) Patchwork presser foot (P) Quilt presser foot (for the ruler) (Q) Edge sewing presser foot (R) 7mm guide foot (7) or 1/4" guide foot (1/4) |
| | |
| --- | --- |
| Other accessories_1 | HZL-UX8_spec_accessory_2 |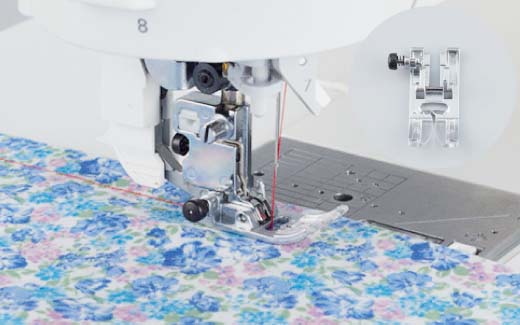 Standard Presser Foot
It can be used to sew lightweight to heavyweight materials.The wide needle entry opening allows this presser foot to be used for a variety of fabrics and applications, from straight stitches to zigzag stitches.Press the black button to keep the presser foot horizontal in order to smoothly begin sewing at a thick seam.(Matte type and for JUKI Smart Feed.)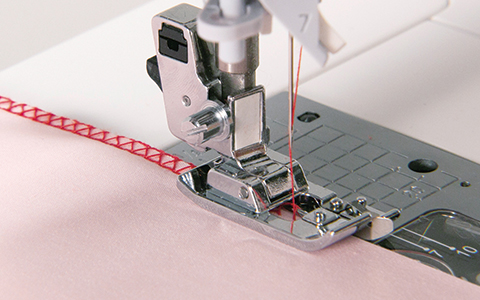 Overcasting Presser Foot (Overedge Foot)
Sew with the edges of the fabric aligned with the guide. The prong in the opening of the presser foot presses down the edge of the fabric to prevent puckering. In addition, the amount of thread going into the stitching is adjusted by the thread crossing the prong, creating a clean finish with little shrinkage. This presser foot cannot be used to sew zigzag stitches or overcasting by 3-point zigzag.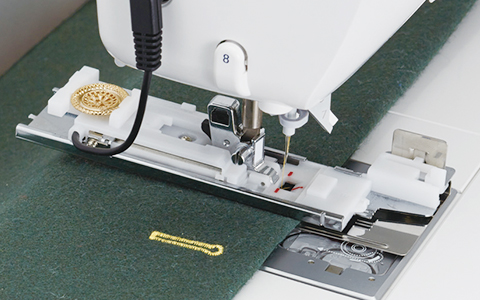 Buttonhole Presser Foot
You can sew buttonholes of the appropriate size by simply placing the button in the button holder of the presser foot.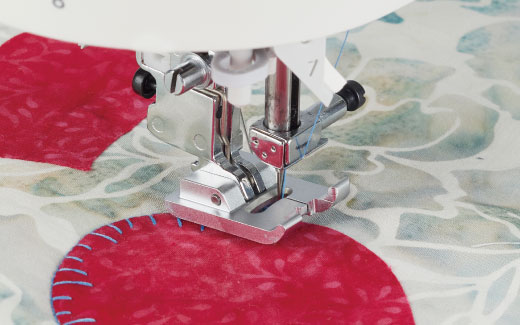 Decorate Stitch Presser Foot (Manual BH Presser Foot/Satin Stitch Foot)
The groove along the bottom of this presser foot ensures that the presser foot does not catch on the stitching, ensuring the fabric will be smoothly fed. Use to accurately sew a buttonhole near a thick seam that is hard to reach. Also Used to Manually Create Oversize Buttonholes.(Matte type and for JUKI Smart Feed.)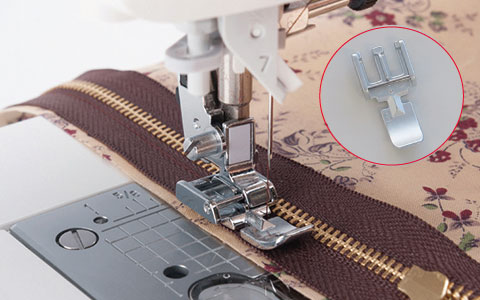 Zipper Presser Foot
Since this presser foot has a pin on the left side and on the right side for attaching it to the presser foot holder, you can attach this presser foot on either side of the needle, depending on which side of the zipper is being sewn. This presser foot can cleanly sew along the edges of the zipper without hitting the teeth.(Matte type and for JUKI Smart Feed.)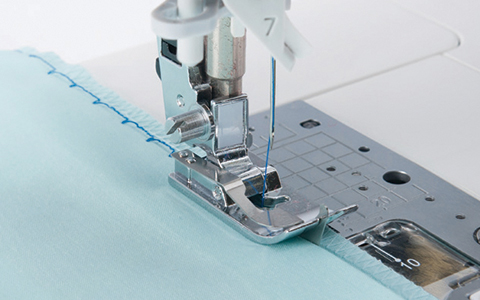 Blind Stitch Presser Foot (Blind Hem Foot)
By sewing with the fabric fold aligned on the guide of this presser foot,only a few threads of the fabric will be uniformly caught in the stitch. Adjust the needle entry point or guide position according to the fabric before sewing. You can also use this presser foot as a guide when changing the needle position for hemstitching in a traight line.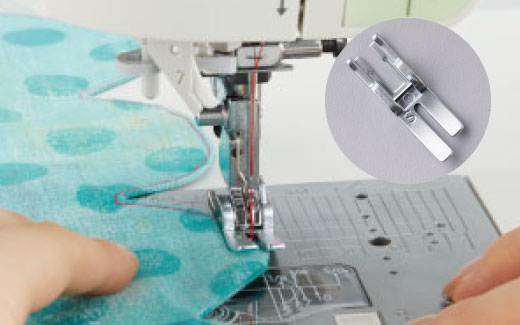 Straight Stitch Presser Foot
Since this presser foot is narrow, smooth handling is achieved while sewing edges and curves.(Matte type and for JUKI Smart Feed.)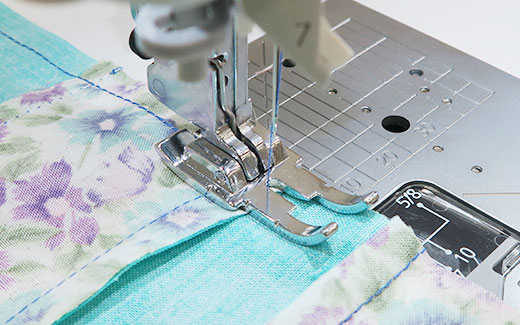 Patchwork Presser Foot
Always ensure needle is set to center straight stitch. Align the edge of the fabric with the outer presser foot guide for a seam allowance of 1/4" or with the inner presser foot guide for a seam allowance of 1/8". There are also marks at a 1/4" spacing at the front and back of the presser foot, allowing you to see the width of the seam allowance before and after needle entry.(Matte type and for JUKI Smart Feed.)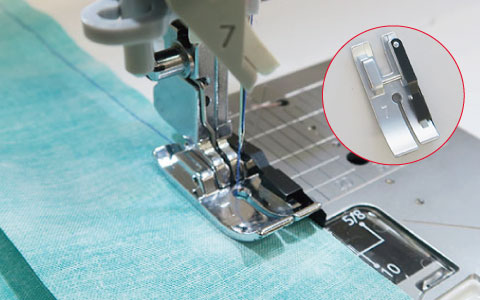 7mm Guide Foot
Always ensure needle is set to center straight stitch. Align the edge of the fabric with the presser foot guide to easily sew with a seam allowance of 7 mm. Since the needle drops into a small round opening, the seam is stabilized to create a perfect straight stitch.(Matte type and for JUKI Smart Feed.)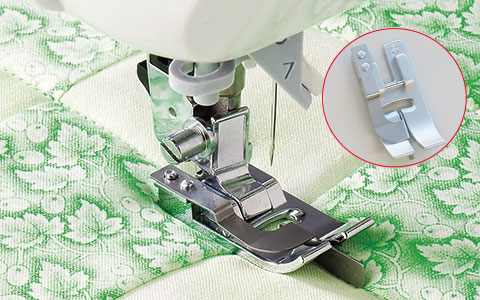 Edge Sewing Presser Foot
The long guide at the center of the presser foot fits perfectly in the seam line to stabilize stitching. You can also use this presser foot as a guide when changing the needle position for hemstitching in a straight line.(Matte type and for JUKI Smart Feed.)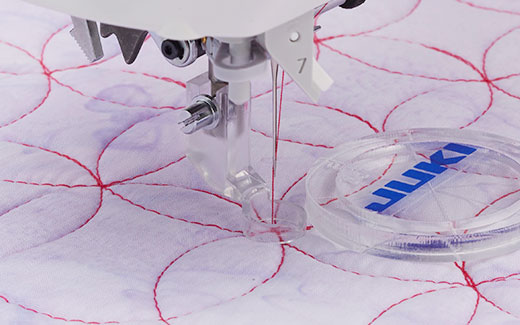 Quilt Presser Foot (for Ruler)
With a distance of 1/4" (6.5 mm) from the needle entry point to the outer edge of the presser foot, sew using a ruler as a guide. The front of the presser foot is lowered, making it easier to see the needle area. Adjust the height of the presser foot according to the thickness of the fabric.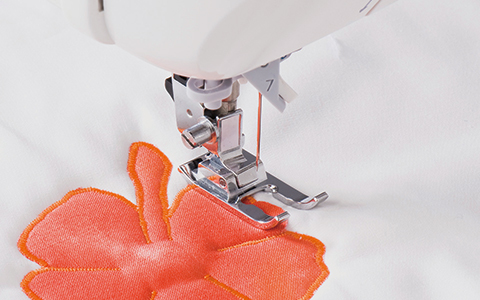 Open Toe Presser Foot
The wide opening at the front of this presser foot makes appliqu?s and designs easy to see, which is useful for curvy decorative stitching. The groove along the bottom of this presser foot ensures that the presser foot does not catch on the stitching, so the fabric will be smoothly fed.
Quilt Guide
Insert this guide into the hole of the presser foot holder or the walking foot, and then sew while lightly tracing this guide along stitching. Adjust the spacing of the stitching by changing how far this guide is inserted.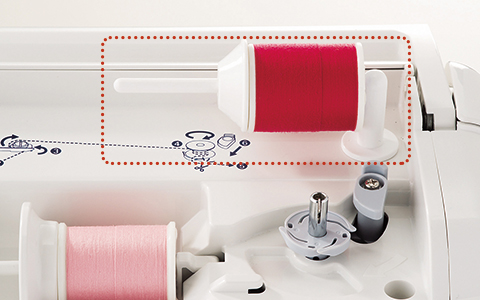 Auxiliary Spool Pin (Additional Spool Pin)
Use this spool pin with a thread spool for twin needle sewing, spare machine threading or bobbin winding.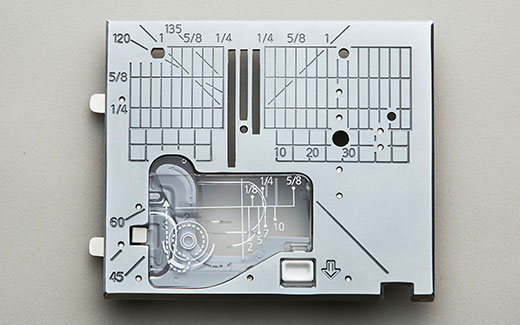 Throat Plate for Straight Stitch
This needle plate is used to sew the straight stitch with the center needle position. Creates perfect needle feed for light weight fabrics or corner to corner stitching in patchwork piecing. Use with straight feed dog (40201411)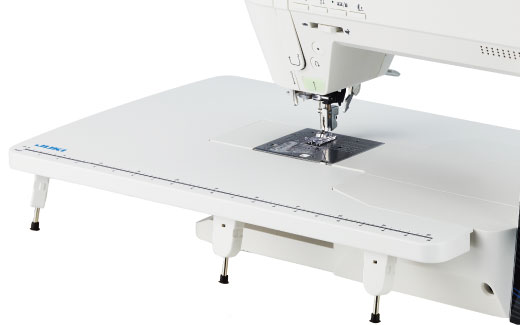 Wide Table
After removing the auxiliary bed, this table can easily be installed by fitting it into place.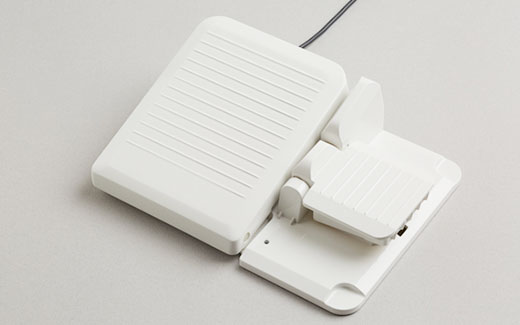 Foot Controller with Foot Switch Function
Controlling the sewing machine with your foot leaves both of your hands free while sewing. You can trim threads and or do another operations by pressing on the another switch of the foot controller.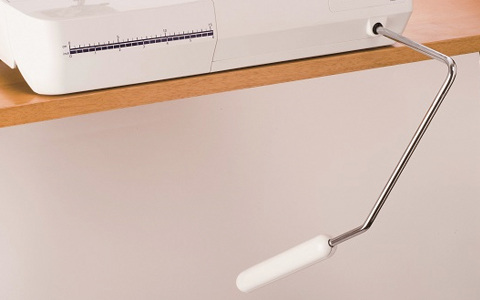 Knee-lifting Lever
Using your knee to push the lever to the right raises the presser foot,and when you return it will lower the presser foot.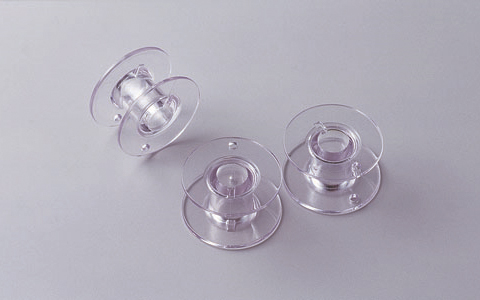 Bobbin(1pc)
Since the bobbin type differs depending on your sewing machine model,be sure to use the bobbin designed for your machine.
タブコンテンツ2(オレンジ線上まで)
タブコンテンツ3(オレンジ線下から)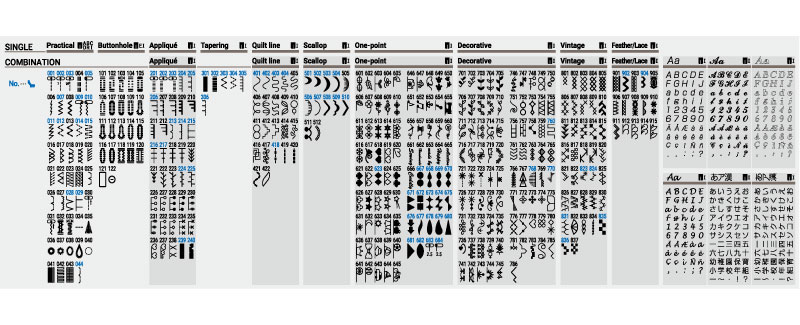 タブコンテンツ3(オレンジ線上まで)