タブコンテンツ1(オレンジ線下から)
Box Feed - JUKI Industrial Sewing Machine Technology
The JUKI industrial "BOX Feed" system has been brought to the home sewing machine. Our BOX Feed allows you to create perfect high-quality stitches on all types of fabrics.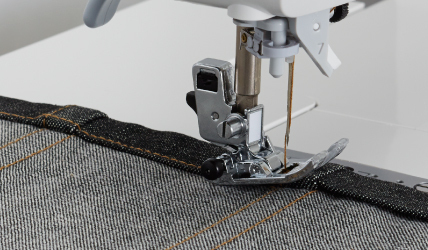 Thick denim folded into three layers for a flat fell seam
Evenly sews thick fabrics effortlessly.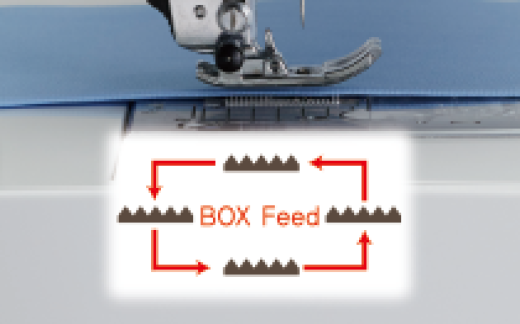 The BOX Feed system stays in contact with your fabrics longer for a consistent, reliable seam every time.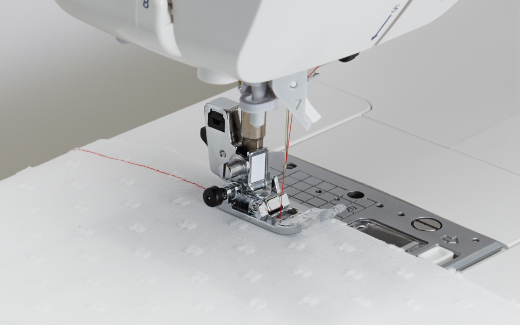 Stitching thin fabrics
No fabric shrinkage even sewing on light weight cotton.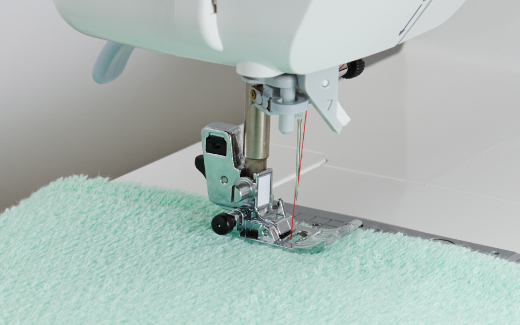 Stitching towel fabrics
Evenly feeds hard-to-sew high pile fabrics.
Straight Stitch Slide Plate【NEW】
Simply slide the front lever to switch to a single needle hole! Sew the lightest fabrics with perfect needle permeation. The single needle plate will not allow fabrics to be pushed into the needle hole. Free motion stitch with precision and perfection. Sew with confidence, when the single needle hole plate is set, only the straight stitch patterns can be selected.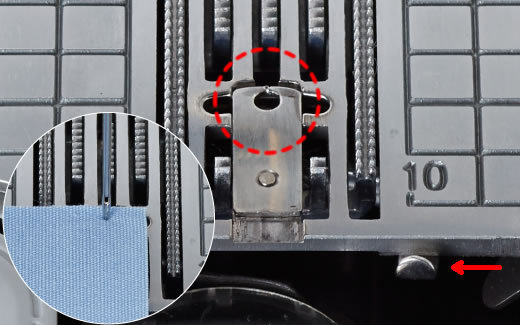 Needle hole for straight stitches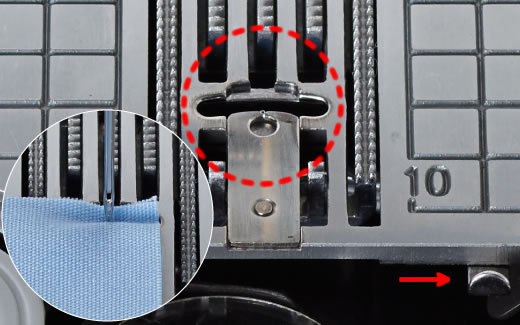 Normal needle hole
Float Function Prevents Uneven Seams【NEW】
By pressing the float button, you can sew with the presser foot slightly raised. By raising the presser foot to float you can sew fabrics without pushing layers or creating uneven seams.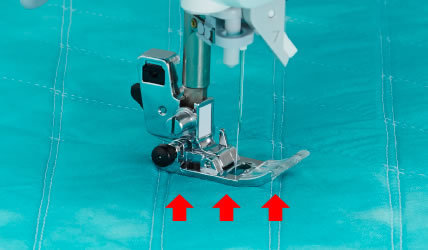 You can sew with the presser foot slightly floated.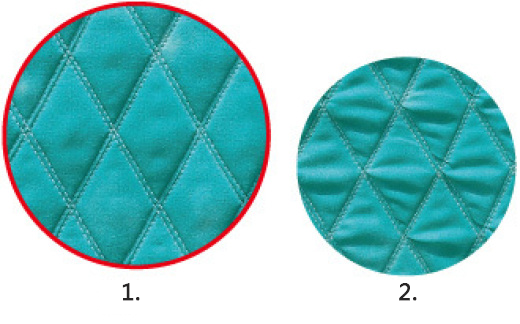 1.Using the float function, 2.Not using the float function
Pressure on layers create uneven seams.
*The standard presser foot is used in both cases.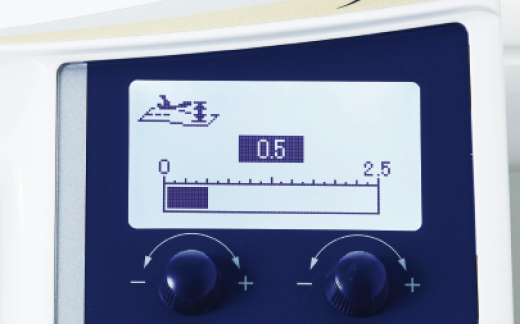 The height of the presser foot can be set in increments of 0.1mm, allowing delicate adjustment according to the materials.
Easily Create and Enjoy Beautiful Buttonholes with JUKI's Combination of industrial Background and Modern Technology
Use the buttonhole sensor system for optimal feed on all types od fabric. You will love the one step buttonhole as it measures and evenly sews on both the right and left sides. Automatically works in optimum order for a perfectly finished buttonhole.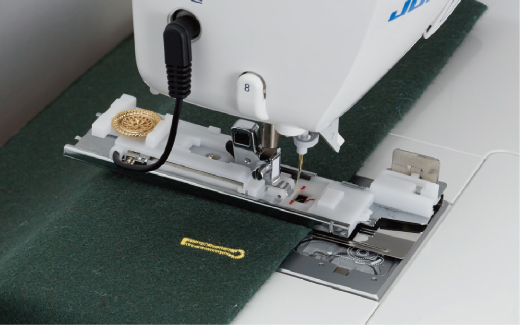 Buttonhole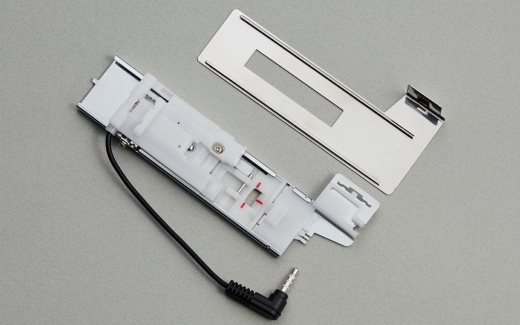 The buttonhole sewing presser foot contains a clamping plate, so you can confidently feed fabrics by holding them between the clamping plate and the presser foot.
◎16 types of buttonholes are available for your needs
1. Standard, 2. Keyhole, 3. For knit, 4. Decorative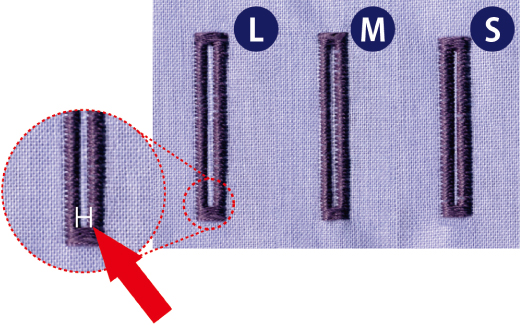 Cutting width adjustment of the buttonhole
Now it is possible to adjust the cutting width in 3 steps.
Customize Your Machine with even more New Functions!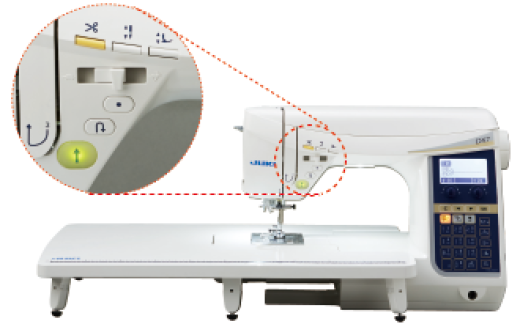 Easy-to-use Quick Select Buttons
・Start/Stop
・Reverse stitch
・Lock stitch
・Thread trimming
・Needle up/down
・Presser foot auto lift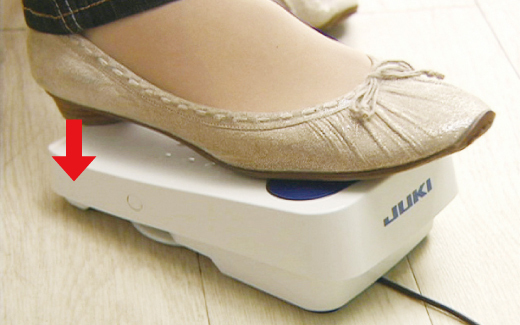 Foot Switch Function【NEW】
Allowing for greater versatility, Juki now offers assigned foot control options. With the ability to assign function to the heel side of the foot controller you can now lift the presser foot, trim threads, reverse stitch or single stitch by pressing on the heel side of the foot controller. Also allowing for no special settings you have complete control to customize your machine to best fit you.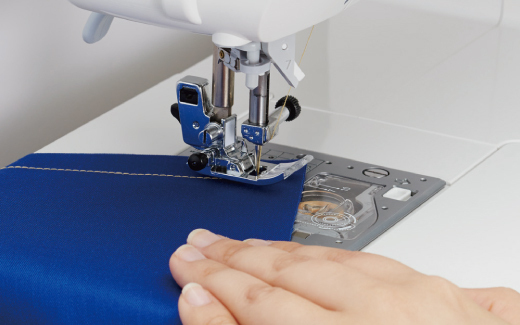 Presser Foot Pivot Function【NEW】
When you stop sewing, the needle stops in the down position and presser foot automatically lifts to allow for fabric movement. Sew corners or pivot with ease, when you resume sewing the presser foot automatically lowers for continuous smooth sewing.
*This function can also be switched off.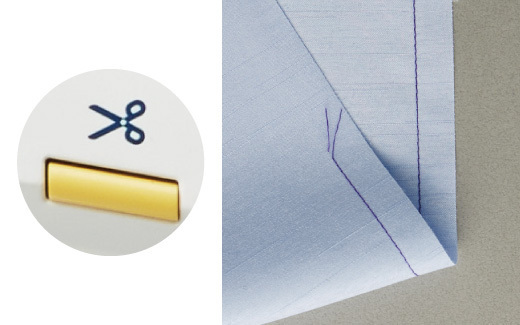 Setting of the Presser Foot Lifting After Thread Trimming【NEW】
Because the presser foot is automatically lifted after automatic thread trimming, you can quickly remove fabrics.
*This function can also be switched off.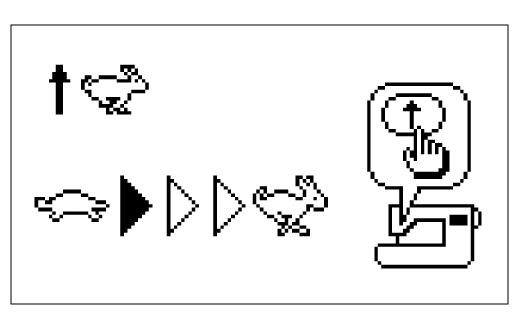 Adjusting Starting / Reversing Stitch Speed【NEW】
You can adjust the starting and reverse stitch speed between three steps of fast, normal, and slow.
Check the video reference for convenient assistance!
With the combination of assured automatic operation and fine manual control, you can enjoy ideal natural operation.
・Foot Switch Function 
・Presser Foot Pivot Function
・Hassle-Free Operation

Click here!
https://youtu.be/m73u548uYC4
Create and Design with Precision and Perfection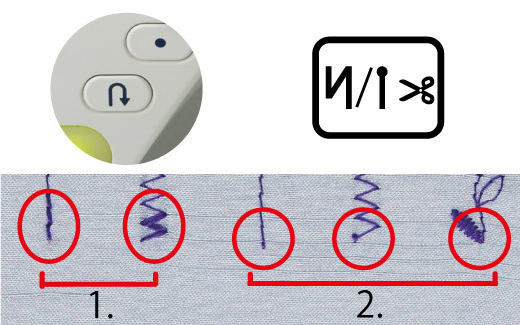 Lock Stitch【NEW】
For the lock stitch at the start and the end of sewing, you can choose two kinds of "1. Reverse Stitch" and "2. Lock Stitch". If you press the lock stitch button in the middle of sewing a pattern, the machine stops after sewing one cycle of the pattern.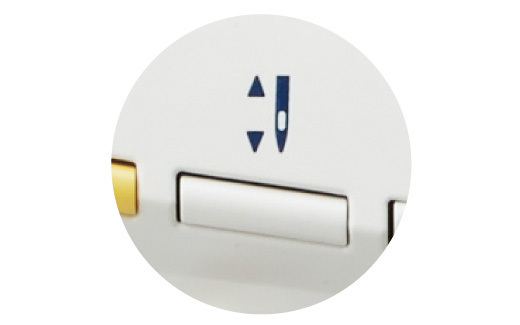 Low-Speed Inching Sewing【NEW】
By pressing and holding the needle up/down button, you can sew slowly. Sew corners, stops and starts with precision.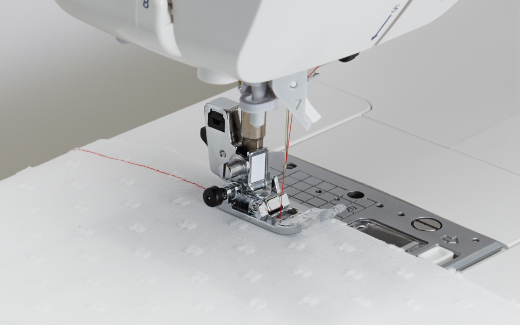 Speedy Straight Sewing【Speed-up】
With a maximum straight sewing speed of 1,050 stitches/min, you can sew fast.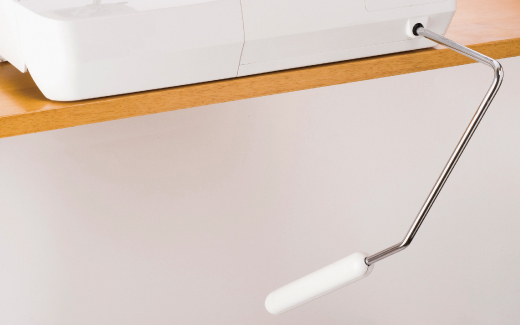 Knee-Lifting Lever
Presser foot can be raised and lowered by the knee-lifting lever. Presser foot lift is up to 0.5" (12mm) when the lever is used. When the foot is raised to the maximum height, you can also switch it back from automatic operation (button) to manual operation (lever).
Quick Preparation Makes Sewing a Breeze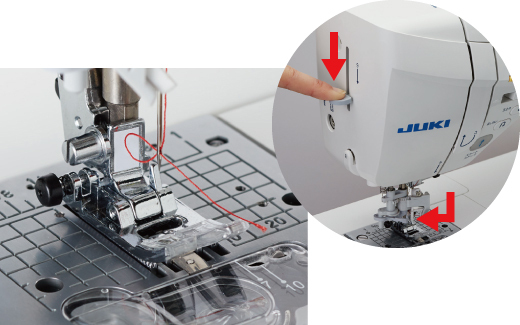 Automatic Needle Threader
Simply place the thread in the guide and lower the lever. Easily and quickly thread a needle with one hand.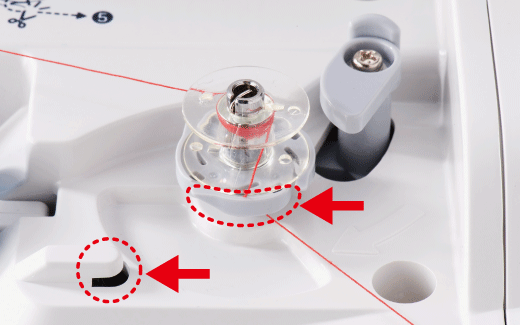 Bobbin Winder with independent Motor
To set up the bobbin for winding, simply wind some thread around the bobbin and pass it through the guide. You can wind the bobbin thread every time, and also use a cutter after winding.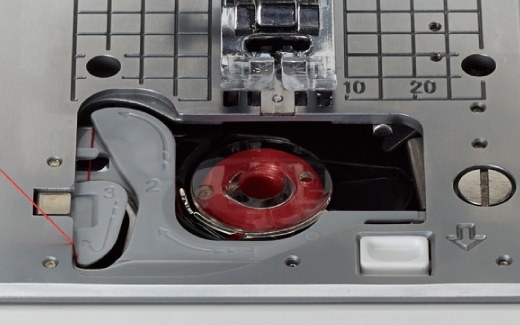 Quick Bobbin Preparation
The bobbin preparation is easy. Just follow the guide and it is not necessary to pull up the bobbin thread.
Enjoy the Freedom to Create and Design with Ease and Satisfaction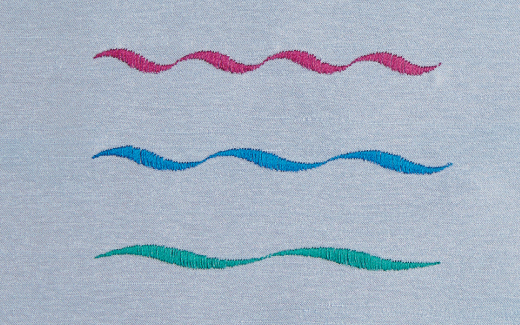 Elongation Pattern
Change the overall length without changing the sewing density of pattern.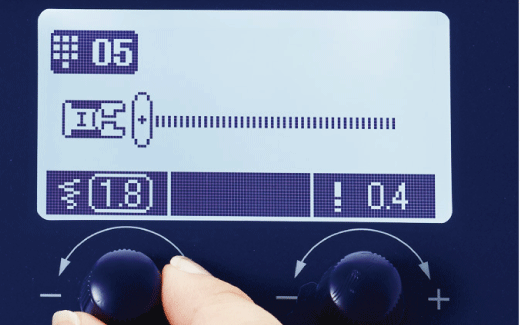 Stitch Adjustment Dial
Use the easy-to-operate dial to adjust the width and length of the stitch. The dial also lets you make slight adjustments while sewing zigzag stitches.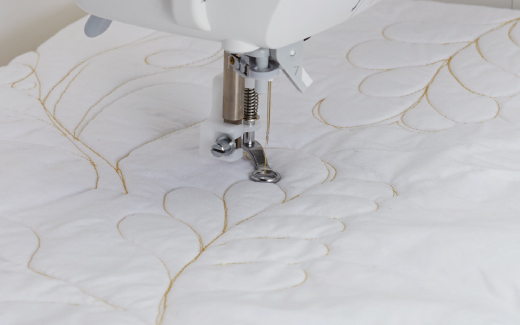 Free Motion
Flip the switch and drop your fed dogs. Enjoy both straight stitch and specialized zig zag for free motion. Adjust the presser foot height for easy movement. Enjoy the freedom of Free Motion.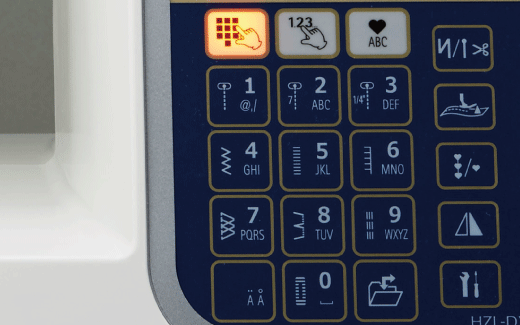 Direct Stitch Pattern Selection
Often-used sewing patterns such as straight lines, overcast stitches, and zigzag patterns can be quickly selected via direct buttons. You can also adjust the sensitivity of the touch panel.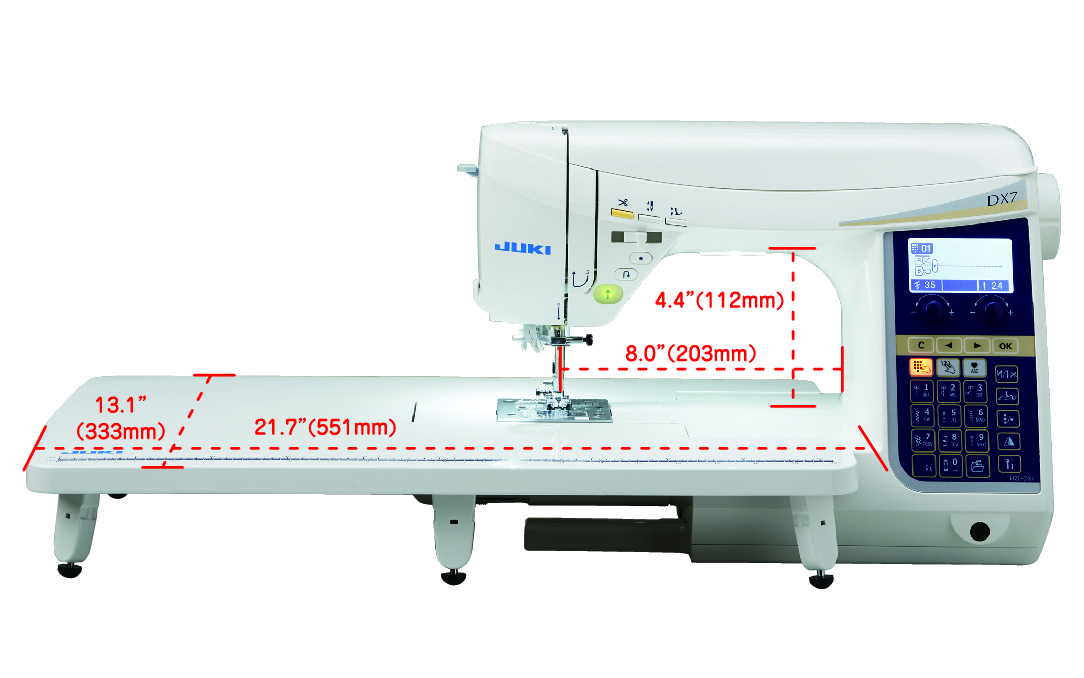 Large Sewing Space
Enjoy extra space and comfort by adding the accessory table while sewing or quilting.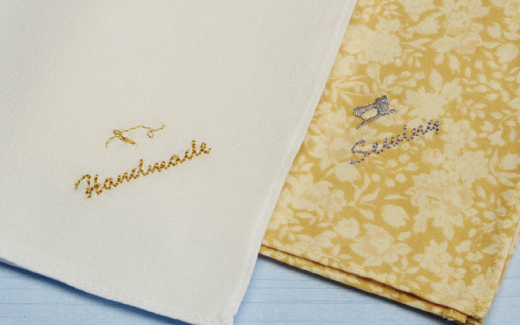 One-Point Patterns
The decorative patterns can be sewn as one point patterns. It is also lovely create an original tag by combining these patterns with the character stitches.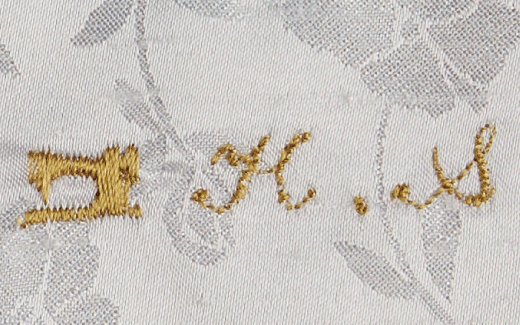 Character Stitch
The machine includes four alphabetic/numeric fonts. Up to ten often-used patterns such as names and initials can be saved in the memory.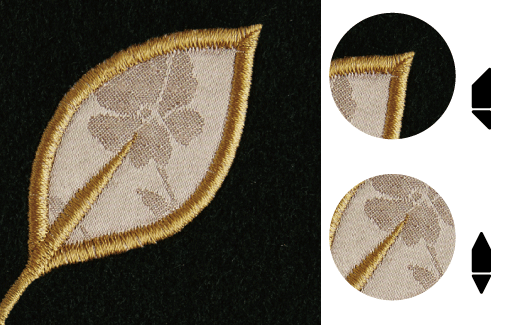 Corner Sewing of Applique
The stitch width of the needle can be set to automatically and gradually change to achieve a stitch that gives a beautiful finish even to the corner of an applique or the start /end of a line of sewing. By adjusting the width and length, you can also control the angles of your design.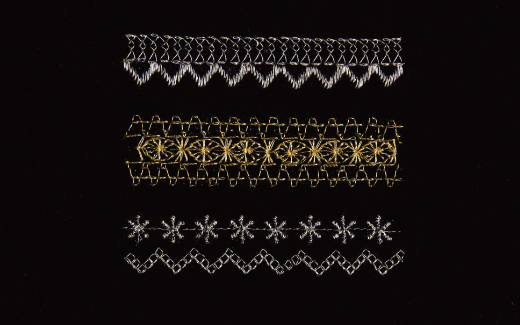 Lace Like Patterns
Sewing several patterns in parallel creates lovely lace-like stitches. You can enjoy the combination of patterns that give the image of dedicated lace braid.
タブコンテンツ1(オレンジ線上まで)
タブコンテンツ2(オレンジ線下から)
| | |
| --- | --- |
| Control system(Arm size) | Computer (Arm Size 203㎜) |
| | |
| --- | --- |
| Dimensions | 445(W) x 291(H) x 210(D)mm |
| | |
| --- | --- |
| Maximum sewing speed | 1,050 sti/min |
| | |
| --- | --- |
| Number of stitch patterns | 287 and Alphabetic/numeric fonts:4 |
| | |
| --- | --- |
| Buttonhole | Automatic (sensor system) with clamping plate Cutting width adjustment Buttonhole Length: 0.7 - 3.2cm |
| | |
| --- | --- |
| Direct stitch pattern selection | 〇 |
| | |
| --- | --- |
| Start/stop button | Green: Ready to start and/or while sewing Red: Not ready to start Orange: When the lock stitch button is pressed while the sewing machine is engaged in pattern sewing |
| | |
| --- | --- |
| Adjustable starting / reverse stitch speed | 〇 |
| | |
| --- | --- |
| Automatic needle threader | One hand |
| | |
| --- | --- |
| Thread tension system | Automatic |
| | |
| --- | --- |
| Low-speed inching sewing | 〇 Press needle up/down button continuously |
| | |
| --- | --- |
| Needle stop position switching | 〇 |
| | |
| --- | --- |
| Lock stitch | Reverse stitch (Button system) Reinforcement stitch (Button system) Automatic lock stitch, thread trimming and presser foot lifting |
| | |
| --- | --- |
| Feed mechanism | 7 point feed dog BOX Feed |
| | |
| --- | --- |
| JUKI Smart Feed (dual feed function) | - |
| | |
| --- | --- |
| Presser foot pressure adjustment | Stepless adjustment |
| | |
| --- | --- |
| Micro-lifter | spec_float_With |
| | |
| --- | --- |
| Function to straight-line stitching | Straight stitch slide plate |
| | |
| --- | --- |
| Presser foot pivot function | 〇 |
| | |
| --- | --- |
| Presser foot lift (1 step/2 steps) | Button system: 6mm Lever system: 6mm / 12mm |
| | |
| --- | --- |
| Horizontal presser foot holder button | 〇 |
| | |
| --- | --- |
| Quick bobbin preparation | 〇 |
| | |
| --- | --- |
| Easy bobbin winding (Bobbin winder with independent motor) | 〇 |
| | |
| --- | --- |
| Stitch length | Dial system / LCD numerical display Max. 5mm |
| | |
| --- | --- |
| Stitch width | Dial system / LCD numerical display Max. 7mm |
| | |
| --- | --- |
| Number of needle position (straight stitch/other than straight stitch) | 37 / - |
| | |
| --- | --- |
| Pattern reverse | left/right |
| | |
| --- | --- |
| Save/call of patterns | 10 patterns |
| | |
| --- | --- |
| Type of hook | Horizontal hook |
| | |
| --- | --- |
| Foot controller | with foot switch (6 functions selectable) |
| | |
| --- | --- |
| Accessory storage | Auxiliary bed/ accessories bag |
| | |
| --- | --- |
| Sewing machine cover | Hard case with accessory storage part |
| | |
| --- | --- |
| Operation support | DVD Operation guide |
| | |
| --- | --- |
| Supported languages | spec_light8lang |
| | |
| --- | --- |
| Accessories (presser feet) | Standard presser foot (A) Zipper presser foot (B) Overcasting presser foot (C) Blind stitch presser foot (D) Buttonhole presser foot (E) Manual buttonhole presser foot (I) Walking foot (N) Open toe presser foot (O) Patchwork presser foot (P) Quilt presser foot (Q) Edge Sewing presser foot (R) Smooth presser foot (T) |
| | |
| --- | --- |
| Other accessories_1 | Bobbin (4) Needle set HA X 1 #11(1):#14(1):#16(1):for knit #11 (1) Twin needle Quilt guide Auxiliary spool pin T-shape screwdriver Ripper Cleaning brush Spool cap (large) Spool cap(middle) Spool cap (small) Foot controller Knee-lifting lever Power cord Hard case Instruction manual Operation support DVD Eyelet punch Wide table |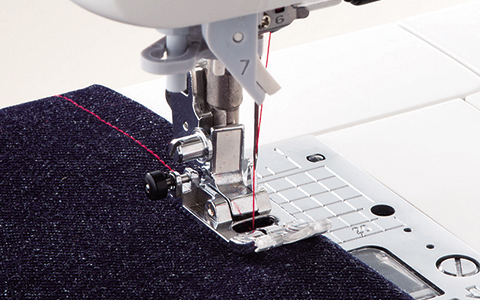 Standard Presser Foot
It can be used to sew lightweight to heavyweight materials.The wide needle entry opening allows this presser foot to be used for a variety of fabrics and applications, from straight stitches to zigzag stitches.Press the black button to keep the presser foot horizontal in order to smoothly begin sewing at a thick seam.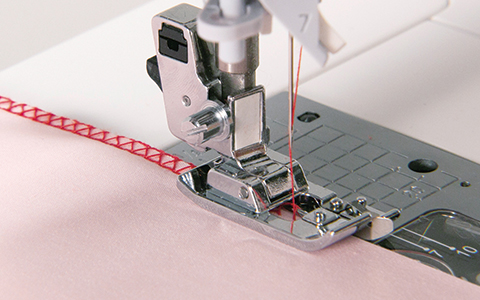 Overcasting Presser Foot (Overedge Foot)
Sew with the edges of the fabric aligned with the guide. The prong in the opening of the presser foot presses down the edge of the fabric to prevent puckering. In addition, the amount of thread going into the stitching is adjusted by the thread crossing the prong, creating a clean finish with little shrinkage. This presser foot cannot be used to sew zigzag stitches or overcasting by 3-point zigzag.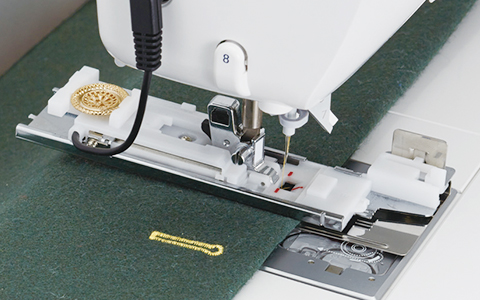 Buttonhole Presser Foot
You can sew buttonholes of the appropriate size by simply placing the button in the button holder of the presser foot.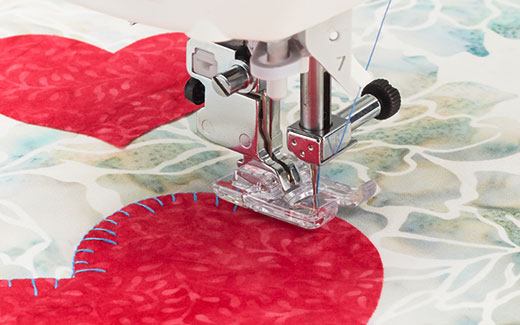 Decorate Stitch Presser Foot (Manual BH Presser Foot/Satin Stitch Foot)
The groove along the bottom of this presser foot ensures that the presser foot does not catch on the stitching, ensuring the fabric will be smoothly fed. Use to accurately sew a buttonhole near a thick seam that is hard to reach. Also Used to Manually Create Oversize Buttonholes.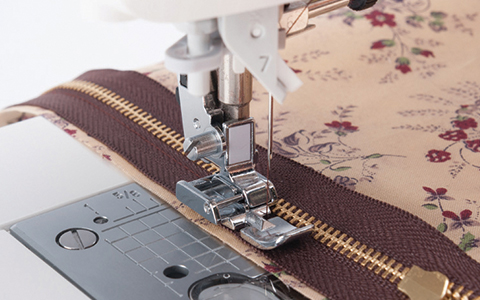 Zipper Presser Foot
Since this presser foot has a pin on the left side and on the right side for attaching it to the presser foot holder, you can attach this presser foot on either side of the needle, depending on which side of the zipper is being sewn. This presser foot can cleanly sew along the edges of the zipper without hitting the teeth.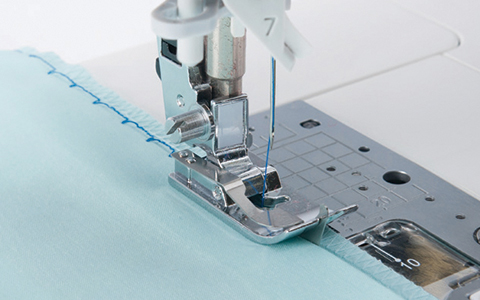 Blind Stitch Presser Foot (Blind Hem Foot)
By sewing with the fabric fold aligned on the guide of this presser foot,only a few threads of the fabric will be uniformly caught in the stitch. Adjust the needle entry point or guide position according to the fabric before sewing. You can also use this presser foot as a guide when changing the needle position for hemstitching in a traight line.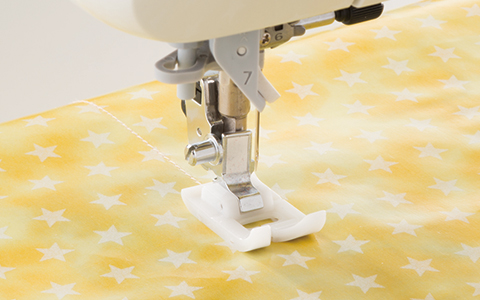 Smooth Presser Foot
This presser foot, made of a fluorocarbon resin, smoothly feeds even vinyl-coated material and leather fabrics which may stick to a standard presser foot and are difficult to sew.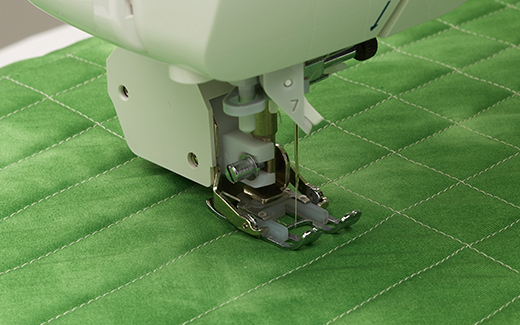 Walking Foot
This presser foot is equipped with an upper feed dog that works together with the feed dog of the sewing machine to feed the material in order to prevent bunched stitching and uneven feeding. By inserting the quilt guide bar, this presser foot can be used to quilt equally spaced seams.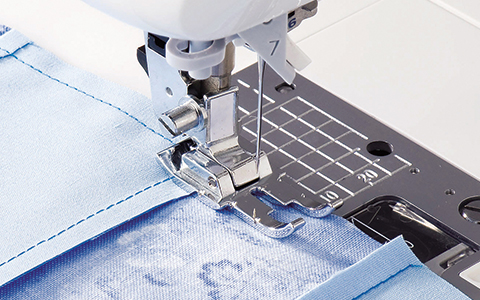 Patchwork Presser Foot
Always ensure needle is set to center straight stitch. Align the edge of the fabric with the outer presser foot guide for a seam allowance of 1/4" or with the inner presser foot guide for a seam allowance of 1/8". There are also marks at a 1/4" spacing at the front and back of the presser foot, allowing you to see the width of the seam allowance before and after needle entry.(Normal type and for JUKI Smart Feed.)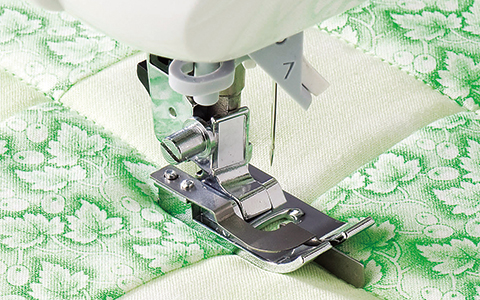 Edge Sewing Presser Foot
The long guide at the center of the presser foot fits perfectly in the seam line to stabilize stitching. You can also use this presser foot as a guide when changing the needle position for hemstitching in a straight line.(Normal type )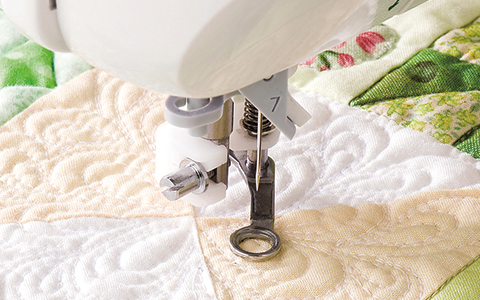 Quilt Presser Foot
With the feed dogs lowered, you can freely move the fabric to draw using stitching. Use the screw to adjust the height of the presser foot according to the thickness of the fabric, so the fabric moves smoothly.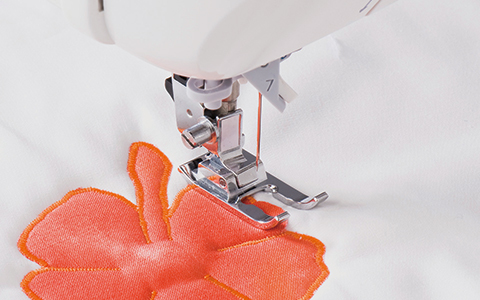 Open Toe Presser Foot
The wide opening at the front of this presser foot makes appliqu?s and designs easy to see, which is useful for curvy decorative stitching. The groove along the bottom of this presser foot ensures that the presser foot does not catch on the stitching, so the fabric will be smoothly fed.
Quilt Guide
Insert this guide into the hole of the presser foot holder or the walking foot, and then sew while lightly tracing this guide along stitching. Adjust the spacing of the stitching by changing how far this guide is inserted.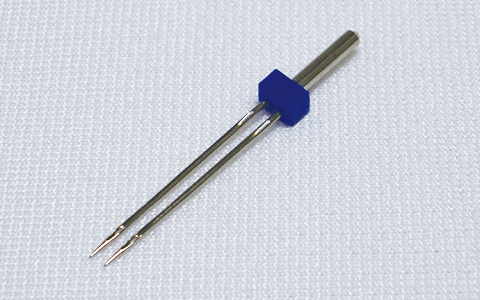 Twin Needle
For beautiful decorative stitches two threads can be a perfect addition. Also it is used for sewing pintucks with the pintuck feet. Set the sewing machines with 2 needle settings with optional functions. Not all stiches are approved for twin needle design.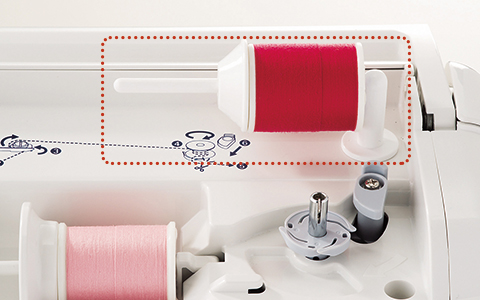 Auxiliary Spool Pin (Additional Spool Pin)
Use this spool pin with a thread spool for twin needle sewing, spare machine threading or bobbin winding.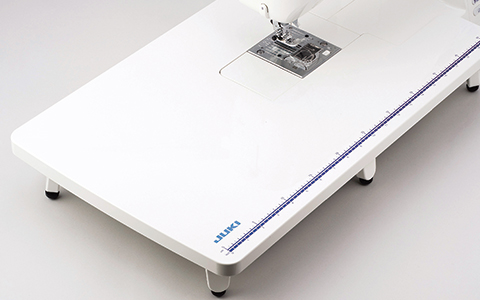 Wide Table
After removing the auxiliary bed, this table can easily be installed by fitting it into place.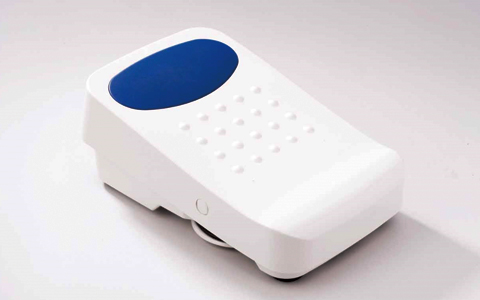 Foot Controller with Foot Switch Function
Controlling the sewing machine with your foot leaves both of your hands free while sewing. You can trim threads and or do another operations by pressing on the another switch of the foot controller.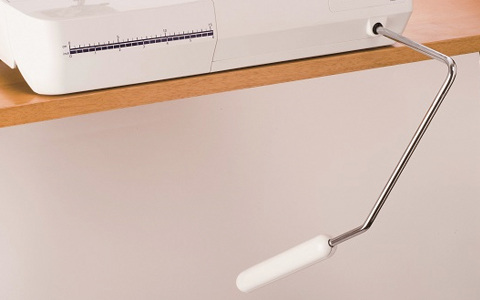 Knee-lifting Lever
Using your knee to push the lever to the right raises the presser foot,and when you return it will lower the presser foot.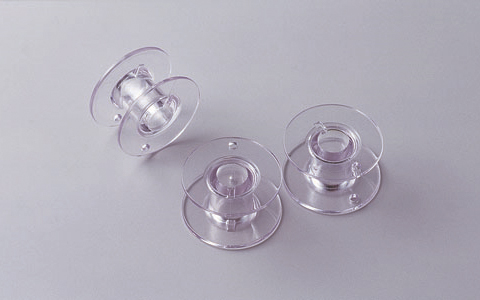 Bobbin(1pc)
Since the bobbin type differs depending on your sewing machine model,be sure to use the bobbin designed for your machine.
タブコンテンツ2(オレンジ線上まで)
タブコンテンツ3(オレンジ線下から)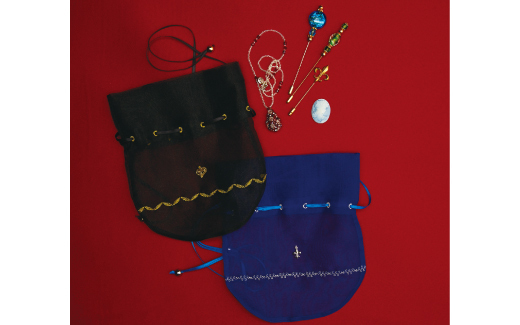 Accessory cases
Add decorative stitches while using a variety of specialty threads.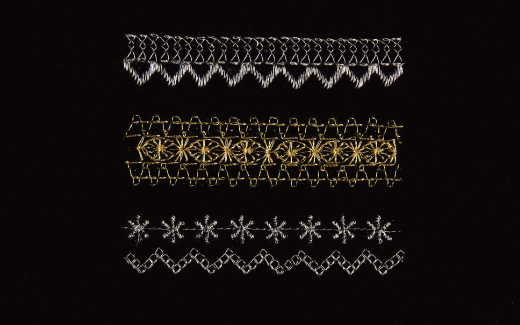 Lace-patterned sampler
Sew Decorative patterns in parallel to form new stitch designs.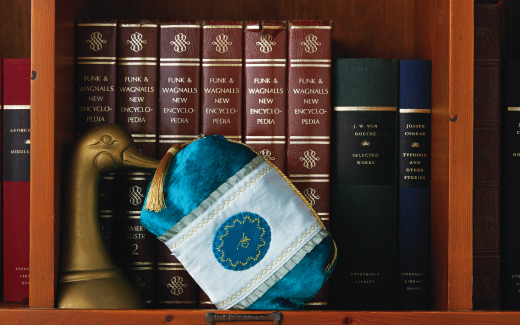 Emblem pouch
Create a one-point floral stitch surrounded by decorative patterns.
タブコンテンツ3(オレンジ線上まで)