Computer-controlled, High-speed Shape-tacking Machine
LK-1942HA

(heavy-weight with intermediate presser)

LK-1942GA

(extra heavy-weight with intermediate presser)

LK-1941ZA

(seatbelts with heat cutter)

LK-1942ZA/5050


(For seatbelts with heat cutter<needle/bobbin thread separate cutting method>)
The following features promise improved sewing capabilities for extra heavy-weight materials: A high-power, direct-drive motor that drives the needle with increased material-penetrating force; a higher-torque stepping motor that increases the feed efficiency, and a pneumatic work clamp that increases the material clamping force.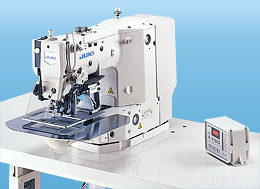 LK-1942HA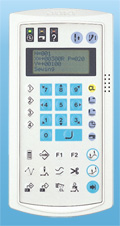 PGM-7
Handy Programming Device
PGM-7
Sewing patterns can be entered or modified through the handy programming device while holding it. Dedicated keys for frequentlyused functions are provided on the handy programming device to cut down the operation time.
ここにビデオが表示されます
Model name
LK-1942HA
LK-1942GA
LK-1941ZA
LK-1942ZA/5050
Application
Heavy-weight
Extra heavy-weight
Seatbelts
Sewing area
60mm (L)×100mm (W)
Max. sewing speed
2,200sti/min
Stitch length
0.1~10.0mm
Number of data
that can be input
Max. 64 patterns
Needle
DP×17 (#18) #18~#20
DP×17 (#23) #21~#23
DP×17 (#25) #24~#26