Juki America to Market "TAJIMA SAI" Professional Embroidery Machine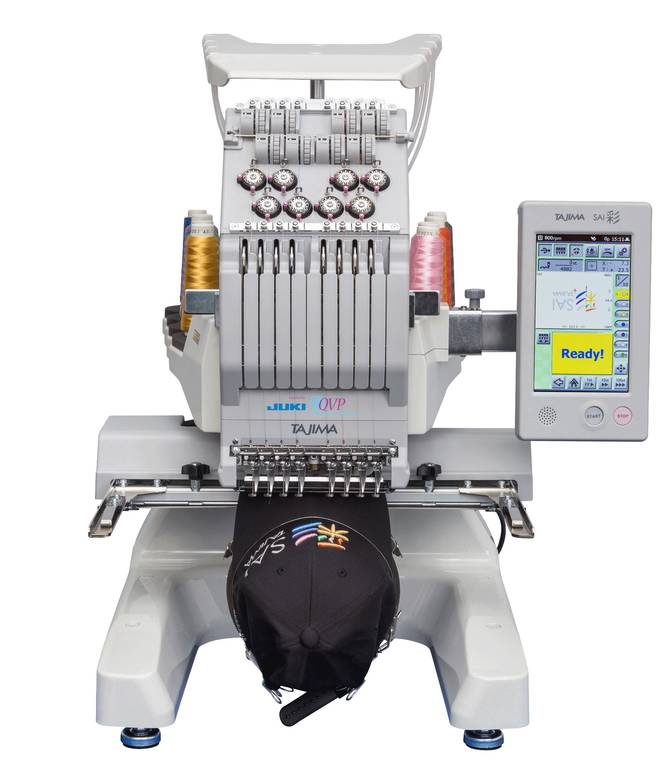 Starting in December 2018, JUKI Corporation will be selling the TAJIMA SAI professional embroidery machine (Model: MDP-S0801C(200X300)S) in the North America and Latin America market through the distributors of its U.S. subsidiary, Juki America, Inc.
The embroidery machine is manufactured by Tokai Industrial Sewing Machine Co., Ltd., the world's top manufacturer of industrial embroidery machines, under the TAJIMA brand name.
The TAJIMA SAI is a compact, easy-to-use embroidery machine packed with advanced technologies allowing users, including non-professionals, to achieve professional quality embroidery. The machine to be sold by JUKI will be marked, "Supplied by JUKI QVP*."
For many years, JUKI has been serving sewers engaged in quilt-making in the United States, with its long history of quilting, with both household sewing machines with quilting functions and long-arm quilting machines, such as the 3-meter-wide TL-2200QVP which made its appearance in the U.S. in 2012, marking JUKI's full-scale entry into the American quilting market.
JUKI's decision to supply customers with the TAJIMA SAI was in response to many requests from home and commercial users of long-arm quilting machines who need high-quality, high-performance embroidery machines that can be used with large, intricate quilts.
To ensure that customers are satisfied and provided with high-quality services, JUKI sets the following three criteria for distributors which sell large, high-functioning sewing machines (e.g., long-arm quilting machines) in the North America and Latin America market: 1) that they are capable of displaying large models and will explain the features in detail, 2) that they can offer workshops and other opportunities for prospective buyers to experience the products first-hand, and 3) that they can provide installation, repair, and other technical services for large, high-functioning models. Only distributors with these qualifications will be selling TAJIMA SAI.
*QVP stands for Quality, Vision, and Professional.
Under the slogan, "Making industrial-level technologies available to general consumers," JUKI offers household sewing machines that are more sophisticated in quality and performance than others on the market. The same approach applies to the sale of TAJIMA SAI. JUKI aspires to enhance the creativity and artistry of users by providing truly useful embroidery machines.
Sales regions
U.S., Canada, Columbia, Chile, Ecuador, and Peru
Number of dealers
For example: 21 in the United States
Product
TAJIMA SAI, marked "Supplied by JUKI QVP"
Model: MDP-S0801C(200X300)S
Product description
1. Summary
Professional embroidery machine with touchscreen panel
| | |
| --- | --- |
| Displayable languages | Japanese, English, Spanish, Portuguese, Chinese, Italian, French, German, Russian, Turkish, Czech, Hungarian, and Thai |
The machine comes with the "TAJIMA Writer Plus" application, which allows users to digitally create text and illustrations to be embroidered.
2. Specifications
Number of heads
1
Number of needles
8
Sewing speed
Up to 800 stitches/min.
Maximum stitching area
200 mm (L) x 300 mm (W)
Dimensions
555 mm (W) x 578 mm (D) x 668 mm (H)
Weight
37 kg
Power consumption
100 W
Frame types
Large Tubular frame (200 mm [L] x 300 mm [W])
Small Tubular frame (100 mm [L] x 100 mm [W])
Cap Frame (75 mm [L] x 300 mm [W])
3. Manufacturer
Tokai Industrial Sewing Machine Co., Ltd.
Product website
https://jukiquilting.com/embroidery-machines/tajima-sai.html
For inquiries, contact
Mr. Shigehiro Matsuyama, Household Sewing Machinery Company, Sewing Machinery & Systems Business Unit, JUKI Corporation, Telephone: +81-42-357-2341